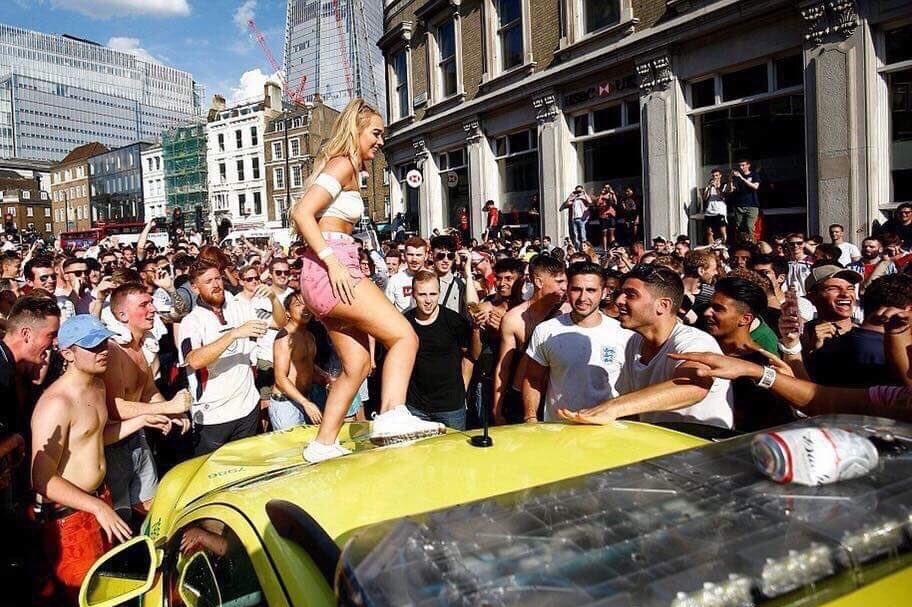 An ambulance was smashed up and a bus shelter wrecked as delirious celebrations spilled over following England's win over Sweden in the World Cup quarter-final.
Fans jumped up and down on the emergency vehicle while medical staff attended a call in central London, leaving it unroadworthy.
"We're delighted with the result, but this has put a big dampener on the celebrations for us," the London Ambulance Service tweeted.
"While our officer attended a call nearby, this car was damaged in Borough High Street during the celebrations after the game – it's now off the road to be repaired."
An England fan dances on a London Ambulance Service response vehicle (Reuters)
Responding to the post, West Midlands Ambulance Service asked: "Has true English respect really been forgotten?" It appealed for anyone who know those involved to call police.
Meanwhile, in Clapham, also London, video footage showed a fan, who had scaled a double-decker bus, jumping onto the roof of a shelter – which smashed under his weight. A woman stood underneath appeared hurt as the man crash-landed on top of her.
The vehicle had to be taken out of service for repair work (Reuters)
Another video showed supporters across the city in Stratford invading a branch of Swedish furniture store Ikea and jumping on the beds, before being removed by security guards.
And in Folkestone, two shirtless men were filmed riding on the bonnet of a moving car. Unable to see, the driver nearly crashes into a family crossing the street with their dog.
A spokesman for the London Ambulance Service said the incident in which their vehicle was damaged had been reported to police.
A spokesman for the Metropolitan Police said there had been no overall spike in incidents or arrest numbers following the match.
Gareth Southgate's side will now play Croatia in the tournament's semi-final on Wednesday evening.
Follow the Independent Sport on Instagram here, for all of the best images, videos and stories from around the sporting world.
Source: https://www.independent.co.uk/sport/football/world-cup/england-world-cup-fans-sweden-celebration-ambulance-ikea-bus-stop-london-win-a8437026.html