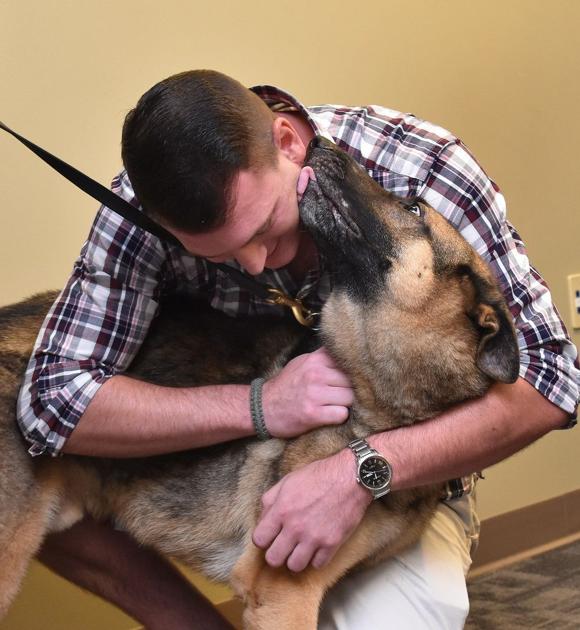 The bond between man and his best friend is undeniable – but when that bond is forged on the battlefield, it is unbreakable.
Surrounded by the law enforcement officers who worked with him and the veterinarians who served him, Toki the patrol explosive detection dog reunited with the Soldier who loved him first, Andrew Smith. The Redstone Arsenal Military Working Dog Section hosted the reunion and retirement for Toki Friday.
"I could not wait for this day. I missed my boy. It's been six years. We didn't get much time to say goodbye," Smith said.
It's a reunion Smith has been waiting for for years, after serving with Toki, then a tactical explosive detection dog, in Afghanistan six years ago. For an entire year the duo had been inseparable, training and searching for IEDs together.
"He had fun. We enjoyed it. We'd get done with missions, get in the vehicle and he would just jump up on the seat and pass out. He wouldn't care. Nose down, he'd be out cold," Smith recalled.
The Army created the Tactical Explosive Detection Dog capability in 2010 as a way to safeguard Soldiers from IEDs in Afghanistan. The TEDD program ended in 2014. Soldiers, like Smith, were trained to be the dogs' handlers only while they were deployed, thus when they returned from war, they were separated from their dogs – Smith went one direction, while Toki continued his military working dog service at Redstone.
The reunion of Toki and Smith is symbolic of the Army's commitment to properly return TEDDs to civilian life, which has not always been the case, as evidenced by a March 2018 Inspector General report that detailed the TEDD Disposition Process from 2011 to 2014.
Redstone's Military Working Dog Section pushed to "exhaust every measure," according to Officer Lee Riley, Toki's handler, to find Smith. Kennel Master Capt. Sean Lulofs reached out to Mission K9 Rescue, a Texas-based nonprofit that aims to "rescue, reunite, re-home, rehabilitate and repair any retired working dog that has served mankind in some capacity." Within two hours they had found Smith, and only two days later Lulofs had connected with the Maryland resident to coordinate a date for his reunion. Mission K9 Rescue paid for Smith's travel to Redstone.
"I'm pretty excited for Toki," Riley said. "It's always good to put a dog with their first handler or a previous handler, especially if they had a bond. It's an honor and a privilege to be able to do this."
As any dog lover can relate, the connection between man and furry friend is a strong one, but when it comes to handlers and their dogs, it's a bond "on steroids," Riley and Smith said, which is why it is recommended that the dogs, upon retirement, are first and foremost placed with a former handler, if possible, according to the IG report.
"We're putting our lives in the hands of this dog, this dog is putting their life in our hands," Riley said. "For this dog to jump at the drop of a hat, no hesitation, nothing, you do build that bond. The amount of hours that we spend training, loving on them, building up a friendship and a trust is just through the roof. We're having to communicate and interact with somebody that doesn't speak our language and you figure out how to communicate with that, and then you get to a point where when you start going and getting them out they're running to you, they're wanting to spend time with you."
During his time at Redstone Toki assisted with thousands of random anti-terrorism measures, went on law enforcement patrols, and even provided presidential support for President Barack Obama and President Donald Trump, his most recent trip being to Mar-a-Lago at the end of 2017. He's well-known for his solid work ethic, as evidenced by his strong desire to sniff out any threats – including the electrical outlet during his retirement ceremony.
"He lived to work," Riley said. "He loves the work. He loves the hunt."
"In terms of detection, he was one of the best dogs I've seen, and I mean that truly," Lulofs agreed. "His nose, his desire – he will do it until the day he dies, because they love what they do."
On average, a military working dog retires when they're around 7 or 8 – Toki is eight and a half. Diagnosed with intervertebral disk disease, which causes chronic pain and a loss of sensation in his back legs, it is simply time for him to medically retire. The United States War Dogs Association Inc., a nonprofit based in Burlington, New Jersey, is paying for all of Toki's prescription needs for the rest of his life, which will allow him to live happily and relatively pain-free.
"It was an honor to work him and it's an honor to return him to you," Riley told Smith.
"I can't thank you enough for letting your partner go," Smith replied.
Source: http://www.theredstonerocket.com/news/article_799239b8-a61c-11e8-9c8d-2b40993ade21.html