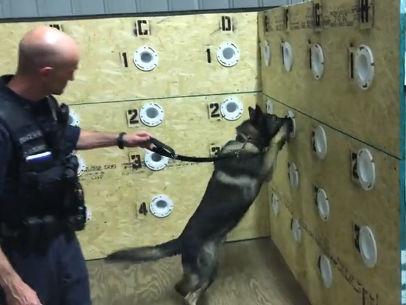 The Winston-Salem Police Department's K-9 unit has a new training tool in their search for narcotics.
Two officers built a scent wall for the dogs, something they felt was needed.
"Constant training is one of the most important things we do," said Sgt. Neil Berrier, who is part of the unit.
"The scent wall is a tool for basic narcotic training to ID and pinpoint odor."
The wall was built by Officers Austin Conrad and Andy Bielsten and cost about $700, Berrier said.
The money came from donations, Berrier said.
The wall is made of plywood, 2×4 boards and plastic tubing.
There are holes in the wall where narcotics can be hidden for the dogs to search, sniffing out where the scent might be.
When the dogs find the source of the scent, the reward — usually a tennis ball — is dropped down the tubing from behind the wall to the waiting dog, Conrad explained.
"It helps us to search, whether a car or a house, for how narcotics are hidden," he said.
"It helps to do a systematic approach."
After searching for plans online, Conrad said he and Bielsten began building the wall about two months ago. They also talked with the other members about what would be best.
It may be made larger in the future, to provide additional training for the K-9s, he said.
The officers and their partners train for four hours every week so their skills remain sharp, and they are tested annually to remain certified, Berrier said.
"So far, the K-9s are doing great with it," he said of the new training wall.
Source: https://www.journalnow.com/news/local/winston-salem-police-dogs-up-their-training-game/article_1ef61ec8-2b4a-5271-9c2e-757f515fde68.html