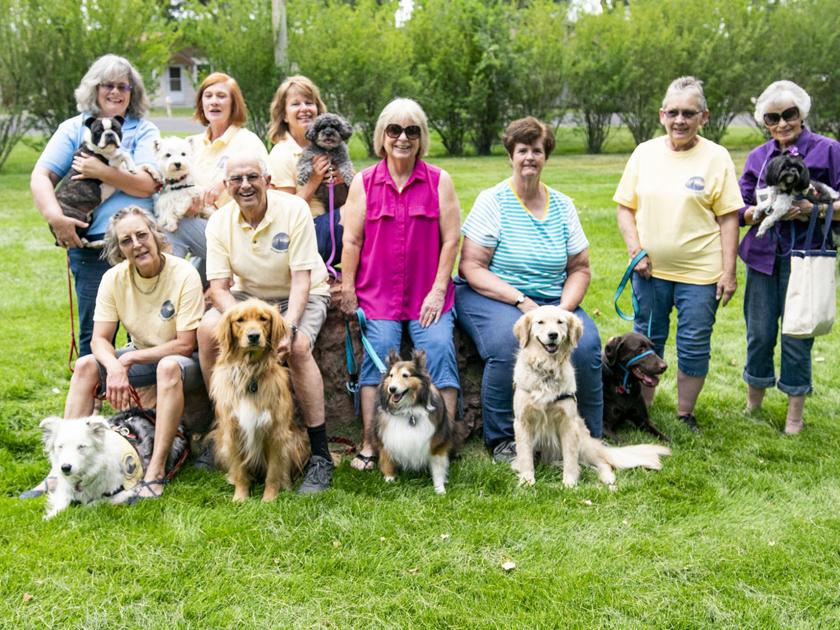 Ann Furgurson has seen the power dogs can have on anyone, of any age that some people just don't seem to possess.
Furgurson said she witnessed the impact firsthand 12 years ago when she was a teacher in Salt Lake City, when she brought her young pup to a classroom of students who had past issues.
"I found out that kids who have been troubled and ex-gang members, I saw these teenagers just acted completely different when this dog was around — it was a puppy at the time," Furgurson said. "That showed me the magic and the touch that dogs can have."
Afterward, she trained her canine to become an official therapy dog.
Since then she's been taking her animals to not only cheer up folks in Utah but, for the past 10 years, in Montrose as an educator with the Montrose County School District. She also takes her dogs to other locations in Montrose as a member of Morningstar Therapy Dogs.
Starting Tuesday, the latter group will teach residents how to train their pups to be therapy dogs during a free four-week course. The classes will be 6:30-8 p.m. at one of the city's parks. For the exact location, call Furgurson at 970-252-1258.
"If people have a nice, friendly dog and they are interested maybe in volunteering in the community," said Furgurson, who's the president of Morningstar Therapy Dogs.
She stressed therapy dogs and service canines are two different things. She said the former is confused as being the ones who help their owners and take them on an airplane among other similar acitivities.
Instead, therapy dogs and their masters volunteer at schools, libraries and nursing homes to give those inside comfort, Furgurson said, adding as a Centennial Middle School teacher, she has three such animals come to the school once a week.
But for a pup to be one, he or she has to pass a national test. During the class, Morningstar will give residents and their dogs a trial run of what the exam is like, Furgurson said. Details on the national test can be priovided by Morningstar.
"We're hoping to find people in the community who might have some good dogs who want to be therapy dogs," she said.
Once a canine aces the test, masters will receive rewarding experiences visiting community members, said Paula Brown, a trainer for 13 years.
"It's really fun to share your dog and to have something to do out in public that you can do with your dog," Brown said. "It's just important for people to know what their dogs can do."
She added being a good therapy canine comes down to its temperament. It has to be one who enjoys other people, not overly protective or frightened, she indicated.
"They have to be good canine citizens where they can be out in public without being aggressive or not dragging you around or jumping on people," Brown said. "It's just really basic obedience training. That's really what's necessary."
She indicated the dogs will adjust their demeanor during a given circumstance. She gave as an example of visiting a friend in hospice care who enjoyed having one of her small canines cuddle with her.
"It was very heartwarming for as an owner to see my dog giving comfort to someone like that," Brown said.
Furgurson agreed, reiterating she's observed canines can break through to people who aren't very talkative or social will open up to a dog.
"There's turnaround," she said. "Dogs can do things that maybe people can't. People just light up and feel good when this dog comes up to them and (they can) pet them."
Andrew Kiser is the Montrose Daily Press' sports/business writer. Follow him on Twitter @andrew_kpress.
Source: https://www.montrosepress.com/news/who-s-a-good-dog/article_02fd6998-81a1-11e8-8414-2bb8fa8b8205.html