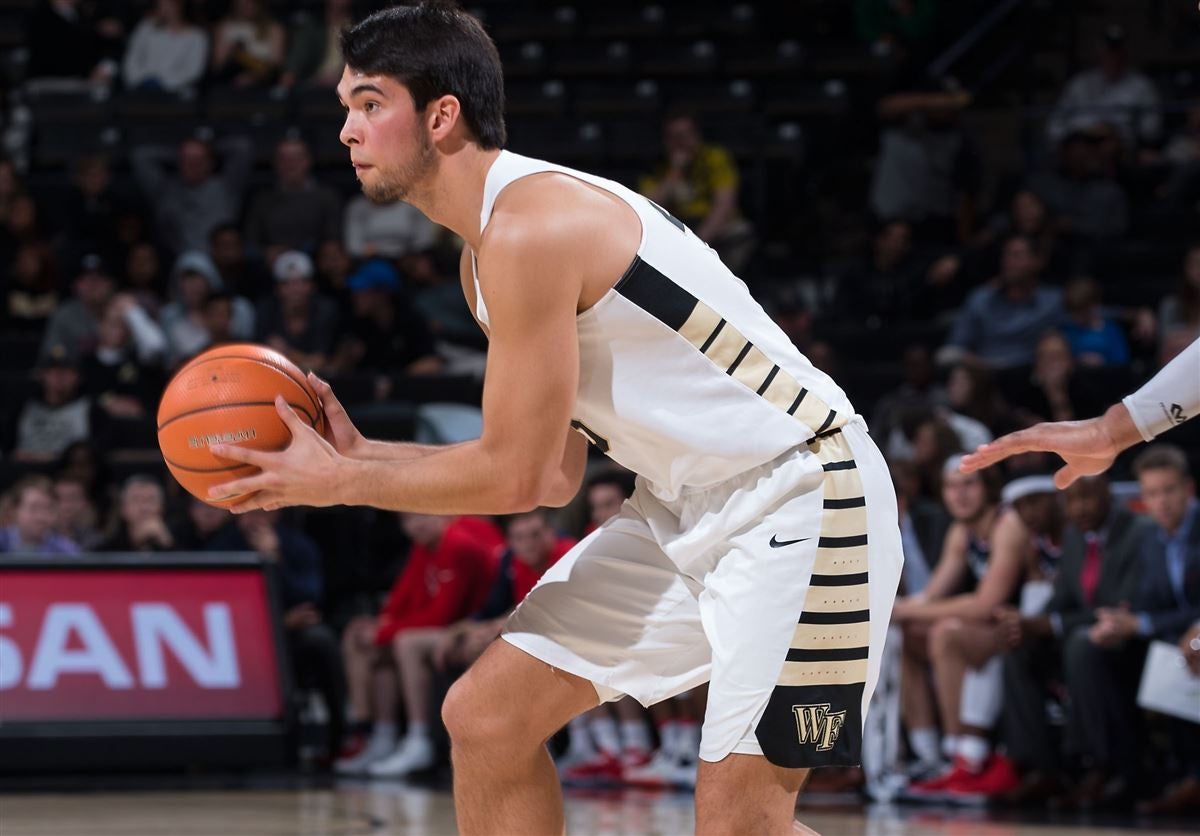 (Photo: Brian Westerholt/Sports On Film)
Wake Forest Basketball alum Troy Rike has mixed some quick, instinctual thinking with a dash of Pro Humanitate to turn an ugly, viral skirmish into something positive.
He was smack dab in the middle of the brawl Monday night between Gilas Pilipinas and Australia in the FIBA World Cup Qualifiers taking place in the Philippines.
"There's about to be a fight," Rike told a teammate on the bench minutes earlier. He'd watched as Australia grew a big lead — tensions rose and things had gotten a bit chippy.
He saw flying kicks from Thon Maker and Andray Blatche. He watched a Gilas Pilipinas teammate get leveled, and then ultimately found Australian player Chris Goulding surrounded by both players and unruly fans. At one point during the chaos, a chair was thrown in the vicinity.
"I was shocked and it turned into straight instinct from there," Rike said.
Though Rike stood over and protected the fallen Australian player in the picture tweeted by Tiebreaker Times, some Australia fans falsely accused him more aggressive actions.
"Troy dragged him to the baseline and got him with the ground and pound," Rike said some insinuated. "I can understand why people would look at the picture and think I was a part of that, but when you look at the body language, my butt is back, my arms are out and I have two legs over him. That would be a hard position from which to kick someone.
"I wanted to get in front of that, because it wasn't fair for my name to be in that light."
As it turns out, Rike's name has been much more than cleared — he's being celebrated.
Gilas Pilipinas booster Ronald Mascariñas thanked Rike Tuesday and awarded him a bonus of P100,000. Mascariñas said Rike "saved our country," with his effort during the skirmish.
"Even with his youth, he saw things beyond that moment," Mascariñas said, reported by ABS-CBN News.
It didn't take Rike long to determine what to do with the funds. He immediately announced donations to charities in both the Philippines and Australia.
Murdoch Childrens Research Institute in Australia and World Vision Philippines each will get P50,000 from Rike, with that total now being matched by Mascariñas.
Even before the recognition Tuesday, Rike had gotten a generally positive reaction for his actions.
"I had a couple teammates and managers thank me for my role in trying to make peace. They know the deal though. I stand by my teammates," he said. "There were some situations where teammates needed to be defended, but that situation with the opponent on the ground was not one of them. I don't think anyone is going to give me a hard time about helping that guy out.
"One of my teammates got decked, and you have to help that guy out. But here's a guy curled up on the floor with 20 guys surrounding him."
Australia won the contest by default 89-53 after 13 players were ejected because of the third-quarter altercation. 
The game against Australia was also Rike's last schedule game with Gilas for now, but he hopes to be called back up in the coming months.
"I'm training and evaluating my options with my coaches of the national team, who are very supportive," he said. The most important thing for me is to get as many game reps as I can over here, to get accustomed to the Filipino style of play. It is a little bit different."
He said the game is much different over there in terms of style of play, timing, back-door cuts and even officiating.
"It was always a dream of mine to play over here. I was a walk on at Wake and now I'm playing professional basketball," Rike said. "With everything that's happened in just a little more than a month — I never would have expected this."
Rike said his experience at Wake Forest gives him confidence to attack his dream of playing professionally in the Philippines. He scored 12 combined points in 23 game appearances for the Deacs in four years of service as a walk on. 
"I have a high basketball IQ and a wealth of experience — albeit in practice. I've guarded the best of the best big men. I've guarded John Collins and Dinos Mitoglou," he said. "Dinos is a player for Greece, one of the top teams in the world and John could potentially play for Team USA one day. Those are the type of guys we're playing against. So having the experience going against guys like that has served me well.
"The professional players here are really good, but I go into it with the mindset of not being scared. I've done this before and I've held my own 100 percent."
Source: https://247sports.com/college/wake-forest/Article/Wake-Forest-Basketball-alum-Troy-Rike-shines-in-aftermath-of-viral-brawl–119573036/