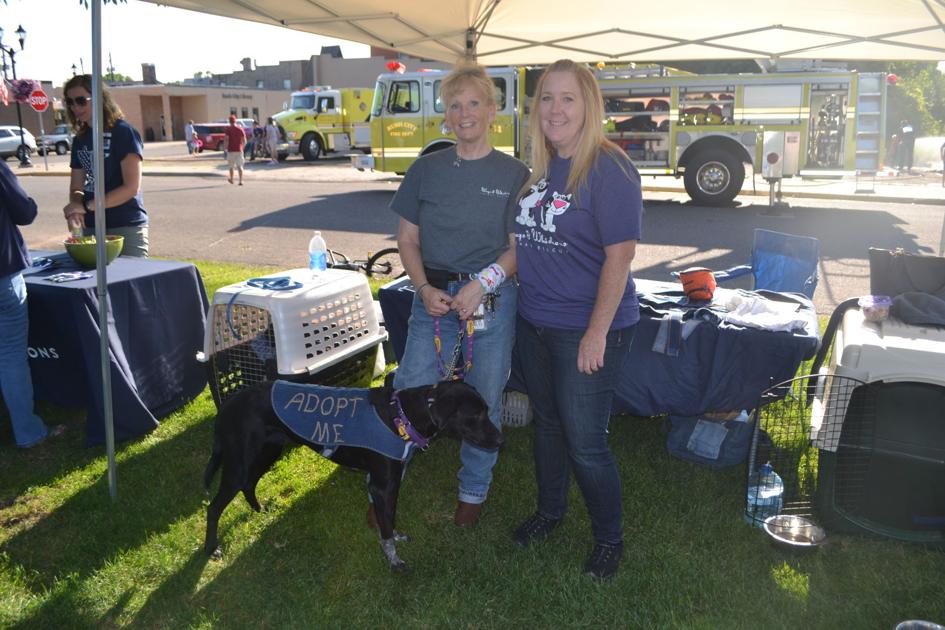 Yolk is a 2-year-old Lab pointer mix. He is bright-eyed alert, and his tail wags at the slightest attention. Yolk is one of the dogs fostered at the Minnesota Correctional Facility in Rush City.
On this night, he is out for an evening on the town at the Rush City Community Appreciation Night, Aug. 2.
Jill Arbogast of Wags and Whiskers, a dog rescue organization, said Yolk is currently being fostered by two offenders at the Rush City Facility.
Arbogast said with a laugh, "We [Wags & Whiskers] do all the hard work and they get to have all the fun."
Most of the dogs come to Wags & Whiskers with ambiguous backgrounds. They are strays, so their age and breeds are hard to determine. Some dogs became strays through a series of natural disasters, particularly in the south. When those shelters become overflowing, Wags & Whiskers helps to find permanent homes for the dogs.
In addition to Yolk is Banjo, a little orange male around 1 1/2 to 2 years who is still puppyish.
Ariel is the baby, a pointer mix, and is 3 or 4 months old. She was part of a litter of seven, three of which came with her to Rush City.
According to Arbogast, this pet foster program began in 2013. Initially the Rush City Correctional Facility worked with another rescue. Wags and Whiskers was approached in 2016 to see if it had an interest in participating in the program. After a tour Wags and Whiskers decided to participate.
"The official name of the program is Rush to Rescue," Arbogast said. "We identify the Rush to Rescue program as another foster home. We select dogs that are dog friendly, people friendly, maybe some that could benefit from the additional attention and training that the handlers are able to offer dogs in the program. If we have an internal foster dog needing to be moved out of one (of our) foster homes for whatever reason, and if we have open spot in the facility, I will ask for the dog to go there. They also foster puppies, which is exciting for everyone there."
The dogs live with two offenders and spend most of their days together with plenty of socializing with people, other dogs (if they get along) and outdoor time. A team of offenders and their dog is known as a "unit." Members of the unit often work, eat, play and even go to classes and religious programs together.
Every other week Jake Schneider of All Breed North in Rock Creek helps teach a basic obedience class. Arbogast said the inmates love him and have a genuine interest in what he says, .
Arbogast said pets, especially dogs, are commonly known to enhance people's lives and they contribute to a better environment in the correctional facility. Also, offenders who want the honor of caring for a dog must be in good standing.
"The feedback from the program has been fantastic. I have met parents of some of the handlers in the lobby who thanked me for allowing their son to foster a dog," Arbogast said. "They mention how the inmate has changed in such a positive way by having this dog in their life. We have had adopters who just raved about the program. People are very excited to be able to support such a program. It really is beneficial to the inmates and the dogs. I've had people I personally know say when they're ready to adopt a dog they will want a Rush to Rescue dog because they are given so much love, attention, and training that they make phenomenal pets. I like to think that goes for all of our rescue animals."
Wags & Whiskers stated they are thrilled to have this partnership with the Rush City Correctional Facility.
"The Rush to Rescue program has not only been a benefit to us as a rescue, the dogs who participate in the program, but also the handlers and I'd like to thank the staff at the prison," Arbogast said. "If you go to our website, www.wagsmn.org, we have a tab there for the Rush to Rescue program that gives a little bit more information, as well as pictures of some of the dogs that have been adopted from the program."
Source: https://www.hometownsource.com/the_post_review/news/wags-whiskers-at-the-rc-prison/article_4fcdc492-ac72-11e8-b5f3-6fcf2c2e6177.html