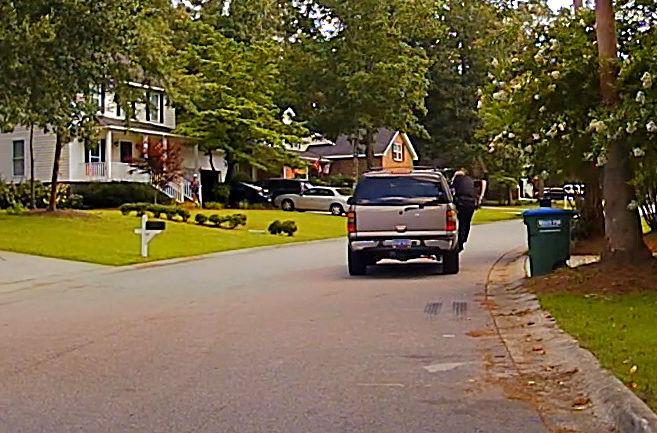 A driver who was pulled over for a stop sign violation in Summerville spoke about his sick dog before speeding away with an officer still hanging from the side of his SUV earlier this week.
Timothy Sledziona, 60, was charged with assault and battery of a high and aggravated nature following the incident, which left the officer suffering road rash and other injuries, according to the Summerville Police Department. He also was charged with failure to stop. 
The officer was treated and released from a hospital Wednesday, police said. 
Dashcam video of the incident shows Sledziona's vehicle speeding away from the scene with the officer, Raymond Gayhart, hanging onto the door frame.
Footage begins with the SUV, a Chevrolet Suburban, coming into an intersection. The vehicle rolled past the stop sign before coming to a complete stop and Gayhart pulled it over.
"Got a sick dog. Just carried it to the vet. I'm about to cry," Sledziona said as the officer walked up to the passenger side window.
"I feel sorry," Gayhart said.
The driver then asked the officer what he did wrong because he came to a complete stop. Gayhart explained that while he stopped, most of his vehicle was in the intersection, in violation of traffic law. 
Sledziona can be heard becoming irate before starting his SUV.
Gayhart yells "hey" before grabbing onto the door through the open window and jumping on the SUV's running board as it speeds away down Black Oak Drive.
"Stop right now or I'm going to shoot you," the officer said, his right hand moving toward his belt. 
Further down the street, the officer appears to fall from the moving vehicle and a crash can be heard.
Gayhart then activates his radio and says, "I just got dragged."
The officer suffered severe road rash on both his arms, his pants were ripped at the knees and he had visible, open wounds showing, according to an incident report. His vest was also covered in dirt and "all scratched up." 
In the report, Gayhart said Sledziona sped up after he told him that he would shoot unless he stopped.
"Officer Gayhart stated he jumped from the car, but must have got caught on the running board because the car drug him," the report stated.
Sledziona was found a short while later at his residence and arrested, the report stated.
Source: https://www.postandcourier.com/news/video-shows-summerville-police-officer-hanging-from-suv-after-traffic/article_868d9bd4-7bd4-11e8-a9b8-33199d6aa450.html