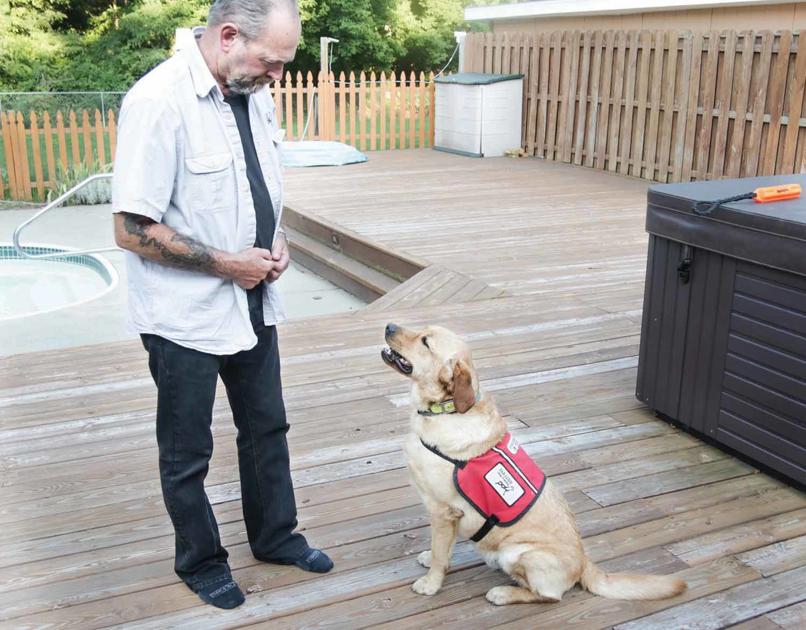 Tyrone Twp. — When clients sign the contract to receive a service dog from Jack and Lori Grigg of Paradise Dog Training, the first thing Jack says is, "Welcome to the family. You're stuck with us now."
The Tyrone Township couple has trained assistance/service dogs as well as bed bug dogs for three decades. Their four bed bug dogs, which only sniff out bed bugs, are their own, and they usually have two service dogs in training.
Service dogs are taught to pick up phones when they fall on the ground, push the automatic door opener, put laundry in the basket, lay under a chair in a restaurant and more. Lori said bed bug dogs are more high energy, while service dogs are laid back and mellow.
"Their job is to be with their person and to make sure they don't need anything," Jack said.
The training process typically takes about eight months with the Griggs, and then another four months bonding and training with the owner. Sometimes, the dog is easier to train than the owner.
They ask approximately $18,000 for their service dogs, which is about half what other companies charge. Michigan does not have an official certification process for service animals, so the Griggs make sure the dogs are qualified. Lori said dogs should be trained "right off the bat. That way they don't learn any bad habits."
Training first starts with talking with clients to see if the couple can actually help them. Out of 100 calls a week, they turn away 80. As a small business, they're selective about their clientele, which includes schools and hospitals. This means no red flags.
"Sometimes you can tell they're not dog people. Sometimes it's their living conditions. Sometimes they really don't need a service dog," Jack said, adding that oftentimes some people need an emotional support dog instead.
They complete a needs assessment to help tailor a dog to the person, which includes their disability, if they take their dog to work and more. Disabilities they train dogs for include being paraplegic, having diabetes, severe anxiety, hearing impaired, autistic children, and more. Â 
Dogs trained to handle people with diabetes can sniff someone's blood sugar and alert them if they need insulin or help.
"There's a large population that has disabilities," Lori said.
Jack will take the dogs on a Sunday afternoon to Walmart and see how they handle learning outside their comfort zone. "Just put the dog in a sit, tell them to stay. We can teach a dog to open doors, turn the lights off and on, get the phone, go get help, get the clothes out of the dryer, put them in the laundry basket. The hardest thing to teach a dog to do is nothing," he said.
While many vests have "do not pet" printed on them, some people still pet a service dog without asking. Jack said there are just two reasons why they would let someone pet a service dog "if they asked."
The first reason is if they know a dog will not react. The second reason is if the dog is training and they need to know how the dog will react.
"Usually, down the road, the client will make that determination," Lori said.
One problem they've encountered is fake service dogs.
"There are a lot of fake service dogs out there causing problems with our clients," Jack said, adding that some people just buy a fake service dog vest online. "They're not heeling, they're pulling on the leash, they're barking, they're misbehaving."
These misbehaving dogs will cause stores to ban all dogs, hurting people who actually need a service dog.
Source: https://www.tctimes.com/living/training-real-service-dogs/article_21f3ec64-8f84-11e8-9c97-eb1cb5546f13.html