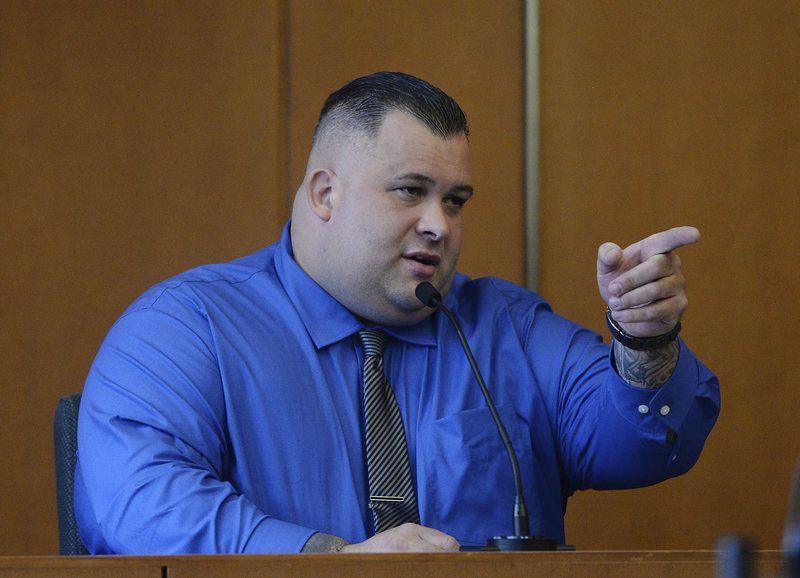 SALEM — Jason Gentry insisted to a Salem Superior Court judge that the last time he saw two puppies named "Livid" and "Gotti," they were in trash bags in the back of Dominick Donovan's car. 
He admitted that he was present, in his now-closed Lynn kennel, when the 20-week-old dogs, called "Donovan pinschers," were killed. 
But, Gentry said, as he took the stand Wednesday under a cooperation agreement with prosecutors, that it was Donovan who hanged both dogs.
"I wasn't gonna take the fall for what he has done," Gentry admitted from the witness stand. 
Gentry, 37, of Swampscott, ran a dog training business until his arrest. He pleaded guilty last March to a dozen counts, including 10 counts of animal cruelty related to his role in the deaths of the two puppies, as well as a third dog called "Wotan," and is facing sentencing later this month. 
Donovan, 54, of Long Beach, New York, is now on trial, charged with six counts of animal cruelty. 
It was Gentry who implicated Donovan in the hanging deaths. 
At issue in the trial, which got underway Tuesday, is Gentry's credibility. And he was forced to admit both under questioning by prosecutor Lynsey Legier and by defense lawyer Jacob Atwood on Wednesday that he had lied multiple times to investigators. 
As Revere police released photos of the two dogs found in a trash bag outside a gas station on Nov. 22, 2014, he called Donovan in New York, Gentry told Judge James Lang. "He (Donovan) told me to delete anything I had and don't worry because he would take the blame." 
Gentry went along with the plan. At the time, he was under indictment in a pill trafficking case, "and I didn't want to get in trouble any more."
For a while, he testified Wednesday, he and Donovan remained on good terms, with Donovan sending him more dogs. 
One of those dogs was named "Wotan." 
Wotan turned out to be more than Gentry could handle.
Wotan eventually attacked him, biting Gentry's arm hard enough to cause permanent nerve damage that has left him without feeling in his right hand, he testified.
Gentry said he punched Wotan, then struck the dog with a baton, eventually getting it into the dog's mouth.
The dog let out a howl as it bit down on the metal bar, and Gentry said he managed to kick the dog away.
He lied to doctors and Salem police when he went to the hospital, blaming a stray pit bull.
Under cross-examination from Atwood, Gentry was also forced to admit that he'd also told a friend that he'd used an entire canister of pepper spray on the dog. 
The friend asked Gentry if he planned to keep Wotan. 
And in text messages that Gentry eventually conceded he had sent, he told the friend that he would keep the dog. "It's showtime," Gentry wrote. He also told the friend that he was waiting for a stun gun to arrive. 
Later, however, he chose to send the dog back to Donovan. 
Gentry said that Wotan was given Valium by one of his friends to calm the dog enough to get it into a crate. 
When Wotan arrived at Donovan's home, the dog was dead. 
It would be the end of their business partnership and friendship. 
First meeting
Gentry testified that he had learned about the so-called breed, which is not recognized by the American Kennel Club, on the internet. 
Donovan "claimed to have the super American working dog," Gentry testified. He began exchanging Facebook messages and then phone calls with Donovan, learning about the dogs "just by conversating and him explaining the breed," Gentry said. 
Eventually, Gentry and another man, Jason Driver, drove to Long Island to get one of the dogs for $1,000. 
When they arrived, Donovan took them to see the puppies, in a basement packed with dogs in cages. 
Gentry said Donovan told him to pick out two dogs, in case he didn't like one of them. 
Then, before Gentry and Driver left, Donovan took the men and the puppies to the basement. 
Driver, who also testified Wednesday, said he held each puppy as Donovan used a marker to draw on its ears, then cut along the line, glue the ears upright and stitch them, all without anesthesia. 
Gentry, however, said the dogs' legs and muzzles had been taped together — a detail he would repeat in his recounting of what happened the following summer in Lynn. 
And while Driver testified that the floor had blood on it, Gentry testified that he saw no blood. 
Gentry testified that he had expressed concern about the dogs being in pain from the procedure. 
"If they're not strong enough for my breed, they get culled," he quoted Donovan as telling him. 
Donovan had provided instructions to keep the dogs, named Gotti and GG, separated, "because they could kill each other." 
But Gotti had problems, Gentry testified. One of the cropped ears was not healing properly. And his legs were not growing properly, something he blames on inbreeding. 
He complained to Donovan, who proposed replacing Gotti with a different dog. 
Donovan told Gentry that he had to pick up another dog, Livid, from a Cape Cod couple. Livid was "shy and skittish" and "wasn't a good example of the breed," said Gentry. 
Dogs' deaths
On Nov. 1, 2014, Donovan, his wife, and several kids arrived in Salem, where Gentry was living at the time, on Station Road.  
Several puppies Gentry had agreed to watch until they could be picked up by a shipping company, were in the trunk, Gentry testified. 
They went to Gentry's kennel in Lynn, a business that was later raided and shut down over the squalid conditions and lack of a license. 
"He told me he had to crop the four puppies' ears," said Gentry.
The puppies were making a lot of noise, and "their eyes were bulging out," said Gentry. "They seemed like they were in a lot of pain."
The Cape Cod couple who owned Livid showed up with that dog, Gentry said. 
The next morning, Gentry said Donovan asked him if he had any cables and a choke collar. 
Then Donovan took a cable and swung it over a garage door rail. 
Gentry watched as Donovan put the collar around Gotti — the puppy Gentry had paid $1,000 for just 10 months earlier — and hanged him. Then, Gentry said, Donovan did the same thing to Livid. 
"I was just kind of in shock," he said. 
"I was asking why he was doing that in my business," Gentry testified. "He said it's easier for him to get rid of it here, rather than bring them home." 
Gentry said he grabbed a trash bag. He said Donovan put Gotti in the bag. Then Livid. He said — apparently for the first time — that he got a second bag and "double bagged" the puppies. 
Soon after, he said, Donovan's wife pulled up and they put the dogs in the trunk of his car. 
Gentry, a Revere native, said he gave Donovan directions to Boston, recommending that he take Route 1A. Donovan told him that he'd rely on his GPS. 
The dogs would be found three weeks later, atop a pile of debris collected by a landscaper outside a Revere Sunoco station. 
Gentry says he had nothing to do with that. But so does Donovan, whose attorney has noted that the blood on both dogs was still red, and that neither dog had shown any signs of decomposition when they were discovered. 
The morning after Donovan left, one of the puppies that had her ears cropped by Donovan, died. 
Gentry said he called Donovan for advice.
"I put her in a trash bag and threw it in the dumpster like he said," Gentry testified. 
Gentry will be back on the stand when testimony resumes on Friday.
Courts reporter Julie Manganis can be reached at 978-338-2521, by email at jmanganis@salemnews.com or on Twitter at @SNJulieManganis. 
Source: http://www.salemnews.com/news/local_news/trainer-describes-deaths-of-dogs/article_2f84e0a2-a689-5045-a0c2-6b06e7a4334c.html