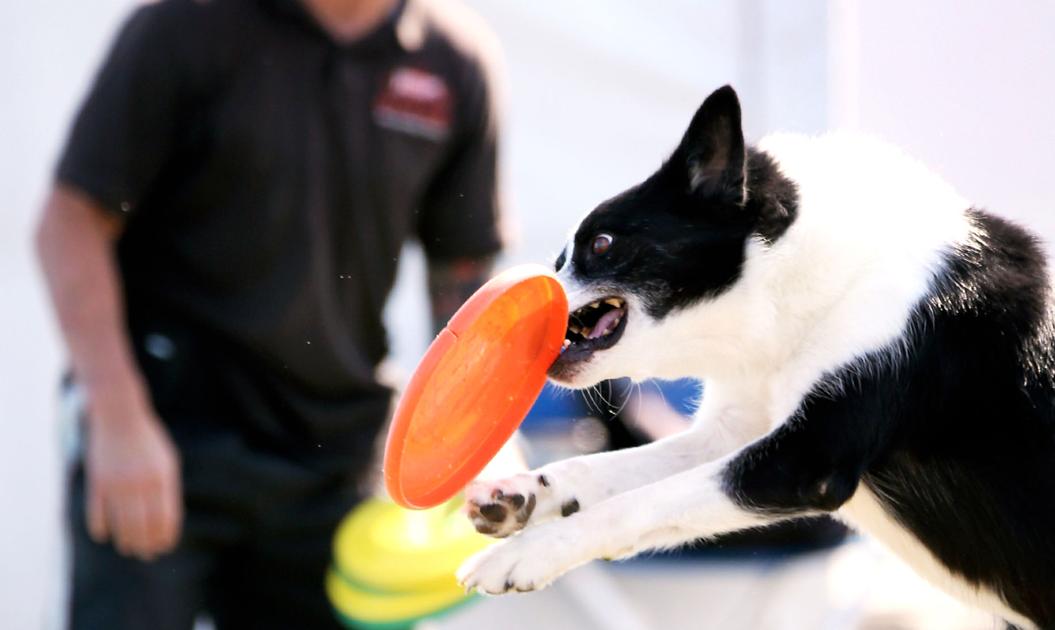 With a running start, Zee leapt and sailed in the air, snagging a Frisbee that was tossed by Lou "Mack" McCammon.
For an added layer of difficulty, the shepherd mix performed the same feat again, this time doing backflips, which earned the appreciation of the crowd.
The reaction was just what McCammon was hoping for.
"Don't be afraid to hoot and holler. All of these dogs you are about to see out here definitely feed off your applause," he said during a Wednesday performance of Jump! The Ultimate Dog Show at the Nebraska State Fair.
The approximately 30-minute show is held multiple times during the fair in the East Entertainment Area.
McCammon, of Las Vegas, has been training dogs to perform routines for more than 30 years and is a two-time world champion Frisbee dog handler. The pooches in his shows put their athleticism on display with Frisbee tricks, high jumping, dock diving and other stunts.
The performing canines have wowed crowds all over the world and have appeared with McCammon on late-night talk shows and Animal Planet.
"We like to travel around educating folks on the importance of keeping dogs happy and healthy and that's through good exercise and good nutrition," McCammon said.
He rotates 10 dogs per show, all of which he said have been adopted from animal shelters across the United States.
"There are so many good performing dogs in shelters. They end up in a shelter because they are so hyper, so jacked up that people can't handle dogs like that," McCammon said.
That kind of personality is what he is looking for when choosing dogs for his show. The 61-year-old takes a squeaky toy, ball or Frisbee into a shelter to see which dog there could make a good fit.
"You can just tell. The dog will give you laser-like focus," he said.
The current group of performers includes new and old dogs, such as veteran Chuey, a heeler mix that jumps rope, and newcomer Bubba, a Chinese crested that does a handstand on its front paws in McCammon's palm. Others, such as Bo, a border collie and whippet mix, have specialties like bounding over a bar higher than 4 feet above the ground.
The shows are part of McCammon's Cool Dog Productions.
He got his start handling and training dogs after attending a Frisbee dog contest in California. He was hooked right away and won two world titles with his dog Scooter, a golden Australian shepherd. The duo rose to fame and Scooter became the mascot for the San Francisco 49ers.
McCammon then began performing shows around the world, creating Jump! The Ultimate Dog Show.
The breeds in the shows vary, and so does the time it takes to train them. It can take as little as a day to a couple months for a dog to learn a trick. McCammon picked up training skills along the way before developing his own.
"I always had dogs and had a lot of friends who were trainers. They gave me a lot of tips. I picked up on different types of training techniques and I acquired my own. It is all about positive reinforcement," he said.
The tricks don't always go quite as planned. After they are introduced and dash out to center stage, some dogs take their time to sniff the ground first or take a quick break to tend to other needs before claiming their turn in the spotlight.
McCammon, who is also part of the show, giving commands and tossing Frisbees, said the dogs are never forced to perform.
"One of the things I'm really proud of is we get people coming up to us after the show saying that it looks like the dogs are enjoying what they're doing. That is one of the rewards that keep me going," he said.
Source: https://www.theindependent.com/news/state_fair/top-dogs-show-off-flips-handstands-during-canine-show/article_97b1e63c-abfd-11e8-8e46-1747c5f20d65.html