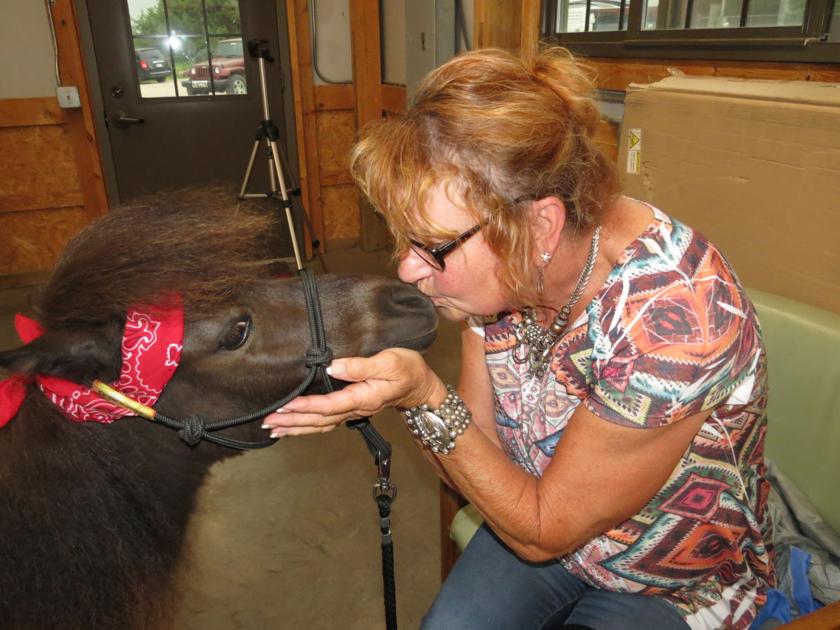 KEARNEY 'ÄĒ Jet stood out from his college classmates at Tuesday night'Äôs graduation. Not only does he have a cool name, he wore a red bandanna worthy of rocker Bruce Springsteen and specialty ordered black-and-white sneakers.
However, his most distinctive characteristic was being a 14-month-old, 120-pound miniature horse among the young dogs graduating from Hilltop Canine College's eight-week basic dog obedience course. The classes were at Happy Tails Lodge northwest of Kearney.
Jet's owner, Teri Edeal of Johnson Lake, enrolled the tiny horse she purchased from a St. Libory farm as one step toward getting him certified for pet therapy.
'ÄúI always wanted to use horses to reach out to people,'ÄĚ she said. 'ÄúI'Äôve tried several other things, but God never opened those doors … but he said, 'ÄėHere'Äôs Jet. This is the way I want you to do this.'Äô
'ÄúAnd that'Äôs just awesome,'ÄĚ Edeal continued. 'ÄúWhen I retired, I didn'Äôt just want to quit. I wanted to do something different.'ÄĚ
She plans to retire at the end of July after 31 years with the U.S. Department of Agriculture's Natural Resources Conservation Service, 28 at the Lexington office and the last three as a conservation agronomist for counties within the Tri-Basin and Central Platte natural resources districts.
Edeal said she already completed an online course offered by Pet Partners, a national therapy animal program. A friend who had taken her dog to a Hilltop Canine College class suggested that Edeal enroll Jet.
Jet has companions at home, a barn 10 miles from the Johnson Lake owned by Mike Jeffrey. The three other horses include a 19-year-old miniature named Bear who has experience pulling a cart and participating at FFA petting zoos.
However, Jet hadn'Äôt been around other dogs before taking the Kearney class. 'ÄúIt was just to get him used to different animals, people and commotion, and he behaved beautifully,'ÄĚ Edeal said.
Dr. Roger Neil, a Hilltop Pet Clinic owner-veterinarian and dog obedience teacher, said he's never had a miniature horse student in all his years as an instructor.
His main concern was how the young dogs in the class would react to Jet. 'ÄúAnd you know, these dogs never paid any attention to him,'ÄĚ he said, nor was Jet concerned about the dogs.
'ÄúHe doesn'Äôt do sit-stay, but he does most of the stuff,'ÄĚ Neil said about any differences in graduation requirements for Jet.
Edeal said pet therapy certification requirements for Jet include making sure he's comfortable around other animals, people and wheelchairs. In class, he also learned to back up to simulate backing up between chairs in a room, walk on a loose rein and have good manners in general.
'ÄúHe'Äôs really well-behaved in that way,'ÄĚ Edeal said.
The requirement for a therapy animal to have a bath within 24 hours of going to a public place has been solved by her husband, Brian, who renovated a wash stall in the barn, complete with a propane heater for warm water.
Edeal said she's already talked to officials at Kearney's new Central Nebraska Veterans Home and at CHI Good Samaritan about making visits with Jet. She also plans to contact area schools and Children's Hospital in Omaha, where one of her grandson's was a patient for a month.
First, Jet must be certified for pet therapy. The biggest task ahead toward that goal is potty training.
'ÄúThat'Äôs the goal for the summer,'ÄĚ Edeal said, explaining that such training requires her to be home to observe Jet'Äôs daily routines and look for signs when it'Äôs time to go outside.
Once he's certified, the horse that is just 29 inches tall at the shoulder, will go to work in his red bandanna and distinctive Build-a-Bear sneakers that allow him to safely walk on hard, slick floors in schools, hospitals and other public buildings.
He will travel in style as a passenger in the back seat area of his family'Äôs crew-cab pickup. Time will tell if he maintains his post-graduation attitude 'ÄĒ stubbornness 'ÄĒ about walking up a miniature horse-size ramp into the pickup.
'ÄúThis little guy has already brought us a lot of joy,'ÄĚ Edeal said, as her 9-year-old grandson Drexton, who helps handle Jet, nodded in agreement.
Source: https://www.kearneyhub.com/news/local/this-miniature-horse-just-graduated-from-hilltop-canine-college-s/article_4422d568-74a2-11e8-8519-87f82f0e8f51.html