Two years ago, we brought you the story of a Montgomery County woman on a mission to "rescue, rehabilitate and relocate thrown–away dogs so they can now have a purpose to be honored, respected and trusted as K9 working dogs."
Seven months ago, we shared the story of a Montgomery County man who was so burned from the corporate world that he adopted a pit bull and invented a hands-free dog-walking device that he hoped would revolutionize the market.
Today, we're going to tell you all about how their specific sets of skills – and unique motivations – led to a professional union to spark an effort to rescue, train, serve and protect police dogs.
In between those two stories – and somewhat unexpectedly – Carol Skaziak, Todd Anderson and their partners have gotten Throw Away Dogs Gear up and running.
Anderson met Skaziak last summer. That happened because they shared the same attorney who would serve as a matchmaker of sorts between the former's growing company, Geartac Systems, and Skaziak's non-profit, the Throw Away Dogs Project.
"Maybe you could team up," Anderson recalls of what the attorney said at that introduction. "You'd be a superpower."
Though a great idea conceptually, things didn't fall together initially. They left it at "maybe our paths will cross again." Which they did earlier this year when Skaziak had what Anderson called a "graphic-arts emergency/crisis."
With a background in that field, Anderson had the requisite skills to help out. She wanted to pay him for his services, but Anderson wasn't about profiting off of helping a non-profit. Instead, he "hooked her into meeting again" since she had a new business partner.
Bruce Myers, a K9 officer for the state of New Jersey, is head trainer for the Throw Away Dogs Project. He wasn't initially sold on the practicality of Anderson's products.
"Todd came to my house and showed me what he had," he said. "Functionally, the harness was not easy to put on and when you're dealing with police dogs, you want to throw the harness on and get to work."
Still, both sides saw some promising leads. They teamed up to develop a new harness, collar and vest models and, voila, the Throw Away Dogs Gear offshoot was born.
"It's been a match made in heaven ever since," Myers said.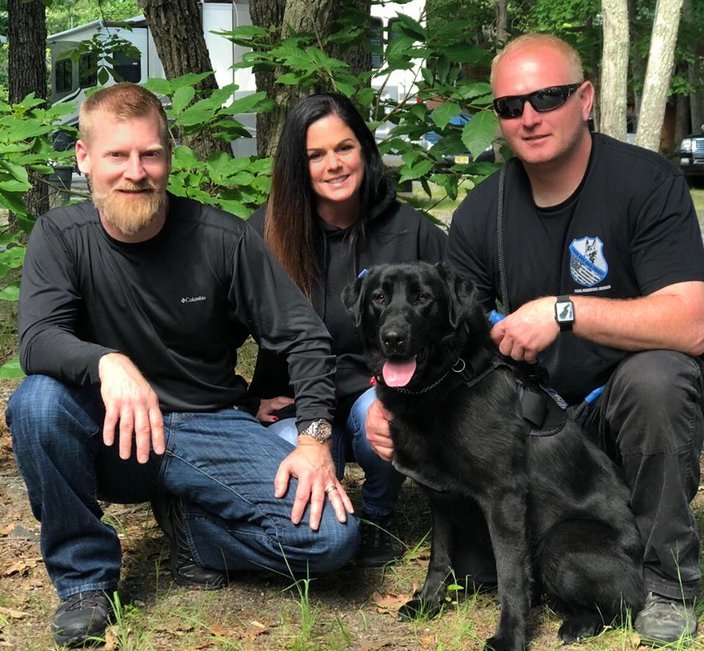 Photo courtesy/Throw Away Dogs Gear
Anderson said his Geartac company is not involved in this offshoot whatsoever. The product lines are distinct and everyone involved remains steadfastly committed to not only keeping the businesses separate from one other, but from the non-profit branch that trains dogs.
But it made sense as a growth from Skaziak's non-profit in a "you need to create a business that's for profit" sense.
Within the past several months, they've started mass production on several items that accompany the rescues trained to become police dogs to their new homes with departments across the country.
"I'm still scared to death," said Anderson, alluding to the previous PhillyVoice story in which he said keeping a roof over his family's collective head hinges on his professional success.
It doesn't hurt that Skaziak's non-profit – which rescues dogs out of shelters (some already on "kill lists" with no ability to be adopted) and trains them to work as narcotics, patrol, rescue and service dogs – has drawn national attention.
We wrote about her in 2016 when Cesar "The Dog Whisperer" Millan was in town to film a television segment about her operation.
Skaziak, who was out of town on vacation last week, has drawn additional attention lately. 
It stems from her fight to find out how exactly Kanon, a beloved dog she placed in Bryson City, North Carolina, died in the possession of a police officer there. ("It was not an accident," she wrote via email. "We have been fighting for justice for our boy and no one will help. It's the small-town mentality and I'm having a hard time getting the story out.")
From Anderson's perspective, joining the offshoot team couldn't have come at a better time, or with better people. In fact, he used the same "match made in heaven" line as Myers did to describe it.
"These people are just like me," Anderson said. "They're great people. I feel like great things are about to come our way."
[embedded content]
When Myers spoke about the business last week, he belied no lingering trace of the initial reaction of not seeing "anything that can be of any use to me."
"Now, I call Todd three times a week. The conversation always starts with, 'Look, dude, I have good news and I have bad news,'" he said, noting that the calls often involve requests for new products or tweaks to existing ones. 
"Now, it's almost become an inside joke," he continued. "Todd can make anything. He came up with a new harness I wanted just like that. He impresses me to a point that I want to find something he can't make. The guy just amazes me every single day. This is high-quality equipment and people are eating it up."
Take the new dog vest they developed. According to Myers, it's not really even on the market yet, but they've already sold a half dozen.
While Geartac equipment is marketed to the general public, Throwaway Dogs Gear focuses on the dogs heading for a life of service with a police department's K9 unit. That's why Anderson and Myers created a separate leash, vest and collar line.
As things stand, they've sold a half dozen full gear outfits and plan on placing 20 to 30 dogs – with a full Throw Away Dogs Gear kit at a cost of roughly $600 – this year.
"We still have things we're working on," Myers said. "Our long-term goal is to be able to supply everybody with quality gear. We want to be bigger than we are, and we are already progressing at a very rapid rate. I want to be the industry leader, the go-to source when you think of police-dog gear."
Source: https://www.phillyvoice.com/dog-product-inventor-teams-trainers-who-take-rescues-and-turn-them-police-pooches/