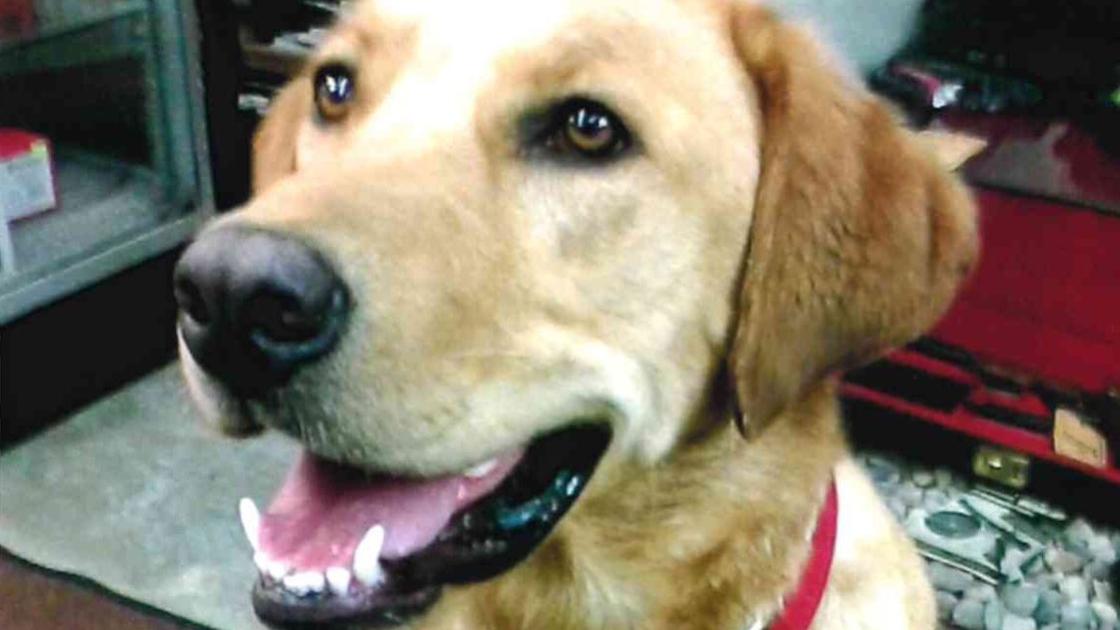 Bow's a darling yellow Lab who hangs out at E-Z Livin', a store in Milan that sells hunting and fishing supplies, with his owners, Todd and Rhonda. He is there every day of the week, so he puts in long hours.
His job is very important. He oversees the welcome mat for those who walk through the door. Everyone loves Bow, and he loves them, especially the kids who come in. He feels like a kid himself.
He gets paid with treats from the delivery crews from UPS, Fed Ex and Spee-Dee, and also from the customers.
Bow is 2 years old and has been with his owners since he was 6 weeks old. He came from a breeder in Iowa.
His first birthday party was held in the store. Talk about a party! So was his second birthday party. Sure, he got gifts — what else is a birthday party for? Bow asks. He has grown up in the store.
He used to play with the fishing bobbers when he could grab one or two. He's not really a fan of toys.
While I was there, Bow was running around chewing on a deer antler. He also grabbed my writing paper, which was sort of hanging over the countertop, then he gently let it go. He was in a playful mood.
Bow is an outdoorsman's dog, so he keeps himself busy. I got to see Bow retrieving, and he is fast. He knew what to do and when to do it.
Bow went and brought his bowl into the room, and he was telling Rhonda to fill it up. He waits until someone tells him, "Go ahead," and then he will eat. He has manners!
He weighs about 78 pounds, and he is as solid as a rock.
I found out that Bow is training to become a therapy dog, and I know he will be good at this. The hospital is on his list, and then the nursing homes.
There's a man by the name of Tex who comes to the store daily and takes Bow walking. If Bow sees him outside and he doesn't come in, then Bow cries. Now, Bow's not a whiner, but that is enough to make any dog cry! His walking is very important, and he expects it. Tex better show up, right, Bow?
Rhonda gave Bow a set of keys, and he ran right to the door. He was ready to hit the road. He rides in the front seat, too. No back-seat driving for Bow!
Bow loves to go swimming also.
Bow gets to sleep in the big bed with his owners. They love him dearly, you know. He loves them just as much.
Rhonda says that Bow likes to play hide-and-seek, and he takes that deer antler with him. Bow knows every nook and cranny in that store, so he knows where to hide.
Bow loves eating his Purina Pro Plan, and of course he has treats galore. He likes all-natural treats.
Bow goes to the Orion Veterinary Clinic, and he looks in fine shape to me.
He gets up early and heads to work. If it's E-Z Livin' you want, he will show you how it's done. And Creature Feature is right up his alley!
Source: https://qconline.com/life/pet_profiles/the-livin-is-easy-at-bow-s-workplace/article_52c3aaa3-b27a-5e75-8303-d26b6e02671c.html