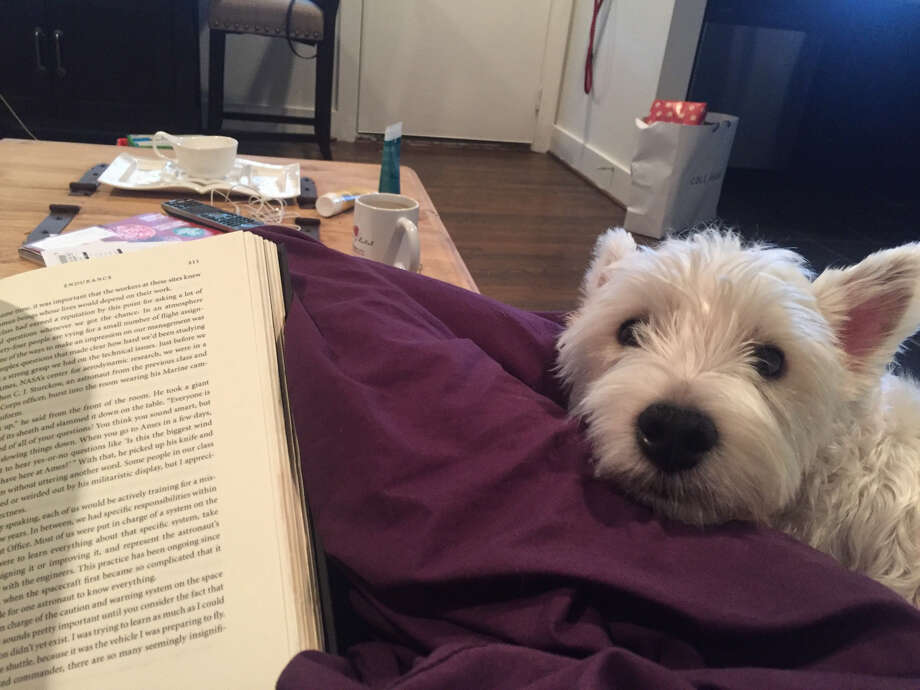 Photo: Alex Stuckey, Houston Chronicle
Even in an NRG exhibit hall packed with thousands of dogs Saturday, one bark in particular stood out. There was a high-pitched, almost piercing frequency to it, the sounds continuing in rapid succession as if demanding attention.
My attention.
My heart skipped a beat. I started walking faster, thankful that I wore Toms instead of unpredictable flip flops that might slip at any moment.
I rounded the corner and, through the throng of people walking dogs of all shapes, sizes and breeds, I locked gaze with those black marble eyes that always make my heart melt.
At the 41st Houston World Series of Dog Shows, I had stumbled upon Westie and Scottie Rescue Houston's booth. In other words, I was in trouble.
Translator
To read this article in one of Houston's most-spoken languages, click on the button below.
My obsession with West Highland Terriers, commonly referred to as Westies, started when I was about six. I read a book starring these majestic and stocky white terriers and fell absolutely in love.
No one in my family can remember the name of the book. But when I finally adopted my first Westie at age 25, everyone recalled the moment I declared my undying love for the sweet and stubborn breed.
The annual dog show, which started Wednesday and ends Sunday, involves around 40,000 spectators and canine participants. I knew that covering it would bring a day of endlessly ogling beautiful puppies while htye were being trimmed, brushed and painted in preparation to be judged for their looks and flawless builds. I was even excited to watch puppies compete in extreme Frisbee challenges and canine musical freestyle.
But I was not prepared for row upon row of dog rescue booths, each one boasting cuter pups than the last. And they could all be yours with a few flicks of a pen across a couple pieces of paper.
I can resist the shih tzus, with their button noses and floppy ears. I can resist the beagles, with their stubby legs and constantly wagging tails. I can even hold it together (though barely) when I see the French bulldogs, with their squished-in faces and pointy ears.
But I"m hopeless when it comes to Westies. Photos of my little guy, Moby, line the wall of my office cubicle. I have artwork, purses, tins and even a clock that are Westie themed. Even my phone's screensaver, a space usually reserved for significant others, boasts a picture of my adorable Mo.
So at the show, I feel almost guilty when I lock eyes with Zach, a wonderful Westie up for adoption.
I wonder: Am I cheating on my little man?
I can't help myself. I bend down to his open-topped enclosure, stick my fingers thorugh the metal slats.
Zach puts his pows on the gates, his tail waggling and his rough tongue licking my finger.
Take me home, he's saying. My chest tightens.
"Do you want to take him out and play with him?" a volunteer asks.
I hesitate. I check my phone. I see Moby smiling out at me.
"I can't," I say, flashing the photo on my phone and tearing my eyes away from Zach. "Can I volunteer instead?"
Alex Stuckey usually covers NASA, science and the environment for the Chronicle.
Subscribe to Gray Matters' newsletter. Take me home, it's saying.
Source: https://www.houstonchronicle.com/local/gray-matters/article/The-dog-show-at-NRG-12-000-other-dogs-And-that-13094276.php