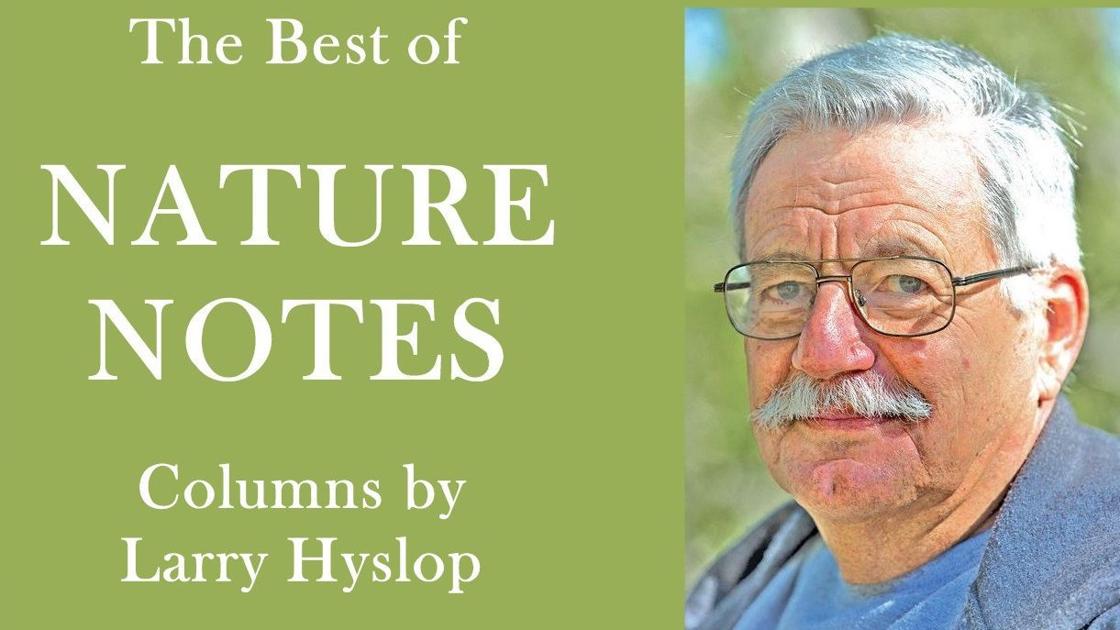 Nature Notes: Common hummingbird myths
Hummingbirds are welcome visitors to our feeders each summer. They are found only in North and South America. One of the first requests by Asian and European visitors to the U.S. is often to see a hummingbird.
Hummingbirds are also very misunderstood birds. Here are a few of the myths concerning hummingbirds.
Myth 1: Hummingbirds eat only nectar, which is basically sugar and water. Actually, no animal can live only on sugar. Hummingbirds are so tiny they need a constant source of ready energy. Normally, they obtain this energy by drinking flower nectar, which is almost exclusively sugar and water. We help them by providing sugar water at our feeders.
But, like all animals, they also need nutrients, like fats and proteins. Hummingbirds are voracious hunters of small insects such as aphids, gnats and mosquitoes. Spiders are their favorite food source, especially baby spiders. Spiders may make up between 60% and 80% of their daily solid food. Hummingbirds may also steal small insects from the spider's web, then eat the spider and use the web for nesting material. Hummingbirds can sometimes be seen hovering and moving slowly along a tree branch, hunting for small insects and spiders.
Myth 2: Hummingbirds are attracted only to the color red. Flowers, feeders and nectar must be red. Actually, nectar is clear and sugar water should also be clear. Hummingbirds will feed on any flower regardless of color. A flower's tubular shape and nectar content are more important than color.
A bright red feeder probably catches a passing hummingbird's eye but feeders do not need to be red. Their location and sugar content are more important than color. The feeder outside my window is red with raised yellow flower shapes around each feeding port. I imagine hummingbirds find the feeding port just fine without the silly flower designs.
Myth 3: Hummingbird beaks are straws they use to suck up nectar, or their tongues are tubes for the same function. Actually, hummingbirds do have unique tongues that are twice as long as their bills and forked, or V-shaped. They very rapidly flick this tongue in and out of flowers to lap up the nectar.
Myth 4: once you begin feeding hummingbirds, you must not stop. If your feeders go dry, the hummingbirds that depended on that food will starve to death. Actually, they instinctively forage for food, visiting many locations during the day. They never become dependent on one source and studies have shown that birds with easy access to feeders use them for only 20% of their daily rations.
Myth 5: Hummingbirds have no feet. Actually, they have feet but all their feet can do is perch. They will generally fly to even turn around on a perch.
Myth 6: Feeders must be taken down in early fall to encourage hummingbirds to begin their migration. A ready supply of sugar water will keep them here until it is too late. Actually, hummingbirds know when it is time to migrate south and nothing is going to keep them from doing it. Keeping feeders filled ensures summer residents have sugar water right up until they move south and offers food to migrating birds passing through.
Myth 7: This is a good one. The ruby-throated hummingbird, for example, migrates from eastern United States and Canada, across or around the Gulf of Mexico, to spend the winter in the tropics. The myth says these tiny birds cannot possibly migrate these long distances. They ride on the backs of larger, stronger birds. Canada geese are often cited as carrying hummingbirds on their backs.
Actually, hummingbirds are experts at long-distance flight. They typically gain 25-40% of their body weight before they start migration. Some birds fly non-stop across the 500-mile width of the Gulf of Mexico. Over land, they fly by day and fly low so they can spot, and stop at, food supplies along the way. They use tail winds to help consume less energy and body fat. Research indicates a hummingbird can travel as much as 23 miles in one day.
Myth 8: These tiny birds are too small to be very bright. Actually, hummingbirds are highly developed, intelligent birds that take care of themselves just fine.
Nature Notes: Non-lethal coyote control
A 2017 article in Scientific American reported that Wildlife Services, part of the U.S. Department of Agriculture, used tax dollars to kill 76,859 coyotes in 2016. Their mission is to "resolve wildlife conflicts to allow people and wildlife to coexist."
To achieve this, their employees used neck snares and other traps, shot coyotes on the ground and from planes and helicopters, armed sheep with collars containing liquid poison, and distributed M-44 "bombs" to inject sodium cyanide into the mouths of animals that chew on them.
In 2016, Wildlife Services killed over 4,000 coyotes in Nevada. All this killing made me wonder if there are reliable non-lethal controls. The Scientific American article stated "… there is no clear evidence that lethal control works to reduce human-predator conflict. In fact, it can even make the problem worse."
Killing coyotes also seems to be unproductive. Coyotes are killed year after year, yet coyote populations are doing fine, and increasing their numbers in many areas.
To see a different approach, I went to the Coyote Project website, where it states its mission promotes compassionate conservation and coexistence between people and wildlife through education, science and advocacy. They count among their advisory board members and supporters, scientists, educators, ranchers and citizen leaders.
They report livestock losses are part of ranching and predators such as coyotes kill livestock, and that often results in killing coyotes. According to the Coyote Project, the problem with killing coyotes is this is reactive, done after an attack and usually does not result in the death of the actual coyote that caused the problem. Killing coyotes is labor intensive and can result in injury or death of non-target animals like pets and other livestock. It is also inhumane and destroys the predator social structure.
The Coyote Project states non-lethal coyote controls are proactive, preventing losses before they occur. They are more humane and can be cost effective in the long term.
The site offers a realistic view of non-lethal methods and reports how well they work. Predator-proof fencing is possible but generally cost prohibitive. High-tensile electric fence increases fencing effectiveness. Night corrals in predator-proof fencing is a possible option.
Fladry is a rope usually mounted along a fence; strips of red nylon flags hang from the rope. Fladry works well on wolves, which typically will not cross the fladry line for several months. It works on coyotes but they become used to the fladry and cross the line sooner. Turbo fladry uses an electrified line and can double its time of effectiveness.
Guardian animals are often used to guard sheep. Dog breeds like Great Pyrenees work good but can be expensive and require a year of training. They also require dog food and can be aggressive toward people and other dogs. Llamas, alpacas and donkeys do not require training, are generally calm and easy to fence in. They feed themselves and do not roam or bark. They may not be as effective as dogs against larger predators.
Flerds are herds of cattle and sheep where cattle offer some protection to the sheep. Cattle and sheep require time in a pen to ensure they bond and stay together.
Foxlights are solar-powered dusk-to-dawn LED lights that flash randomly using different colors and can be seen from half a mile away. They are currently used around the world to help control predators around livestock. Their random behavior means they remain effective for years. Moving their locations periodically also helps.
Human presence helps deter predators. Removing dead and sick livestock also helps.
The Coyote Project states "The best livestock protection strategy is to have effective non-lethal systems in place and to use lethal control only as a last resort … when non-lethal methods have proven ineffective."
Nature Notes: Sitting beside a waterfall
It was a bright, sunny day. The wind was blowing strong below at the lake but the air around us was still. Cindy and I sat on a convenient bench-like outcrop of rock. Above and beside us, falling water formed a waterfall/cascade. Below us, the water slowed and formed a creek feeding into Angel Lake.
It was almost painful to look at the sparkling lake water. Intense morning sunlight reflected off the white caps on the wind-whipped lake. Beyond the lake, wind whipped the willows and buffeted tents in the campground. In the distance, the Pequop Mountains appeared light gray and farther out Pilot Peak stood as a silhouette along the Utah border.
Easier on the eyes, although still bright white, were bands of snow around us. Below us, much smaller white patches revealed chokecherry and serviceberry flowers. The cascading water above, beside and below us, all visible water was white. Myriad of air bubbles filled the agitated water. Only far below us did the water finally calm enough to become clear.
Around us, any slope not a vertical cliff was emerald green with vegetation. Three-foot tall green gentian plants, also called monument plants, dotted these slopes. While hiking to this spot, I had to look close at one to see the inconspicuous purplish-green flowers.
The dim white flowers of mountain lace, also called alpine knotweed, was thick around our rock bench. So thick that this fall, when these plants turn brick red, they will color these entire slopes. Stone crop, a mountain succulent, grew from the cracks of our bench. Dots of purple showed flowers of mountain bluebells and silky phacelia.
The sound of falling water enveloped us and blocked all other sound. While hiking here, where the waterfall was merely background sound, we listened to the song of white-crowned sparrows.
The lower slopes carried a faint odor of mules' ears, mixed with that of mountain lace. Sitting on our bench, I plucked a leaf from a nearby horse mint and crushed it between my fingers. That rich smell of mint stayed with me the rest of the hike.
The gray rock forming these mountains is rough to the touch.
During the hike, I placed my hand on a large boulder and was surprised at its smooth texture. Several large boulders, some the size of refrigerators, were silky white quartz.
Sitting in warm June sunlight, enveloped in the sound of water, and surrounded by the colorful slopes of these East Humboldt mountains, soothed all of us.
Even our two terriers sat calmly on the trail after drinking from the rushing stream. Everyone enjoys a waterfall.
I placed my hand on a large boulder and was surprised at its smooth texture. Several large boulders, some the size of refrigerators, were silky white quartz.
Nature Notes: The colorful and useful Oregon grape
Oregon grape is a plant that keeps giving throughout the seasons, by offering different colors. In spring, it offers the yellow, ball-like flowers growing in clusters. In fall, it is the purple berries that have replaced the flowers. In winter, the spiked, holly-like leaves are evergreen, staying on the plant and turning bright red. My favorite version comes in early winter, before snow buries it, when purple berries and red leaves carry white frost.
The local variety of Oregon grape is called dwarf or dull, and the plant grows no higher than 12 inches in the Ruby Mountains. It grows throughout Lamoille Canyon but is especially thick around Thomas Canyon Campground.
The leaves are prickly to the touch and the thickened stems and twigs look like cork. A tall variety is Oregon's state flower. Other names for it are Oregon grape-holly, creeping barberry, holly barberry and mountain-grape. It is found throughout the mountains of the western U.S.
The grape in its name comes from its berries, but you may regard them as grapes if you eat one. They are quite tart and contain large seeds. The tall varieties are used to make jellies, jams and wine. The local, low variety can be crushed into a water bottle to give it a sour or tart taste. Shredded and boiled, the bark produces a brilliant yellow dye and the berries can be used as a purple dye.
Amazon offers Oregon grape in various forms as supplements. Webmd.com lists Oregon grape as an herbal medicine. Its website says "Oregon grape is used for stomach ulcers, gastroesophageal reflux disease (GERD), stomach upset, as a bitter tonic, to treat infections, and to cleanse the bowels. Oregon grape is applied to the skin for a skin disorder called psoriasis and as a disinfectant. The chemicals in Oregon grape might help fight bacterial and fungal infections."
Native Americans used the root to treat loss of appetite and debility, along with tuberculosis, rheumatism and jaundice. They used it to treat wounds, as it would help keep the area free from infection and swelling.
In modern times, Oregon grape is most often used in landscaping. It is a low-maintenance, drought-resistant shrub. Florists also use it in flower arrangements.
I have a tall variety growing outside my front door but my favorite use for Oregon grape is that frosted plant with red leaves and purple berries.
Nature Notes: Wolves by the numbers
How many gray wolves live today in the Western United States? It seems like an easy question, but the answer proves to be quite elusive. The U.S. Fish and Wildlife Service keeps tabs on western wolves and produces a yearly report. The newest report available was for 2015.
It turns out in 2015, 1,904 wolves lived in 316 packs, in the states of Idaho, Montana, Wyoming, Oregon and Washington. Idaho, our neighbor, had the most wolves, 786 living in 108 packs. Montana came second with 536 in 126 packs.
Then came Wyoming with 382 in 48 packs. But then Wyoming contains Yellowstone National Park, the first place gray wolves were re-introduced in 1995. In 2015, only 99 wolves lived within the park and 283 outside.
Oregon has 110 wolves in 16 packs and Washington has 90 in 18 packs, but wolves are just beginning to occupy these states. Of course, Nevada and Utah have no wolves yet.
In Idaho, Montana and Wyoming, the minimum recovery goal was 300 wolves and 30 breeding pairs in each state for three years. That goal was met in 2002.
In 2015, Idaho harvested (hunted and trapped) 256 wolves and 75 were killed in control actions. Montana harvested 205 and killed 39. Wyoming killed 54 wolves in control action but had no hunting season. Washington harvested three wolves.
Wolves do kill livestock, although the numbers taken by wolves are smaller than several other sources of livestock deaths. Overall, 158 cattle, 218 sheep, five dogs and three horses were killed by wolves. The most cattle, 72, were lost in Wyoming and the most sheep, 125, in Idaho, which also lost 35 cattle, three dogs and one horse. Out of the 358 known wolf packs, 61 were involved in at least one confirmed livestock depredation.
Over half a million dollars was paid out to livestock producers for wolf depredations, paid by private and state funds. Wyoming claimed over half of that, at $330,667. Next was Montana, at $68,290. Oregon was third, at $51,393 for three cattle, 10 sheep and one dog. These funds also cover injured and missing livestock.
The 2015 USFWS wolf report contains a table showing money spent by state, federal and tribal agencies. Over $6.4 million was spent across the West on wolf monitoring management, control, outreach and research. Idaho spent $1.6 million, Montana spent over $1.1 million and Washington over $1 million. Wyoming did not report their spending.
Data from 2015 is over two years old but that is the most recent data available from the USFWS. The states do have reports from 2016 but searching out the above data from their individual reports was challenging. The methods each state uses to report their wolf numbers are different. Some use estimates and others use minimum numbers. Idaho's wolf annual report spends as much time talking of elk numbers as wolves. Montana uses a modeling technique that has only been analyzed through 2014. Therefore, I used the older USFWS report. It gives an idea, anyway, of wolf numbers.
Wolves do kill livestock, although the numbers taken by wolves are smaller than several other sources of livestock deaths.
Nature Notes: A mystery bird in Ruby Valley
We were returning to the Ruby Lake Wildlife Refuge headquarters after completing a Breeding Bird Survey. Jane Bardolf, refuge biologist, was driving along Ruby Valley Road when a group of ravens flew away from a juniper. We stopped to watch this mystery bird, which remained in the tree long enough for me to quickly photographed it with my small camera.
What was this mystery bird? At first, Jane and I thought of a magpie, a bird that is also black and white, but the color pattern was off for a magpie. Also, this bird was larger, bulkier and lacked the longer tail of a magpie.
After I got home, I sent the photo to Lois Ports, president of the Bristlecone Audubon. Her guess was a leucistic raven. Leucism is a genetic condition that produces partial loss of pigmentation in bird feathers. It can leave a bird with white patches in its feathers, or even leave a bird completely white, although leucism does not affect the pigment cells in the eyes like albinism. Many bird species show this condition, such as a house finch in my back yard that has white feathers in its wings.
When I looked at examples of leucism online, the birds shown were either all white or they showed gray rather than white. The divisions between normal feathers and white feathers were often ragged. This mystery bird had definite, sharp divisions between its black and white.
At the same time, I sent the photo to Mackenzie Jeffress, Nevada Department of Wildlife biologist. She placed the photo on the Birding Nevada facebook page, where people post bird photos and discuss them. One participant guessed leucistic raven but another had a different idea of its identity.
It looks like a pied crow. I immediately searched the Internet to find about pied crows. They are a widespread African species related to crows and ravens. The pied crow coloration shown in photos matches that of the mystery bird. Even better, pied crows can be purchased in the U.S. as pets. They are very intelligent, good at mimicry, and have become popular after being shown recently in Windex TV ads.
So let's say this mystery bird is a pied crow. The next question is, did a pet escaped? A pet was released? How did it come to be in the rather remote Ruby Valley? Is it traveling with ravens? Can it breed with ravens? All of this is an even better mystery to which I have no answer.
Nature Notes: Yellowstone mothers
A spring visit to Yellowstone National Park offers a chance to view animal mothers. Cindy and I got here in time to see the "red dogs," bison calves given this nickname for their red coloration. We are about a week early for elk calves to be born, but grizzly sows and cubs are out of hibernation and busily regaining weight.
The red dogs are our favorite. The bison cows placidly move as part of a cow/calf herd. They eat the tender, green grass emerging from the ground, rebuilding their strength after not only a hard Yellowstone winter, but the rigors of recent birth.
The bison calves have their own agenda. First on the list is nursing. They work to get their mom to stop so they can nurse and head-butt her stomach to get the milk flowing. One calf was so overwhelmed with a full stomach that when done it did not move forward or back but merely collapsed to the ground. With its long legs spread every which way, it was probably asleep before mom stepped over it and continued grazing. Herds are full of nursing and sleeping calves.
The calves' second priority is burning off excess energy and exploring their new world. They want so badly to run and kick up their heels, but at the same time not stray too far from mom. The solution is to run circles around mom as she concentrates fully on grazing and building the milk supply for the next nursing.
We are about a week early to see new elk calves. Elk can always be found on the lawns of Mammoth Hot Springs and each spring these elk seem to be mostly pregnant cows. When calves are born, they may well be born in full view of photo-snapping tourists. If not private, this urban setting offers security from predators for their newborns.
Grizzly bear sows and accompanying cubs are in full view in Lamar Valley. This valley is called the American Serengeti for its herds of bison, elk, pronghorn antelope and bighorn sheep. One grizzly mother had two yearling cubs which play-fought with each other and attacked mom as she diligently dug for bulbs, probably biscuitroot. A quick swat was given to one cub who attacked her a little too directly. Then she sat up so both cubs could nurse before resuming her foraging.
Another sow had a 2-year-old with her. It was only slightly smaller than the mom. Even as the 2-year old dug its own plant food, it was still observed nursing from her. This may keep the mom from entering estrus and beginning a new set of cubs. Although 2 years old, the cub still ran about, hugged trees and persuaded mom to play rough and tumble for a moment.
This cub was born about half-way through a hibernation three years ago. Since then mom and cub have hibernated together two more times, snuggled together in some den perhaps beneath a tree's root system.
Some Yellowstone grizzly sows have kept their cubs into their third year, with the mother accompanying a cub is as large as she. Such long periods with cubs are needed to teach them how to survive in their Yellowstone world.
Nature Notes: Nevada's salmon fishing, remembered
During spring in the 1800s, people in Elko County would have been preparing for salmon fishing. Numerous newspaper articles record Elko residents feasting on huge salmon caught in our northern streams.
Most of Elko County is part of the Great Basin, where rivers flow inward with no access to the ocean. But the Jarbidge, Bruneau and Owyhee Rivers flow north into the Snake River, then into the Columbia River and Pacific Ocean.
For thousands of years, 10-16 million king salmon migrated from the ocean up the Columbia River and thousands spawned in Elko County. Each year, about 120,000 chinook salmon completed three runs up the Snake River and 150,000 sockeye salmon made yearly runs. The Snake River drainage and its tributaries was one of the most important spawning areas for these salmon.
In the late 1800s, people in Elko County described seeing salmon swim among sagebrush as spring flows forced streams out of their banks.
"Tuscarora Items – Fresh Salmon in the Market." 'Elko Weekly Post, April 7, 1877.
"Salmon trout three feet long are among the luxuries that are sent to Elko from Independence Valley [Tuscarora area]." Elko Weekly Post, May 11, 1878.
"Dog salmon are brought into town now by Indians. One was caught yesterday which weighted 25 pounds." Tuscarora Times-Review, September 9, 1881.
Salmon that could grow to 30 pounds provided an important food source to native people across the Snake River drainage. Shoshone Falls, near today's Twin Falls, was an important fishing area. These falls blocked salmon from reaching the upper reaches of the Snake River.
The Duck Valley Indian Reservation was created in 1877 and placed at Owyhee, at least in part because salmon would provide a yearly food supply for the Western Shoshone and Paiute people living there.
Overfishing reduced fish numbers in the early 1900s and salmon were blocked from their annual spawning runs into Elko County in 1932 when the U.S. Bureau of Reclamation completed Oregon's Owyhee Dam. Salmon have been absent from all of the Snake River System since 1961 when dams closed off the lower Snake River.
In recent years, salmon have once again swum in the Owyhee River. Chinook salmon collected in a trap below Hells Canyon Dam, have been released on the Duck Valley Reservation, accompanied with much ceremony. A weir kept the salmon from migrating upstream off the reservation. The salmon lived about a month as they spawned and Shoshone and Paiute tribal members were allowed to fish for these salmon, as their ancestors did.
Nature Notes: Southfork Meadows is a work in progress
Southfork State Recreation Area offers a nice walking trail. As you drive to the end of the pavement, continue straight rather than turning toward the west side of the reservoir. Within 100 yards is a parking area on the right. Called the Humboldt Trail, it is a 3-mile loop that accesses the river, meadows and upper sagebrush areas.
However, do not be dismayed at the weeds along the first part of the trail. Robert Misiti, park superintendent, told me the area is "a work in progress."
Before the South Meadows was a state park, it was irrigated hay fields. When the irrigation water was shut off in 1986, the area went to weeds and it has been a struggle ever since. Tall Scotch thistle is rampant in lower areas.
Resource Management Officer Gary Reese of the Nevada Department of Forestry says NDF has been working on the weeds problem since 2012 as a demonstration plot for an ecosystem restoration project. He has received grant money from the Division of Environmental Protection and Barrick Gold.
Gary has disked all but the lowest parts of the meadows, sprayed weeds, and reseeded native grasses. Shrubs and trees have been planted along the river. In 2014, weedy parts of it were burned off and biocontrol bugs have been spread to help remove weeds. This year, soil testing will be done to find the right fertilizers to spread on still bare ground.
During National Public Lands Days and other volunteer efforts, 125 young narrowleaf cottonwoods, 25 black cottonwood (which unfortunately failed), and 100 Wood's wild rose and golden current shrubs have been planted along the river. The young trees were planted inside wire cages to protect the young shoots from flooding, deer, beavers and people. Inmate crews also planted 8,000 willow stakes along the river to help control bank erosion.
Work is not easy since the area is prone to flooding. The nearby reservoir has raised the water table so some areas remain boggy, areas where tall whitetop is thick. Last year, Gary's donated equipment broke down. A new, tracked vehicle rigged for spreading herbicides will be used this year.
Robert said gravel spread on the trail has been lost or buried in places due to flooding. Other parts have been buried beneath tall grasses. He does not have the resources to work on the trail but is hopeful for future work on the trail surface and additional signage.
For all the problems of this area, it still makes a nice walk. Even with the thistle patches, it is interesting to see the efforts made to reclaim this area. It is accessible to walk most of the winter, and cross-country ski when snow is present. Wildlife such as deer, northern harriers and geese can usually be seen along the trail.
For a good walk, go to the kiosk and picnic table near the river and farther south to a road accessing the river gauging station. The trail is hard to see near the end and seasonally muddy, but walkers can turn around along the way. To complete the three-mile loop, at the south end road, cut back left to walk the opposite side of the loop through tall sagebrush. Maps are posted at the parking lot.
Nature Notes: The insignificant snow flea
What could be more unimportant than a snow flea? Earlier this month, I had occasion to be standing next to South Fork Reservoir in a few inches of snow. I looked at my feet because they were cold and noticed black dots on the snow. That was not important in the morning cold until one of the black dots disappeared and another magically appeared nearby.
I got down on one knee to take a photo, which increased my shivering and made me grumble to myself, "Why bother?" I could take a photo of any snow and Photoshop in some black dots, and the two photos would have looked the same. But I crouched there awhile, watching black dots appear and disappear on the snow.
Hypogastrura nivicola is their official name. The common name of snow flea comes from their being able to spring to great heights like fleas. However, they are not fleas or technically even insects, but a species of dark blue springtail.
Their ability to disappear and re-appear on snow is due to a tail-like appendage, although any resemblance to an actual tail ends with the name. This appendage is called a furcula and normally lies wrapped underneath the animal's abdomen. Fuculas are like tiny springs and can be snapped away from the body to fling the animal high in the air.
It can jump nearly 100 times its body length. On that cold winter day, I would lose sight of a springtail as it left the snow but my eyes could not follow it in the air. I only saw it again when it landed back on the snow.
We tend to think of insects as summer critters but the snow flea does fine in cold temperatures and is active on "warm" winter days. A "glycine-rich antifreeze protein" in its body keeps it from freezing. Snow fleas are believed to feed on fungal spores and algae on the surface of the snow.
Actually, if we got down close to summer soil, we would find masses of tiny springtails jumping around. They are about a sixteenth of an inch long. They feed on bacteria and decaying organic matter in the soil.
Damp soil can hold 250 million individuals per acre. Springtails cover the world and are found in most habitats. Active Antarctic springtails have been observed at 30 below Fahrenheit.
Springtails can cause severe damage to agricultural crops. They sometimes move indoors to damp places such as bathrooms and basements and can be found in the over-watered soil of house plants.
In extreme instances they can also be found on people. The best way to eradicate them is to remove the excess moisture.
Maybe they are not so insignificant.
Nature Notes: Tribal hunters killing elk
Gardiner, Montana, is just north of Yellowstone National Park. It is a mecca for wildlife. Residents are used to having bison, elk, bighorn sheep, and mule deer wander their streets and nap on their lawns. An RV park Cindy and I stay at in Gardiner closes a gate in early evening, in an effort to keep wildlife from wandering through the park.
The annual elk hunt is big business in Gardiner. Montana's elk hunts take place around November. Lately, elk numbers have been declining and fewer hunters receive tags for those hunts.
Roughly 25 more elk were legally killed during this January and February. Five Native American tribes, most not residing in Montana, have ancestral treaty rights to hunt bison outside of Yellowstone. These tribes are the Shoshone Bannock Tribes of Idaho, Confederated Tribes of the Umatilla Indian Reservation of Oregon, Confederated Salish and Kootenai Tribes of Montana, the Yakama Nation of Washington, and the Nez Perce Tribe of mainly Idaho. They began coming to Gardiner to shoot excess bison that wander out of the park during winter.
Starting two years ago, tribal hunters began shooting elk around Gardiner, especially north toward the small town of Jardine. This winter, fewer bison have left the park, putting more pressure on elk.
The Montana Fish, Wildlife and Parks Department states they have no jurisdiction over this hunting, which is based on federal treaties written well over a hundred years ago. This agency meets weekly with tribal officials to go over problems. Each tribe brings their own game wardens to Gardiner, and has their own quotas, hunting tags, regulations and orientations, but are not licensed through Montana. Other bison and elk hunts take place near West Yellowstone, Montana.
Montana hunters around Gardiner are upset at tribal hunters taking elk when Montana hunters are told they must take fewer elk during their hunts. Residents claim the tribes are taking their treaty rights too far. They claim killing elk in January and February is easier. During November hunts, elk are scattered and hunters need to travel more. By January, elk are on their winter range and congregated around Gardiner.
They worry that tribes are adding more hunters to a small area. They also describe various hunting problems such as tribal members shooting across roads, shooting towards building and people, and leaving multiple, conspicuous gut piles. Relations have become strained between tribal hunters and landowners, issues such as trespass, driving off roads leaving wounded animals and wasting meat.
A sixth tribe, the Blackfeet, joined the hunt in February. The Crow Tribe is working on getting their treaty hunting rights. The Crows already have the largest private bison herd in Montana, at over 1,000 bison. All seven tribes claim their ancestors hunted in this area and while treaties made with the U.S. government moved them to reservations, these same treaties also gave them the right to return to hunt in "open and unclaimed" land, in this case the Custer Gallatin National Forest.
The treaties do not specify specific species, which is what allowed the elk hunts. It has been alleged that tribal hunters recently killed bighorn sheep, but this is being investigated.
To muddy things a bit further, The Environmental Quality Council of the Montana Legislature recently sent a letter to the National Park Service stating tribal hunters should be allowed to hunt inside the park.
Nature Notes: Porcupine facts and myths
Few other animals are as maligned and misunderstood as the porcupine. I have pulled out a few facts and myths about this prickly beast.
Fact: The name porcupine comes from the French word porc d'espine, meaning "thorny pig." They are the third largest rodents in the world. The largest is the capybara, and second largest, the beaver. Old World porcupines live in Southern Europe, Asia and Africa, while New World porcupines occupy North America and the northern part of South America.
Fact: Porcupines are primarily nocturnal, resting in hollow logs, trees and crevices during the day. They primarily eat tree bark, grass, twigs, stems, berries and such. Porcupines are solitary most of the year.
Fact: Females are only fertile once a year for a period of eight to 12 hours. They attract males with a strong odor. Males often have savage fights over females, producing injuries and leaving the ground covered with lost quills. The males then sit below the females in trees to intercept other males climbing up. When females are ready to mate, they lay their tails over their backs since the underside has no quills. Porcupines produce one young per year. These babies are born with soft quills which then harden within a few days.
Fact: A porcupine carries approximately 30,000 quills, mixed with a short, thick underfur and longer guard hairs. Each quill has between 700 and 800 barbs along its tip. These one-way barbs cause quills to migrate into a victim. The longer the quills remain they more they migrate. The more the victim moves, the more likely quills may break.
Myth: A porcupine can throw its quills at victims. No, quills need to make contact with something before they come loose from the porcupine's skin.
My dog came across a porcupine and ended up with quills stuck into its face with even a few in its tongue. I immediately took it to a veterinarian who removed the 300 quills at a little less than a dollar a quill. People told me I should have done it myself. Removing quills is easy, they said, but they used this myth.
Myth: Snipping off the end of a quill makes it easier to pull out. People afterwards told me I should have done it myself, just snip off each quill. No, quills are not like balloons. They are more like the shaft of a feather. A quill does not shrink in diameter if you cut it. Snipping it does not make it easier to remove, but the shortened quill is even harder to grasp with pliers.
Mike Perchetti is a veterinarian at Elko Veterinarian Clinic. He said the best way to remove quills from a dog is to take it to a veterinarian. They can sedate the dog so it feels no pain and can administer antibiotics and pain medication. Veterinarians have the experience and the right tools.
Myth: Applying heat or oil helps remove quills. No.
Myth: Just leave the quills alone, they will come out on their own. No.
Myth: Dogs learn from their mistakes. Ha. Next time they encounter a porcupine, they will most likely attack it again.
My dog is not aggressive and did not attack the porcupine that stuck it. My dog hopped up on a large log, saw something strange below, bent down to sniff it and got smacked.
It is going to be very interesting the next time we encounter a porcupine, hopefully with my dog on a leash, and I see my dog's reaction.
A quill does not shrink in diameter if you cut it. Snipping it does not make it easier to remove, but the shortened quill is even harder to grasp with pliers.
Nature Notes: Too many house sparrows!
It is that time of year again, time for my yearly update on feeding house sparrows. Believe me, I do not want to feed house sparrows but with an estimated 50-60 of these invasive sparrows wintering in my back yard, the only way I can feed other bird species is to also feed house sparrows.
Everything I do in feeding birds is meant to slow down house sparrows so other, more desirable species can eat. I do not get a wide variety of birds at my house, so I want more birds like house finches, goldfinches, white-crowned sparrows and juncos.
This year I even got so exasperated that I decided I had to prove I was smarter than those small, bird-brained house sparrows, but my plan did not work out. I built a trap. I was going to trap house sparrows and remove them so other birds could feed in peace.
The trap design worked fine; if any one wants to trap house sparrows I can show them the trap that will do it. The problem was it also trapped house finches and juncos even better. I could not figure out a way to separate out the good birds from the bad ones, so I gave up.
The only working strategy I have found has been the modified feeders shown here. In each case, the design does not stop house sparrows from using the feeder, but does slow them down so other birds have a chance to eat before house sparrows drain the feeder.
The green feeder, second from the left, is used specifically to feed house sparrows. It is normally placed in the open, away from trees so they must fly out to the feeder. I feel this feeder keeps them busy and takes some pressure off the other feeders.
They must cling to a vertical lip on the feeder and I closed off all but a small opening so only one bird can cling to the feeder at a time. The small opening also means they cannot flick seeds to the side, to fall on the ground. They can only pick up one seed and fly off with it and it takes them a couple of days to empty this feeder.
The first feeder on the left contains thistle, or nyjer, seed for goldfinches. It is designed so they must hang upside down since the feed ports are below the perches. A few house sparrow males can do this but they generally leave it alone.
The third feeder from the left also contains thistle seed in a net sock. It is covered with a plastic sleeve so goldfinches must cling to the bottom of the sock to feed. Only a few male house sparrows will do this. The problem with both types of thistle seed feeders is house finches will not cling upside down, so it eliminates them also.
The right feeder is a typical shelf feeder with vertical strings placed so the bird must fly between them. House finches do not mind this at all, but most house sparrows stay away.
I would guess maybe 20 percent of my house sparrow flock use the feeder but most of them stay on the ground below the feeder, waiting for a dropped seed. Clips can be seen in the photo holding cardboard squares. They stop house sparrows from entering from the side to avoid the strings.
Cindy says I obsess over house sparrows but I DO NOT. I am just trying to show I am smarter than a house sparrow and I am having a tough time proving it, OK?
Nature Notes: A ranch recovering from wildfire
Cattle ranches dread a wildfire that burns off vegetation. The Coal Fire started on September 17 of last year and burned 2,800 acres of private land on the Keddy Ranch, owned by Glaser Land and Livestock Company and managed by Peter and Susan Church with their son, Andrew.
Fortunately, their cattle had been removed from the area just seven days before the fire. Yet the wildfire meant ecological and financial hardship for the ranch since it not only destroyed vegetation needed for the ranch's cattle but also ranch infrastructure. The fire incinerated over a mile of water line and a major fence separating public from private lands. The fence needed immediate work and Peter hired extra help to repair the fence last fall. The water infrastructure will need to be rebuilt this spring.
However, the Churches have a philosophical take on the fire. Andrew told me "you have to acknowledge that fire is a natural occurrence, and you have to deal with it." No rancher wants to see their rangeland burned, but the family sees the fire as an opportunity to create new strategies toward revegetation and range management.
The burned draws had been covered with thick, tall sagebrush. The newly burned ground will allow for native grasses and forbs to recolonize, and make it easier to bury replacement trough lines. Future water improvements will utilize solar powered pumps
The ranch received help from Resource Management Officer Gary Reese of the Nevada Division of Forestry. Reese helped them determine what areas of vegetation should come back on their own and which areas need reseeding; luckily areas on some of the upper slopes had been spared. Gary and Peter then quickly began broadcast seeding on slopes and dozer lines before late fall snows stopped their efforts.
The Northeastern Nevada Stewardship Group donated grass and forb seed, using money from the Ted Harrison bequeath. The group also donated money toward the purchase of 600 feet of straw waddles, to be installed later this spring. The waddles will help cut down on erosion in the burned off draws.
It will require creative grazing techniques to keep cattle off the burned land, along with watchful riders and new and existing water systems. While adjusting their grazing strategy will be difficult, as Peter and Susan say, "it could have been worse." They obviously did not want the fire, but they see its aftermath as a chance to make improvements in the burned areas.
Though fire brought about an increased financial burden, the Churches feel that, much like the native landscape, they too can recover, adapt and benefit from the fire's effects.
Nature Notes: Nevada's water laws
Whiskey's for drinkin', water's for fightin'. This saying may have come from Mark Twain, perhaps picked up while he was in Nevada. It is just as apt today in the driest state of the Union.
Nevada developed its first water law in 1866, providing rules to obtain and hold onto water rights. However, water laws did not stop the fights.
The most important principle in Nevada's water laws is "first in time, first in right." In times of shortage, water laws protect the most senior water rights.
The people of Nevada own all water above and below ground. People or companies can apply for a water right to use some of the state's water, but they must show the water will be put to a beneficial use. Such uses can include irrigation, mining, stock watering, along with recreation, municipal, industrial and commercial. Such uses are subject to the "use it or lose it" rule. People cannot hold on to water rights without using the water. They cannot speculate on the value of future water rights. If they stop using the water, they lose the water right.
Water rights are considered property that can be bought, sold and traded. Once an entity obtains a water right, they must develop the water infrastructure and begin putting the water to use within a time limit. Although extensions to these time limits are possible, failing to use the water may result in the cancellation of the water right.
One beneficial water use does not require a water right. A domestic well for a single-family dwelling does not require a water right but is limited to two acre-feet of water per year. (an acre-foot of water is 325,851 gallons, or an acre of ground covered with one-foot depth of water.)
Most of the state's surface water was already being used prior to the creation of the first state water laws. Those water rights remain fully protected. Most ground water only began being developed in the 1960s. Water rights have already claimed much of this ground water.
Nevada is divided into 256 hydrographic basins, or geographic drainage areas. They are considered to be separate water sources. The perennial yield of a basin is the maximum amount of water that can be removed each year without depleting the groundwater reservoir.
Nevada has 45 basins that are over-allocated. People have rights to more groundwater than is available. Some basins were allocated before their perennial yields were known and other basins had their perennial yields changed, placing them in the over-allocated category. Some basins also became over-allocated due to the number of domestic wells dug, wells that did not need a water right.
The first transfer of water between basins took place in 1873, to move water into the mining town of Virginia City. Many other transfers have since taken place, including one proposed by the Southern Nevada Water Authority. They have obtained rights to water in basins in Lincoln and Whited Pine Counties, and plan to move water south through a 300-mile pipeline, to Las Vegas. Often, they have purchased ranches to get those water rights. Groups are fighting the proposed pipeline, saying the water transfer will top the perennial yield of those basins.
The large mines in northeastern Nevada have drawn down the water table to keep mine pits dry. They move water around in the basin and use it for irrigation on ranches they have bought. Their abandoned mine pits will someday fill with water, increasing evaporation. Groups are concerned the water table will never return to pre-mine levels.
Concern also centers over the amount of water withdrawn from northeast Nevada's Humboldt River Basin, where demand currently exceeds supply. Entities with water rights to surface water say upriver groundwater pumping causes less water flowing downstream.
The fightin' over water will continue as Nevada's water laws struggle to keep water users happy! More details on Nevada's water rights are available at http://water.nv.gov/.
Nature Notes: Elko's winter songbird
Walking in Lamoille Canyon on a summer morning, the air is filled with bird song, and that is nice. Walking in Lamoille Canyon on a cold January morning and hearing bird song seems quite odd.
Winter walkers will often hear bird calls. Mountain chickadees, white-breasted nuthatches and Clark's nutcrackers call, mostly to keep their flocks together. However, this bird is obviously singing, producing a series of flute-like whistles much like a robin.
The Townsend's solitaire is a thrush, closely related to the robin. You may see this gray bird close enough to spot a white eye ring. The best way to identify this solitaire is to watch it fly away from a perch. The outer feathers of its long tail are white and provide a white flash as it flies away.
Some solitaires summer high in the Ruby Mountains but most of these birds spent their summer in Canada. They migrated south to the Rubies to spend winter. In summer, they eat insects and berries, but their favorite winter food is juniper berries. They are most often seen in lower Lamoille Canyon among juniper trees.
During spring and summer, most birds sing to declare and defend a territory. Their song warns others of their species to stay away. The singing males claims enough property to provide nesting sites and food resources for their young.
The Townsend's solitaires do this but they also sing in winter to declare and defend a territory containing enough juniper berries to last the winter. They perch upright on the very tops of juniper trees to advertise their territory. In years of poor berry supply, they even defend their territory against birds of other species.
Their food territoriality provides winter walkers with pleasant — and surprising — bird song on cold winter days.
Nature Notes: Elko's rare bird
For Christmas, I received a large poster showing every bird found in North America. Being a natural skeptic, I rolled it out to make sure it truly showed every bird. I looked for one of the rarest birds in North America, found right here in Elko County. There it was, the Himalayan snowcock, and I decided the poster's claim was true.
If you have not heard of our local Himalayan snowcock, do not feel bad. This game bird is found only in Elko County's harshest landscape. To see one requires a long, dangerous hike into the Ruby Mountains, to steep slopes above 10,000 feet elevation.
This is an introduced bird species first released into the Ruby Mountains in 1963 from the mountains of Pakistan. In Asia, they are also known as the snow partridge, ram chukar and snow pheasant. They are found in Pakistan, Afghanistan, India and China, where they live at ultra-high elevations up to 20,000 feet.
They have been released elsewhere in the United States, but only here along the top ridges of the Ruby Mountains have they thrived. Approximately 500-600 birds live in the Rubies and Eastern Humboldt Range.
They are large birds, about 28 inches from beak to tail feathers, and stand about 14 inches tall. The body is mottled and the face and neck are white, ringed by darker feathers. To see photos of Himalayan snowcocks, check out www.backpackingintherubymountains.info.
Spotting a snowcock is not easy, since they are seldom found below 10,000 feet elevation. Also, when seen, they are on cliff ledges and very steep slopes. During winter, they have been seen down near the Lions Camp but always in vertical terrain. I have seen them maybe six times and each sighting came after a long and arduous climb. The high Rubies can be a dangerous area for people unaccustomed to its slopes.
If I was going to advise someone how to see a snowcock, I would say arrive at Lamoille Canyon's End of the Road trailhead at 4 a.m. on a summer morning. Hike to Island Lake in the dark and be high above the lake when it begins getting light. In early morning, these birds typically move from their roost on a cliff face to land on a steep slope, where they then move slowly uphill, eating plant material.
Listen carefully, since you will hear them first, giving their weird whistles and chuckles as they move. Using binoculars, check the upper edges of the cirque walls surrounding Island Lake. Be aware, you will probably see them in flight first and when they land, they immediately run along the ground. Do not search the landing spot but check a ring around that spot.
As soon as they spot you, they will jump in the air, diving downslope. After a few wing flaps, they will bank to soar across the slope, covering in a few seconds what will take you an hour to follow.
My sightings have usually lasted only a few seconds as they jumped up and soared away. But that is OK, that brief view of the rare Himalayan snowcock, along with being high in the Ruby Mountains at dawn, is well worth the climb.
Nature Notes: Winter jackrabbits
I was walking my dogs along a snow-covered dirt road, bundled up since the temperature was in the teens. A black-tailed jackrabbit emerged from the base of a large sagebrush to sprint down the road. My rat terrier took off in pursuit but soon gave up, having learned long ago it has no chance of catching a jackrabbit. My Jack Russell, nicknamed Tubby, merely watched the chase before walking over to smell around the sagebrush.
I walked over and knelt beside the sagebrush. Removing my glove, I felt the matted, dry leaves inside this jackrabbit's scrape where its last bit of warmth remained.
Jackrabbits in winter cold always make me wonder how they survive living among sagebrush. I have heard people say they just go into their burrow, but the black-tail jackrabbits are not rabbits, but hares. As such, they do not dig underground burrows. Nor do they use other animals' burrows.
About their only form of protection against winter cold are their scrapes they form at the base of shrubs. These cup-shaped indentations offer protection from winter winds. They are barely large enough for jackrabbits, so they create warm microclimates for those frigid nights and days, when not feeding. They do not hibernate since sagebrush offers a constant winter food supply. Sagebrush is a great shrub for winter wildlife since it retains its leaves over winter.
Jackrabbits' extremely large ears, about a third of their body length, are usually thought to help them hear but these long appendages also help regulate their body temperature. The ears are rich with blood vessels and in summer heat, these blood vessels expand. Spread ears and summer breezes cool the blood. During winter, these ears are held against the body and their blood vessels constrict so they lose less heat to the cold air.
They are always vigilant for predators, since they are the principal prey of golden eagles, along with being an important food source for coyotes, ravens, owls and hawks.
When predators approach, jackrabbits duck down to hide, slowing their heartbeat. If predators approach too near, something like myself and my dogs, their heartbeat speeds up to three times the normal rate, pumping oxygen-rich blood to their muscles. They then run away at speeds up to 50 mph, and few dogs can catch them. They also run in a zigzag pattern to confuse predators, and perform high leaps, up to 15 feet in length.
My rat terrier can about stay even with a jackrabbit dumb enough to run down a road, but as soon as the jackrabbit veers into the brush and starts zigzagging it is all over. This jackrabbit is probably crouched down somewhere nearby and will soon return to its warm scrape.
Nature Notes: Wild turkey survivors
A large number of domestic turkeys met their end preparing for this week's Thanksgiving. However, wild turkeys survive in Elko County.
Scott Roberts is a game biologist with the Nevada Department of Wildlife. It seems the place to look for wild turkeys is near the mouth of Lamoille Canyon, although it is difficult to find them since these turkeys spend most of their time along the creek on private land. Other places where they hang out is Clover Valley, around Austin and Battle Mountain.
These birds are introductions to the Elko area. No turkeys lived here before European settlement occurred. Six subspecies of wild turkeys are found in North America.
The birds in the Elko area are Rio Grande turkeys introduced from Texas. The birds around Austin are Mirriam turkeys from Idaho. Next summer, more birds will be brought in from Idaho to Austin as part of an animal exchange where pronghorn antelope were captured here and sent to Idaho.
Scott says turkeys are doing OK here, but their populations are limited by our having no large agricultural areas and no mast crops like acorns, such as found in other areas of North America. Wild turkeys are a game species, with a hunting season in April and May of each year. Only "bearded" males can be taken.
This bearded turkey needs some explanation. A male turkey, or gobbler, has hair-like bristles growing from the middle of its chest, (a few hens also have beards). These specialized bristles are feathers called meso filoplumes. They can be quite long, and can touch the ground, although feeding tends to wear them down. Of course, male turkeys are called gobblers since only they make the gobbling sound.
This brings up the other eternal question about turkey flight. Yes, they can fly, and actually quite fast, going 50 mph in short bursts of about 100 yards. They routinely fly into trees, preferring to sleep perched in trees, safe from predators like coyotes, foxes and raccoons.
Turkeys are not typically seen soaring around the sky since they feed on the ground, eating grasses, seeds, acorns, nuts, berries and small insects. On the ground they can run up to 25 mph. Part of the confusion regarding their flight comes from the domestic turkeys' inability to fly. They are bred to be heavy birds with larger, broader, heavier breasts.
No doubt the reader has often wondered if they can tell the sex of a wild turkey from their droppings. Yes, they can. Straight, long, J-shaped stools come from a male. More spiral droppings come from a female, so there you go.
Nature Notes: Oil and gas wells in the Ruby Mountains?
Recently, e-mails and Facebook posts have been expressing dismay at the thought of oil and gas leases being allowed on U.S. Forest Service-administered lands in the Ruby Mountains. People have been horrified at the possibility of seeing an oil well perched high in the mountains. People and groups have been urging each other to submit comments on these possible leases.
These possible leases have confused me so I went to the Elko USFS office and spoke to Susan Summer Elliott, Minerals Program Manager; and Jenna Padilla, District Geologist. The first question I fairly blurted out was "Why?" Why are these lands being considered for oil and gas leases?
Susan explained the process. Someone, a person or company, has expressed an interest in leasing these USFS lands (shown in red on map). The "Expression of Interest" was made to the BLM, probably along with interest shown in lands administered by the BLM. The BLM then approached the USFS asking the USFS to determine if these lands they administer should be available for future leasing. (The USFS receives very few requests for oil and gas leasing on the forest).
This is where we are at present. The USFS is asking for comments from the public to help them make the decision on whether some or all of these lands should be made available to the BLM for future leasing.
The USFS will prepare an Environmental Assessment and draft a decision on future leasing by the BLM. Around February 2018, this draft decision and final EA will be made available to the public and people will be able to object to the draft decision.
If the USFS decides some or all of these lands should be offered, then the BLM would decide whether to include these lands in their quarterly oil/gas leasing sales. The lands may or may not be leased during the lease sale. Also, an oil/gas company might lease the mineral rights to some of this land but never make a proposal to disturb the land.
Elliott explained that sometimes companies acquire leases to secure mineral rights and block competitors from a possible oil deposit. They might also be planning to drill from outside of the USFS land but want to use directional drilling to tap a reservoir under the USFS lands.
Let's say a company leases some of this land and wants to place a drill rig and disturb that land. Then the USFS would do a NEPA assessment on the proposed project, when more public comment would be asked for.
The USFS has developed stipulations that would need to be followed by any future oil/gas leasee. The most restrictive is No Surface Occupancy. For instance, any lands with slopes over 40 percent could be leased but no ground could be disturbed. A fair amount of these USFS lands are sage-grouse Priority Habitat, which again, would be protected with No Surface Occupancy, which means no ground disturbance.
Companies might want to lease land to secure mineral rights, even if they cannot place an oil well on it. Also, they would have the lease in case anything changes in the future regarding restrictions. There are also possible waivers and exceptions. The USFS and BLM also have stipulations to protect surface resources such as Inventoried Roadless Areas and mule deer winter ranges.
People have been submitting comments, which is good. Over 8,000 comments have been received in the Elko office, although most of these are copies of form letters. About 150 unique comments have been received. The official comment period ended Nov. 2. People or groups who commented before then will be eligible to file objections to the decision in February.
People are encouraged to still send in comments but they need to be hand-delivered, or mailed, to the Elko USFS office. More information on the possible leasing is available on the USFS Humboldt-Toiyabe web page under the NEPA Projects heading.
Nature Notes: Pronghorn curiosity and predators
I first knew pronghorns were nearby when I heard one of them blow, an alarm call formed by a sharp output of breath. It was 5:30 in the morning and I was walking across a sagebrush flat in the morning half-light. I was approaching a sage-grouse lek when I noticed a group of eight pronghorns off to my right. Their heads were up and alert, watching me.
They blew a few more alarm calls before running across my route, right through the lek holding strutting sage-grouse. Luckily, sage-grouse are used to such antics and only two birds flew up to avoid the approaching hooves. The pronghorns stopped on my left side and milled about with all eyes on me. They blew a few more times and then ran back across the lek, scaring up three more birds. Now I was annoyed as much as the pronghorns.
Then the pronghorns ran again, disappearing over a hill, so I thought that was the end of the saga. Looking through binoculars, I counted strutting sage-grouse males and searched for skulking females. Then I heard another alarm blow close behind me and turned to spot eight heads visible over a slight rise, again with all eyes on me. Finally, the pronghorns turned and fled.
Pronghorns are known for their curiosity, and this trait has been put to use by human hunters. Called "flagging," both ancient Native Americans and modern hunters have waved an object in the air, drawing curious pronghorns close enough to kill with arrows or rifle.
One variant of this technique was used by ancestral Western Shoshone hunters. They tied bits of hide to a sagebrush where the bits would flutter in the wind. The hunter then hid a certain distance to the side. Curious pronghorns would approach the quivering objects and then circle, where they would come close enough to the waiting hunter to be killed.
Both scientific literature and folk stories abound with tales of pronghorn antelope curiosity, but why would these ungulates approach danger rather than simply running away? It seems to depend on the degree of threat from a predator.
A grave enough threat prompts them to run away, while a slight threat may induce them to actually attack a predator. Pronghorns have been known to chase single coyotes away from fawns.
In between these two amounts of threat is a gray area.
The pronghorns on that early morning saw me as an intermediate threat, the severity of which they were not sure. They wanted to keep an eye on me and determine my threat level. They wanted to make sure they did not lose my location while waiting for a clue of my danger. Approaching and circling me was part of the strategy.
Knowing they could easily outrun me as they could any other predator no doubt emboldened them enough to make this determination. On that early morning, I think they probably decided I was more of an annoyance than a threat before finally leaving me alone.
Nature Notes: Ranching among grizzlies
Cindy and I spent a week in Gardiner, Montana, driving into Yellowstone Park to look for wolves and bears. Friends told us a good place to see grizzly bears was outside the park, so one evening we drove north into Tom Miner Basin, past a series of cattle ranches. A few miles into the basin, we parked beside the county road, along with eight other vehicles.
Spotting scopes lined the road as we all searched for bears in a nearby private meadow owned by the B Bar Ranch. Our friends had told us they had seen five and 10 grizzlies in this same meadow during their visits. We waited until dusk but did not see any grizzlies.
Driving out, however, on a neighboring ranch, we spotted a grizzly on their property. It was digging and eating wild caraway. The bear then ambled past some cattle and disappeared into a gully.
The B Bar Ranch amazed me, a prosperous cattle ranch that just happens to have bears (and wolves) wandering through it. The ranch has a large sign on their fence talking about wildlife, listing a few rules, their website and that of the Tom Miner Basin Association.
Later, I went to the Tom Miner Basin Association's website to learn the basin has a resident wolf pack of 12 wolves and over 20 grizzly bears that routinely visit the area. The Basin shares a six-mile boundary with Yellowstone National Park and shares almost every wildlife species found in the park. This includes elk, white-tail and mule deer, moose, grizzly and black bear, wolves, coyotes, bighorn sheep, mountain goats, bobcat, mountain lions, and numerous small mammals. They also have more than 75 bird species that migrate through or reside year-round on the ranch.
The B Bar website states their philosophy toward predators: "We respect the role of established predator/prey relationships and the importance of tempering our activities with regard to native wildlife populations" and "… we endeavor to live without conflict with our wildlife neighbors."
I was so intrigued, I called Maryanne Mott, owner of the B Bar ranch. My first question was how many cattle they lose to bears and wolves, but she said very rarely. She also has seen as many as 12 bears at one time in a ranch meadow.
She has been on the ranch for 40 years and routinely has riders out. When I asked if using riders was not an expensive proposition, she said "it is part of the deal." Riders check on and frequently move the cattle, check the water, mineral block and fences, and keep track of large, dangerous predators.
The B Bar keeps only yearlings and steers so calving is not a problem. They raise Ancient White Park cattle, a breed which is very protective and bunches up when predators approach. I asked if the ranch uses electrical fencing to protect cattle but they use it only around some houses and tents to keep bears away from those structures.
As if ranching among large predators was not enough, the ranch offers a full range of guest activities during both summer and winter. Plus, each evening during summer and fall, they have at least a dozen vehicles lining the county road watching for grizzly bears in their meadows.
Maryanne likes to see the enthusiasm and interest but worries about possible fires, trash and high speeds. She also worries about visitor safety and possible bear encounters.
Quite a ranching environment.
The B Bar Ranch amazed me, a prosperous cattle ranch that just happens to have bears (and wolves) wandering through it.
Nature Notes: 200,000 wild and feral horses
The Government Accountability Office released a report in June, titled "Information on the U.S. Horse Population." They reported there could be as many as 9.2 million equines — horses, burros and mules — in the United States (in 2005). This included free-roaming horses, wild horses and burros on certain U.S. public lands and feral horses on tribal or other lands.
The GAO had been asked by two Congressional committees to review issues related to horse welfare. This report covered the size of the U.S. horse population, the available options for managing the U.S. horse population, and the types of impacts, if any, that free-roaming horses have on the environment.
The report found at least 200,000 free-roaming equines on both federal and tribal lands. Data suggests that the number of wild horses on public lands and in holding facilities has more than doubled in the past 16 years, to more than 110,000 in 2016. The GAO uses the term wild horses for these equines since they are managed under the 1971 Wild Horse and Burro Act, which uses this definition.
It also found more than 90,000 feral horses residing on certain tribal lands in 2017. In this case, the GAO uses the term feral horses as that definition is addressed by state law. These horses are unwanted and unclaimed free-roaming horses found on public lands not designated for wild horses, or on private or tribal lands. Feral horses are not protected under the Wild Horse and Burro Act. Data from the Confederated Tribes and Bands of the Yakama Nation suggest that the feral horse population on Washington's Yakama lands State tripled from less than 3,000 in 2005 to almost 10,000 in 2015.
The report also covered managing equine populations and found several challenges, including finding affording care for them, finding new homes for unwanted equines, protecting equine welfare which includes during transit for commercial slaughter, controlling population growth, and addressing the potential environmental effects of free-roaming equines.
The federal practice of keeping wild horses in captivity is swallowing ever-larger chunks of the annual budget allocated to the Bureau of Land Management to manage the animals across the western rangelands. BLM spending on off-range corrals and pastures has grown from about $28 million in 2009 to almost $50 million in 2016 (not adjusted for inflation). On average, from 2009 to 2016, this spending accounted for more than 60 percent of BLM's budget for managing wild horses.
The report found federal agencies and stakeholders had programs to control population growth, but these efforts are not currently affordable or practical to implement on a large scale. Wild horse advocates argue for more on-range management, with some believing there is more need of long-acting contraceptives.
Finding new homes through rescue organizations and adoption is uncertain. Domesticated and feral horses may be exported to Mexico and Canada for commercial slaughter, but the BLM has placed conditions on sales and adoptions of wild horses to prevent their slaughter.
Stakeholders identified various types of impacts that free-roaming horse populations have on the environment, particularly in western states. These impacts may include harming native vegetation, altering the landscape, and dispersing seeds. Federal agencies support research to better understand these impacts.
The report found federal agencies and stakeholders had programs to control population growth, but these efforts are not currently affordable or practical to implement on a large scale.
Nature Notes: Tumbling tumbleweeds
I wonder if I could impress anyone with my magnificent crop of tumbleweeds in a back field. Maybe I could find someone to impress on Facebook, someone living in New York or Chicago, someone who knows this "romantic" Western herbage from old western movies or the song by Roy Rogers and the Sons of the Pioneers.
No one around Elko would be impressed with my crop, especially anyone familiar with the common weed Russian thistle. Besides, many Elkoans probably have their own crop of tumbleweeds somewhere on their property.
The very un-romantic Russian thistle was introduced from Russia in the late 1800s and has now spread across much of the drier regions of North America. These plants form rounded shapes made of many branches. They may grow one to three feet high and up to five feet across. Small flowers produced from July to October develop into small, snail-shaped seeds.
As the plants dry out, they become rigid and spiny. When completely dry, blowing wind breaks off the stems at ground level and the round shapes help them roll across the ground. With enough tumbleweeds, fence lines can be buried with thousands of these blowing plants.
This clever rolling adaptation spreads perhaps 250,000 seeds downwind of the original plant. Then, these seeds require very little precipitation to germinate and establish.
The University of Nevada Cooperative Extension provides a good article on Russian thistle, which describes the seedlings as looking like small pine trees. Their long, thin leaves carry a reddish tinge and end in a spine. Older plants have red or purple stripes on their stems.
Many Elko roadsides and vacant lots are covered with Russian thistle. It would be nice to have a law that says if someone clears ground, they are then responsible for treating the inevitable weeds that will cover that bare ground.
Cattle and sheep will eat the young, succulent plants but not after they mature. The typical removal strategy is by spraying young plants with a broadleaf-selective herbicide. Any physical removal should be done before seeds form. Plants can be pulled, dug or hoed, but if done after seeds form, the work just helps spread the seeds. It is important to plant other vegetation to take the place of these thistles.
If only the County Fair had a horticultural category for Russian thistle, I could easily earn a ribbon. I guess I could spray plants with lacquer and sell them over the Internet or build tumbleweed "snow men" for my yard, but no one in Elko is going to be impressed.
Nature Notes: Spiky horned lizards
Short-horned lizards do not look like other lizards and do not act like them, either. People may know them as "horny toads," but these spiky, pancake-shaped lizards look odd. They also use unique adaptations to solve problems encountered in their arid environment. The body shape works, since this successful family of 13 lizard species occupies much of the western United States.
Horned lizards, like most lizards, eat insects and finding enough food can be hard. Horned lizards have adapted to this by concentrating on ants. Ants make up 90 percent of their diet and are a good choice, since where found, ants are found in abundance.
With that flattened, rounded shape, horned lizards obviously don't chase down their food like other lizards. Instead, short-horned lizards lie in wait near an ant hill and lap up passing ants with a quick, sticky tongue. But ants are ants and horned lizards have been known to run from a mobbing of ant bites.
A diet of ants creates another problem. Ants consist largely of an exoskeleton made of indigestible chitin, so it takes a lot of ants to obtain enough nutrition. Horned lizards may eat 200 ants in a day and have evolved a way to handle this rough diet. Their stomachs are much larger than other lizards, holding more ants for digestion. Larger stomachs require larger bodies. They have exchanged that svelte, slender look of other lizards for tank-shaped bodies, flat and wide.
This body shape has created another problem, since they cannot simply run away from predators. Several adaptations have compensated for this lack of speed.
First, they escape notice. Horned lizards will often keep still when danger approaches, relying on their cryptic coloration and flat, rough backs. Even when they do run, they tend to only run a short distance and then stop, hoping to startle the predator.
If the predator persists, then the horns on their heads, back, and sides may intimidate predators. They stand with back legs high and heads low to show off their spikes.
They also stand up high and suck in air to look larger, while hissing and thrashing their tails. Horned lizards may actually hop toward the predator, brandishing those head horns.
That fascinating story from childhood is true, they can squirt a bloody liquid from their eyes. They increase the blood pressure in their heads until capillaries near the eyes burst and eject the liquid, throwing a thin stream as much as four feet. Besides surprising the predator, the liquid is thought to irritate the mucous membranes of some predators.
These cold-blooded lizards live in a cold desert, but horned lizards spend nights buried in loose soil or sand. They dig their way into the soil using the sharp-edged lower jaw. The head vibrates side to side as the lizard walks forward, cutting into the soil. They can bury themselves 3 inches deep in less than a minute.
When the sun comes up, their head often emerges first to be warmed by the sun. They need to be fully alert before exposing themselves to dangers. They emerge from the soil and tilt their body so their flat, upper surface catches direct sunlight and warms up. Later in the day, they move into cool shade or bury themselves in shaded soil.
In many areas, horned lizard populations are declining. Besides habitat loss, their biggest problem is being picked up. Too many are collected as pets. Unfortunately, most die quickly since people usually do not keep on hand an adequate supply of ants. Besides, individual lizard species eat very specific ants and people rarely offer the correct types.
Nature Notes: Watching fires via satellite
The three of us huddled around a computer screen, touring the Western U.S. through imagery from the Geostationary Operational Environmental Satellite, or GOES-16 satellite. We were watching active wildfires in real-time. The fires showed black, burned ground, sometimes we could see the fire smoke, and they had a twinkling effect, an artifact of the computer. Launched last November, this weather satellite is proving its worth in finding and tracking wildfires.
Clair Ketchum and Jeremy Michael are meteorologists in the Elko Forecast Office. When I last spoke with them in May, they were hopeful these satellite views could be used to spot wildfires while the fires are still small.
So I asked them if they been able to spot a wildfire before anyone else. Had they alerted Fire Dispatch? They spotted the Quinn fire start near McDermitt and alerted dispatch at about the same time others reported this fire. They showed me recorded video of the thunderstorm that spawned the Snowstorm and Cornucopia fires north of Battle Mountain.
The satellite view clearly showed the lightning strikes as the storm moved through, and showed three fires start up. One fire went out and the other two blossomed into the Snowstorm and Cornucopia fires. They called in those fires also, again about at the same time as others reported them. In the future, even if the Weather Service does not call in a fire first, Clair and Jeremy feel they can provide backup verification of the fire.
Although the recent Oil Well fire was visible outside the Weather Service windows as it roared toward White Rock and Osino, Clair said all eyes were glued to computer screens in the room. They watched the fire advance in real-time, with only a 90-second delay. Different data channels offered them different views of the fire. They were able to help fire crews by alerting them to a wind shift along the northern fire edge.
One question in May had been how small of a fire could be spotted. They watched a fire in Paradise Valley that topped out at 190 acres. Although they did not know the size at the time, they could see it as a smaller size. They can probably spot the smoke plume from a large building fire but the satellite is so new that many of these questions still need time to work out.
They had some luck while spotting the Snowstorm fire. The sky was clear soon after the thunderstorm moved through so no clouds blocked the beginning fires. A larger fire does show through the clouds. Some objects can put out enough heat to look like a fire, such as dry lake beds, mine sites and solar collection fields.
The satellite not only helps in spotting wildfires but aids the fire crews during a fire. The Weather Service has alerted crews to approaching storms not visible to crews and wind shifts that could put crews in danger. After a fire, Weather Service personnel also provide a service by watching burned areas as storms approach, areas like the Oil Well burn. They can alert authorities of approaching rain, since rain on burned ground can quickly run off as debris flows and flood nearby areas.
For the first time, the GEOS-16 satellite offers the ability to watch processes in real-time. Clair and Jeremy showed me recorded video of a dust cloud kicked up by strong winds near Ely, something the old GEOS-13 satellite could not have seen. Now they can alert nearby airports of such advancing dangers.
Much work remains to be done concerning this new satellite, but the GEOS-16 is proving itself as one more valuable aid in fighting wildfires.
Nature Notes: Too many people visit Zion National Park
What happens when a national park becomes so popular that the crush of visitors makes each visit less enjoyable? During the one month of June, 2017, Zion National Park saw over half a million visitors, and 70,000 during the 2016 Memorial Day weekend. In 2007, the park received 2,679,181 visitors, that increased to 4,317,028 in 2016.
On popular days, the line of vehicles approaching the South Entrance Station reaches back through the town of Springdale, snarling traffic for town residents and visitors alike. The parking lot for the Visitor Center and shuttle departures is often full. Cars line the east road so people can walk back to the main canyon road to catch a shuttle. Visitors wait in line to get on the shuttles. Hikers encounter long lines of people using popular trailheads.
The National Park Service is searching for a way to limit park visitors, putting together a new Visitor Use Management Plan. This plan has three alternatives including Alternative A which is the typical "take no action" where everything would stay as it is.
Alternative B would use a reservation system. Visitors would need to pay for a reservation ahead of time covering the day or days they want to visit. Only a certain number of reservations would be permitted on each day.
This would shorten the lines at the entrance station since the entrance fee would already be paid. Visitors would ride the shuttle and hike the trails with fewer other visitors.
Alternative C would require reservations for each place or trailhead in the main canyon. A visitor would select the places they want to visit and get daily reservations for those spots. Popular spots like the Narrow, Emerald Pools or the Grotto (the trailhead for Angel's Landing) would only receive a certain number of visitors or hikers each day. Although the plan does not specify, apparently people would be allowed to get off the shuttle at a stop only if they could show reservations for that stop on that day.
Another bottleneck is always the large tunnel. When it was built in 1930, vehicles were much smaller. Now, large vehicles, such as RVs and delivery trucks, can only travel down the center of this tunnel. This necessitates one-way traffic during most of the day and long lines of vehicles form at each end waiting for their turn to go through the tunnel.
Alternative B would restrict any large vehicle, RV or delivery truck, to traverse the tunnel only at certain times of the day, probably early morning and evening. During the rest of the day, regular vehicles would traverse the tunnel using both lanes with no restrictions. An RV approaching the park from the East Side would need to travel south through Kanab, west to Hurricane, then back north and east to the South Park Entrance. A 30-mile trip to the visitor's center through the tunnel, would become a trip of about 100-miles looping around to the South Entrance. Alternative C would eliminate large vehicles from the tunnel at all times.
Thousands of comments have been received about these alternatives. Many comments state something needs to be done to reduce the number of visitors. Some interesting comments worry about a black market developing, where people buy reservations and then offer them at higher prices. Some say with a reservation system, tour buses should be eliminated or very restricted since commercial companies would need to receive enough reservations to fill their buses. Others say Utah residents and then U.S. residents should receive a higher priority to get reservations, although the NPS states these priorities will not happen. A few state visitors should be required to take an online course before getting reservations, learning about the park and visitor etiquette.
Under these alternatives, future visits to Zion would require careful planning months in advance. The lucky ones receiving reservations would have a more enjoyable national park experience, sharing the park with fewer people. The unlucky ones would simply go elsewhere.
Nature Notes: Spotting a burrowing owl
Seeing a burrowing owl is always a treat. A person does not have to walk through City Park after dark to find this diminutive owl, long-legged but only 8-10" tall. People may have been near one, thinking this owl's call was a dove or a quail. The owl in this photo was perched in full daylight, on a sign overlooking passing cars on Mountain City Highway.
It may have had a nest nearby. Burrowing owls live across the West, in treeless, open areas having short grass or bare ground. They usually select a burrow already dug and abandoned.
The Great Basin offers an abundance of abandoned holes dug by prairie dogs, badgers, kangaroo rats, kit foxes and even desert tortoises. They can even use a culvert or PVC pipe.
If the owls cannot find abandoned burrows, they have been known to evict the occupants of an occupied burrow. They collect animal dung and spread it around their burrow to attract insects. They also may collect shiny objects to decorate their burrow edge.
However, seeing a burrowing owl perched on a sign is not the typical sighting. People usually spot these owls standing on the raised dirt around their nesting burrow.
Young owls will also sun themselves at the burrow entrance, sometimes showing only the top of their head and eyes. If a person approaches them, they scurry underground. If the person peers into the hole, they may hear the buzz of a rattlesnake. Burrowing owls do not share burrows with snakes and the sound comes from the owls themselves.
Great horned owls perch in tall trees where they swoop down on unsuspecting ground squirrels or jackrabbits under the cover of darkness. Burrowing owls perch on fence posts or sagebrush and swoop down on ground insects, lizards or mice, hunting in both daylight and darkness. They may hover over a field, chase insects along the ground, and even fly up to seize flying insects like a flycatcher.
Burrowing owls are considered endangered or threatened in some areas. Their main threats are habitat loss, car strikes and a decline in prairie dogs and ground squirrels. They tolerate living near humans, nesting in empty lots, airports and on golf courses. Watch around the Elko area and you may spot a burrowing owl.
Nature Notes: Wet year leads to magnificent beargrass
After so much moisture this past winter, it has been a good year for beargrass. Along the shores of McDonald Lake in Glacier National Park, beargrass litters the forests. Cindy and I stayed in an RV park near Hungry Horse, Montana, where these white flower heads lit up shady areas among conifers.
Much confusion surrounds this glorious, flowering plant. It is bad enough that beargrass is not a grass, but also bears do not eat it. The confusion began with the Lewis and Clark Expedition, which saw the plant on Lolo Pass in Idaho. On June 15, Captain Lewis wrote in his journal "There is a great abundance of a species of bear-grass which grows on every part of these mountains."
The confusion stems from yucca, or soapweed, which is commonly called beargrass and Captain Lewis was likely referring to Eastern soapweed. Other common names for this plant include bear lily, pine lily, elk grass, soap grass, quip-quip, and Indian basket grass. Perhaps the oddest is its second-most common name, Western turkeybeard. People cannot even agree if the proper name is beargrass or bear grass.
Beargrass commonly grows three to four-feet tall and can reach five feet in height. A rosette of basal leaves forms a mound, which is easily found under light snow. I have been walking across a forest slope covered with a couple inches of snow, when one step on a hidden, slippery beargrass clump resulted in a slide downhill. Anyway, a flower head full of hundreds of white flowers climbs from the center of the clump. It grows in open forests and meadows from Alberta and northwestern Wyoming, west to the Pacific Ocean. It does particularly well in burned areas. Blooms begin soon after the snow melts in late May at lower elevations and continue into August at alpine locations. Bighorn sheep, mountain goats and deer eat the flowers and pine grosbeaks eat the seeds.
The last big proliferation of beargrass in Glacier was in 2013. It is wrong to say beargrass blooms every seven years. A good year for beargrass has more to do with a wetter year and a deep snowpack, like Glacier and the entire West had this spring.
Nature Notes: Wild Horse History in Nevada, Part 2
In 1950, Velma Johnston lived on a ranch outside Reno. She was driving into Reno where she worked as secretary as she came up behind a cattle truck full of gathered wild horses. She could see blood running from the trailer, and since she had been around horses all her life, such treatment enraged her. She followed the truck to a slaughterhouse where she took photos of the horses as they were unloaded.
She started a letter-writing campaign designed to protect wild horses, often working with children in schools. Her grassroots effort included writing articles for newspapers and magazines and urging people to petition their congressional representatives. Her critics named her Wild Horse Annie as an insult, but she proudly used this name as she worked to protect the animals.
Her efforts paid off in 1959 when Congress passed a law called the Wild Horse Annie Bill or the Save the Mustangs Bill. It outlawed the use of mechanized vehicles in wild horse gathers. The BLM could see they were going to be charged with management of these horses and tried to place a rider on this bill allowing them to use aircraft during gathers. The outrage against Mustangers and their methods was too great and the rider was not included. The bill also did not contain language Wild Horse Annie wanted to set up a program to protect, manage and control wild horses and burros.
Across the country, sentiment for wild horse was rapidly building. In 1971, the Wild Free-Roaming Horse and Burro Act passed congress by a unanimous vote and President Richard Nixon signed it.
The act charges federal agencies, primarily the BLM, with the task of protecting all wild horses on the public lands they administer. The act states that wild horses will be managed in a way to achieve and maintain a thriving natural ecological balance on public land.
The act calls wild horses "living symbols of the historic and pioneer spirit of the West … [they] shall be protected from harassment or death." It states that the wild horse is "an integral part of the natural system of the public lands."
In 1971, the BLM created the Wild Horse and Burro Program (NHBP). They estimated 9,500 wild horses lived on Western rangelands. The first task was to separate domestic from wild stock. In 1975, a claims program required ranchers to pay a fee and remove any domestic horses from wild herds, and it then became illegal to run private stock in wild horse herds. One Elko County rancher told me his father and other area ranchers specifically gathered and claimed every wild horse in the area, to make sure none were around when Herd Areas were set up.
The Wild Horse Organized Assistance (Whoa!) organized the first adoptions. Velma Johnson and today's chairwoman, Dawn Lappin, founded this group. The numbers of adoptions quickly overwhelmed the group and in 1976, the BLM took over the adoption program. Also in 1976, the BLM received permission to use helicopters during gathers since helicopters, compared to horsemen, reduced the stress on gathered horses.
After the claims program ended, Herd Areas were delineated anywhere wild horse herds existed. The BLM checked each Herd Area to ensure each provided adequate food, water, cover and space for a healthy herd of horses over the long term. Those that passed became Herd Management Areas (HMA).
The Herd Areas that failed this test had their horses removed entirely. The WHBP is only responsible for maintaining wild horses inside HMAs and any horses outside of these areas are generally removed entirely.
The appropriate Management Level (AML) is the number of horses the WHBP experts believe an HMA can support over the long term. It is based on the land's ability to maintain a healthy and diverse horse population while maintaining habitat quality for horses, wildlife and livestock. The next step was to assign AMLs for each HMA. AMLs consist of two numbers, a lower number of the least number of horses that HMA should always contain and a higher number which is the most horses it should contain. The BLM is supposed to gather excess horses to bring that herd's population down to between those AML numbers. All HMAs in Elko County contain horse populations above their AML at the present time.
At the present time, the WHBP is not conducting gathers, citing no money to move horses and nowhere to place these gathered horses. Numbers of wild horses are astronomical in some HMAs and growing each spring. No one knows what the future holds for the WHBP.
Nature Notes: Wild Horse History in Nevada, Part 1
Herds of wild horses did not exist in Elko County or Nevada during the early 1800s. As the first European explorers traveled through the Great Basin at that time, they did not report seeing any wild horses. The Western Shoshone did not traditionally use horses and only obtained horses after 1850, when they probably stole or picked up strays from passing California-bound wagon trains.
The first Great Basin "wild" horses appeared during the late 1800s, when ranches released their horses to run wild. In early Elko County, no one called these horses "wild," they were called "range horses." During winter, ranchers released unneeded saddle stock to fend for themselves in herds called range herds. In the spring, ranchers picked up experienced saddle stock and new horses for summer work around the ranch. Area ranchers saw these herds of range horses as a ranch resource, a commodity to use and sell. In the 1880s, horses were valuable, worth $30-100 per head. Ranchers brought in horses from their range herds to sell.
Their attitude toward range horses is evident in early Nevada laws. In 1897, range horse herds were increasing and the Nevada Legislature passed a statute allowing the killing of range horses. Interested parties had only to get a permit from the local county commissioners. In 1902, the state repealed this statute due to concern over the indiscriminate killing taking place. Also, the horse market was good at the time and ranchers worried about a potential loss of revenue. By 1913, the horse market crashed and range horse numbers increased so another statute allowed the killing of more horses. Again, a permit was needed from county commissioners.
Ranchers manipulated the bloodlines in these range herds. They released quality stallions to improve the wild-running herds, sometimes killing the herd's old stallion to make it easier for the new stallion to take over. The U.S. Cavalry had a constant need for a large supply of quality horses. The Army Remount Service gave good stallions to ranchers who used them to raise quality stock. The Army then had first rights to buy the stallion's offspring. These stallions were often turned loose with range herds. (Here, I change to calling these wild horses, since this covers horses outside of Nevada.)
In 1898, the Spanish-American War created a huge horse market. Following that, the 1899 Boer war saw 350,000 horses sold to the British for $10 a horse, many of them wild stock. World War I saw as many as one million horses transported to Europe. During this period, wild horse populations across the West dropped drastically.
After these wars ended, horse prices dropped. By 1925, one million wild horses lived in the West, including many turned out after farmers and ranchers obtained tractors. Some of today's poor range conditions can be blamed on the huge numbers of wild horses during the 1920-1930s.
During the 1920s, markets developed for chicken feed, pet food and protein for human consumption. The 1934 Taylor Grazing Act restricted the number of cattle and sheep on the range, so ranchers removed many wild horses to lessen their competition with livestock.
During the 1940-1950s, 100,000 wild horses were removed from the Nevada rangeland to feed these markets. The railroads offered a low, "chicken feed" rate for transporting horses. They had no obligation to feed or water the stock during transport. Such lucrative trade created a large business for gathering wild horses. Following World War II, jeeps, trucks and small aircraft allowed "mustangers" to chase wild horses.
Wild horses at that time were seen as range pests, stunted animals having poor breeding. During the 1950s, the number of wild horses in the west plummeted to 20,000, setting the stage for Nevada's own Wild Horse Annie to get to work.
(Continued next week)
Nature Notes: Joe and Hedwig
ELKO — Joe Doucette and Hedwig the owl recently kept some Spring Creek Elementary students captivated — not an easy job with third-graders. Students of Mrs. Porter, Mrs. Jacobs and Mrs. Hughes Learned not only about great horned owls, but also some basic biological concepts.
Joe has kept Hedwig for three years, often taking the owl to visit classrooms as part of his job as the Nevada Department of Wildlife Regional Outdoor Education Coordinator.
Hedwig was brought to the department after someone shot it with a pellet gun. Its right wing was severely damaged and had to be amputated. Hedwig cannot fly and rather than being euthanized, Joe took Hedwig for use in classroom education.
This is actually Hedwig II since Joe had another great horned owl for 10 years before it died. The original Hedwig was kept for the same purpose.
Hedwig lives in a mew (bird pen) behind Joe's house. A young red-tailed hawk occupies a second mew, and Joe is working with this young hawk for future educational work. Both birds are fed dead ground squirrels. Joe travels to Diamond Valley, where he fills a cooler with ground squirrels trapped out of hay fields.
The third-graders asked good questions:
"Can Hedwig turn his head completely around?" No, but he can turn it 270 degrees, because he has double the number of neck vertebrae as humans have. He has to be able to turn his head since his eyes cannot move side to side.
"Can he hear a lot better than us?" No, a little better than humans but he lives in a quiet world, whereas we humans are surrounded by noise. In an owl's quiet world, he can hear very well.
"How much does Hedwig weigh?" Three pounds; he looks bigger with all the feathers.
"What do owls eat?" Great horned owls eat small rodents and especially like to eat skunks. They may even eat small cats around Spring Creek.
"Are those horns on the top of Hedwig's head?" No, they are merely feather tufts. His ears are on the side of the head beside the eyes. His ears do not have an external flap. They are located slightly differently on each side and are different sizes. This helps owls locate prey using slight sounds. When the sounds are heard equally in both ears, the owl is looking directly at the prey.
"Why is Hedwig panting?" He is used to being outside and is warm in this building, plus he is stressed with all of you around him.
Joe is an educator and among the talk of owl poop (the students kept track of how many times Hedwig defecated on the gym floor), he talked to them about terms such as carnivores, herbivores, and omnivores, predators and raptors. He talked about eye placement on herbivores compared to carnivores.
After the 45-minute session, third-graders left with a better knowledge of both owls and biology.
Nature Notes: Maggie Creek Ranch prepares for wildfire
Each spring, area ranchers once again plan for the coming threat of summer wildfires. They make their living from the land, using both public and private, and know this land is vulnerable. Wildfire can take the land out of use for a few years to recover from a wildfire, so each wildfire season weighs heavily on them.
Maggie Creek Ranch Manager Jon Griggs talked to me about their preparation for this summer's wildfire season. Ranch headquarters is next to I-80 and Jon feels ranches all along this freeway corridor have suffered from wildfires. In 2007, a fire ran across the south edge of the valley, removing vegetation on Grindstone Mountain and destroying two homes on the ranch.
Jon described changes the ranch has made to the land itself, such as the green strip they recently created across private land to help stop any future fire. The ranch is working with the BLM to develop a technique where cattle would periodically graze a greenstrip to keep it more effective in stopping future fires. They are also aggressively grazing cheatgrass on private land in spring when this fire-loving grass is still green and palatable.
Ranch personnel from the Maggie Creek, Heguy and Pattani Ranches are trained members of the Lamoille Volunteer Fire Department. A fire department pumper truck is stationed at the Maggie Creek Ranch to be ready for any fires in that area. The ranch owns a bulldozer that has been used in numerous fires. They also recently purchased a water truck, seen in the above photo. The ranch uses the dozer and water truck for various purposes throughout the year but during the height of wildfire season, these machines are kept ready for a fast fire response.
Ranch personnel are not meant to fight fires over the long term. Agency fire crews do that job, while the value of ranch firefighters is a fast response to a lightning-caused fire. The 2007 wildfire started from a lightning strike that smoldered overnight and took off during the next windy afternoon. Jon said if they can quickly put out that one burning juniper or sagebrush clump, they can hopefully prevent a large fire. The most dreaded event is a dry lightning system that sparks 50 small fires across the county. Fast response teams may put out 49 fires but miss that one takes off and burns thousands of acres of vegetation.
During the fire season, Jon watches the fire weather predictions. These are available through the local weather service website, along with red flag warnings for especially dangerous days.
Another form of preparedness involves Jon's work as an area rancher liaison. When a wildfire begins, Jon acts as a go between with ranchers and firefighters. A number of these liaisons were setup across Elko County after a large fire. The agency firefighting teams were not from the area and did not understand the value of the land they were protecting. They also did not communicate with locals during the fire. Now, liaisons talk to firefighters about especially important areas.
The rancher liaisons have a lot of experience in wildfires and they attend daily firefighting planning meetings. They stay in contact with area ranchers so everyone is kept current on what is happening with the fire. This system has worked well and its use is spreading across the West.
Nature Notes: Wolf den confirmed in Nevada
Nevada's first pack of wolves is off to a good start. A pair of wolves, male and female, wandered into Elko County this winter, thought to have come from Idaho's Bruneau pack. This spring, the pair has been observed digging a den in the Jarbidge Mountains. The hope is they will produce pups and create a viable wolf pack.
Jim Canis is the state wolf biologist for the Nevada Department of Wildlife. I spoke to him recently when he returned to Elko to pick up more supplies. He has been keeping an eye on the den from a distant hillside. He told me snowmobilers first spotted the wolf pair in February on the east side of the Jarbidge Wilderness. Once the den site was discovered, Jim has been spending much of his time in the area, to ensure the safety of the denning pair.
Jim said "It's exciting. We will need to see how it turns out, but it looks like this could be the beginning of wolves living in Nevada. Elk in the area should provide ample food for several wolves."
For now, NDOW is keeping fairly quiet about the situation but once pups appear, news releases will be sent around the country.
Jeffrey Lupus is the president of the Jarbidge Sportsmen's Alliance. He told me the group is enthusiastic about the prospect of seeing wolves in the Jarbidge area. He feels wolves will bring in more tourists and help area businesses.
Of course, today is April 1, so an April Fool's Day hoax is in order. There are no confirmed wolves in Elko County, and definitely no wolf dens. A lone wolf was recently spotted in northwestern Nevada, the first wolf seen in the state since 1922. However, some day this column could be true.
Nature Notes: Adopting a desert tortoise
Have you been wanting a desert tortoise? Here is your chance. While cruising the web, I chanced across the Tortoise Group website (tortoisegroup.org). The group handles tortoise adoptions in Nevada. The website mentioned keeping tortoises in Northern Nevada, which I assumed meant Reno, surely not Elko.
So I called Kym McDonough, the adoption coordinator in Northern Nevada. I asked her if the group actually allows adoptions in the Elko area. She enthusiastically replied "absolutely."
"What about our winters? We had -15 degrees this winter," I asked. Kym replied she is sure there are desert tortoises in Elko, but did not have any names of owners.
Kym assured me tortoises can undergo brumation (like hibernation) in a box placed in the garage. She would be happy to assist in Elko area adoptions. It costs $75 and requires a yard consult, although this can be done through electronics. The adoption cost is waived if you join the Tortoise Group for $25 a year. At any one time, there are about 130 desert tortoises waiting on an adoption list.
"Wait a minute, in the garage?" I asked.
Kym keeps a tortoise in Reno. She placed some dirt in a cardboard box and then placed that box inside a larger box. She added crumpled newspaper as insulation between the two boxes. Each fall, she places a thermometer and her tortoise in the box. The thermometer shows a winter temperature remaining between 40 and 50 degrees, perfect for brumation.
"How do I know when it is time to place the tortoise in the box?" I asked.
She said the tortoise would tell me. It would become sluggish and stop eating, usually in October or November.
"OK, when would I remove it from the box?"
She recommends checking on a brumating tortoise periodically and once a week in mid-May. I would find its legs extending from the shell and the eyes may be half-open. Further evidence would be scratching noises coming from the box.
Tortoises need an escape-proof, fenced yard but cats and dogs are fine with beginning supervision as they meet the tortoise. The group encourages tortoises be fed a special tortoise feed. They enjoy a burrow made of cement blocks, a sheet of plywood and dirt. The group website shows how to build one.
Some tortoise owners worry about their tortoise being taken away from them. Kym said it will not happen. Having a tortoise is legal if you acquired it before August 4, 1989 or adopted it through the Tortoise Group. You are a custodian and do not "own" the captive desert tortoise. If someone gives you a tortoise, you simply need to register it on the Tortoise Group website. As of May 1, 2013, NEW custodians can only have one tortoise to avoid breeding. If you got a pair before that date, you can keep them.
So there you go, you can adopt a desert tortoise. Just remember they could outlive you, since they can live 80-100 years. Go to the group's website for details on care and adoption. If you have a tortoise in the Elko area, let me know at hyslop.nv@gmail.com.
Nature Notes: Majestic Trumpeter Swans
An early March visit to Ruby Lake National Wildlife Refuge is a study in white. Only a few snow drifts remain but white ice covers some water, while open water reflects the white snow of the mountains. Among all this white, swans provide the purest white.
Trumpeter swans are the largest swans and the heaviest waterfowl in North America. Cindy and I drove out to Ruby Valley to see them, braving a rough Ruby Valley Road, damaged from a hard winter.
Jane Bardolf is the refuge wildlife biologist. She told us about 25 swans typically spend the winter here. The highest swan count during this winter was 150 in December. That crowd probably contained about 50 trumpeters mixed in with 100 of the smaller tundra swans.
Pete Schmidt is the refuge manager. He was nice enough to show Cindy and I the best spots to watch swans, where they swam or stood on ice among Canada geese and various ducks.
The stately trumpeter swans weigh over 25 pounds and are six feet long. Clearing the water for such a heavy bird may require a 100-yard running start. These swans are named for their calls, often compared in quality and tone to a French horn, a sort of low pitched, bugling "ko-hoh."
Trumpeter Swans were almost extinct early in the 20th century. By the 1930s, fewer than 100 remained south of Canada. Among several problems was the reduction in numbers of beaver dams. Swans like to nest in their ponds, often on top of the beaver lodge. Swan numbers have recovered somewhat, although their population still causes concern. Today, approximately 46,000 trumpeter swans exist in North America.
The Trumpeter Swan Society sees the swan as an "indicator species" of healthy wetlands and waterways and symbols of hope showing that science, partnerships, and perseverance can bring a species back from the brink of extinction.
Ruby Marshes is an important wintering spot for swans. Unfortunately, only two or three pair of swans spend the summer here and nesting success is poor. Pete said they are working on the nesting problem and are considering a plan to bring in juveniles to summer here, in the hopes they would return to nest the next year.
Pete said the swans wintering at Ruby Marshes probably spend the summer at Montana's Red Rock Lakes, an important breeding area. The Yellowstone National Park area has been important in swan recovery but the park's experiences echoes those of Ruby Marsh. Yellowstone's population peaked at 72 in 1961 but now only has two breeding pairs. Seven trumpeter swans were released on the Yellowstone River in 2014 and 2015 in hopes of producing more breeding pairs.
Nature Notes: Grazing permits 101
One of the joys of living in Elko County is being able to explore the surrounding millions of acres of public land. This is land owned by all of us, much of it managed by the Bureau of Land Management. Almost all of this land is divided into grazing allotments, with its use governed by grazing permits. Therefore, I wanted to learn more about this management. Jeff Moore is a Rangeland Management Specialist with the Elko BLM District Office. He patiently explained the more basic parts of grazing permits.
Public land in Elko County was divided up into grazing allotments in the 1930s, as part of the Taylor Grazing Act. To obtain use of one of these allotments, ranches had to show they had private property nearby, called the base property. Once they were assigned a certain allotment(s), that base property was given a preference for that allotment. As long as the ranch had a grazing permit in place, no one else could come in and bid for that allotment. Most allotments have remained with the same base properties for the last 80-plus years.
It is important to say the ranches do not own the allotments; they are given use of them through their grazing permits. Ranches can lose this access through violation of the terms and conditions of the grazing permits, though most problems are resolved far short of this point.
Allotments are managed for multiple-uses. Picnickers, campers and fishermen can enter the allotment, but cannot complain if they end up sharing a site with a few cattle. Multiple-use of the land requires respect on both sides. A ranch cannot lock a gate on public land, and the most common complaint made by ranches is people leaving their gates open.
Grazing permits have terms and conditions stipulating the number of livestock permitted and the season of use during which livestock are allowed on the allotment. Some permits are for summer grazing, others for winter and a few are for year-round use. The typical permit says cattle can arrive in spring and must be removed by late fall.
Ranches pay for this use through the number of cattle on the allotment. This cost in 2017 is $1.87 per animal unit month or AUM. An AUM is defined as one cow, one horse, or cow and calf, or five sheep for one month. So if an allotment contains 100 adult cattle for six months, the ranch would pay the BLM $1,122 for the use of that allotment.
Grazing permits are in place for 10 years. The lengthy permit renewal process usually takes three to five years to complete (if no litigation takes place). The land is monitored to see if changes need to be made during the next 10 years to maintain the health of the rangeland. The BLM's Resource Management Plans, along with Standards and Guidelines for Rangeland Health, describe the desired condition of these rangelands.
It gets complicated, but both the BLM and ranches make improvements to the allotments, including fences and water improvements. Ranchers usually maintain these improvements.
Some permits require a yearly grazing application telling exactly how cattle will be managed. Sometimes, the ranches want to make a change in their grazing. This might be because the ranch is planning on using fewer cattle during a grazing season and do not want to be charged for the number shown in the grazing permit.
During a dry year, the BLM could suspend use of all or part of an allotment. Usually, in such a case, the ranch voluntarily removes cattle to avoid damage to the limited forage or to sensitive areas. Following a wildfire on the allotment, the BLM usually keeps cattle off for at least two growing seasons. There have been cases where an excess number of wild horses share an allotment with cattle, with the horses eating much of the forage. So far, ranches have voluntarily removed cattle in these cases, but the BLM could require their removal if necessary. The new sage-grouse amendment has not affected allotment usage yet. However, during the ranch's next permit renewal process, changes could be made if current grazing is not meeting sage-grouse habitat standards.
Source: https://elkodaily.com/lifestyles/the-best-of-larry-hyslop-s-nature-notes/collection_66f73e95-e37b-5fd2-a2f7-e43edd9e4b6f.html