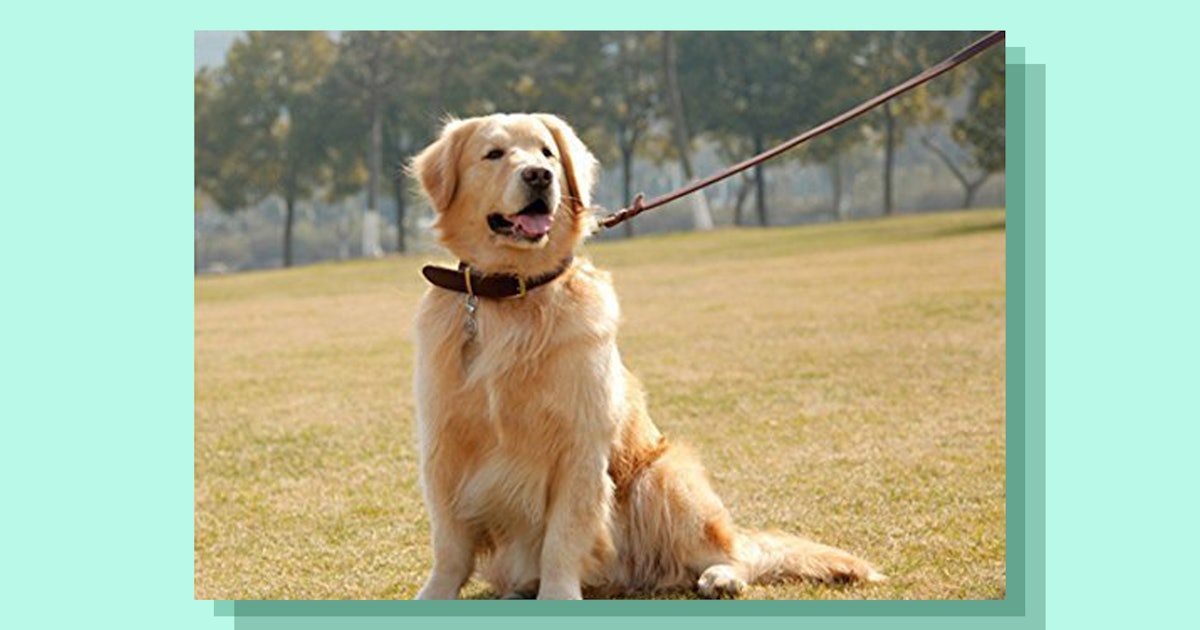 Dog owners know: Big dogs require greater pull force and are often more prone to tugging and yanking, and need a stronger leash than smaller pups. That's precisely why the best leashes for big dogs on the market are so great, and help protect you and your dog from running wild when you're out for a walk.
When beginning your search for the right dog leash for your pup, there are a number of things to consider. The first one is material. Do you want a leash made from nylon, cotton, paracord, or other soft materials? Or would you prefer something like leather that's a tad bit tougher and sometimes considered more aesthetically pleasing? If you have a strong chewer, you may want to consider a metal chain that will be impossible to chew through.
Another factor to think about is you and your dog's lifestyle. If you guys like to hike or go on adventures together, you may want to look into hands-free leashes. If you're typically walking on narrow, crowded streets, you might want to get a retractable leash that you can adjust when passersby approach. If you have more than one mutt, a double dog leash with a splitter could make a good choice. To help out, I've put together a list of the best leashes for big dogs for every type of puppy personality.
1

Overall Best: A Strong Rope Leash With Comfy Handles And Reflective Stitching

This super durable dog leash is made from mountaineering rope that's half an inch thick in diameter, 5 feet long, and made with a thick weave that makes it tough and rugged. The thick girth of the leash also makes it chew-resistant and long-lasting. The sturdy leash, which comes in five colors including black, blue, green, red, and hot pink, features comfy padded handles and reflective stitching to make you visible at night. "I love using this leash!" said one enthusiastic Amazon reviewer. "My dog hasn't chewed through it yet or done any damage. … It's holding up well, and my wrist is comfortable."
2

Best Retractable: A 16-Foot Leash With An Easy Lock Button

This high-grade retractable dog leash gives you the flexibility to keep your pooch close when you're passing other dogs or walking on crowded city streets, yet offers them room when it's time to pee or sniff grass. It's built with a smooth spool that retracts effortlessly, gliding in and out without catching or getting tangled in knots. It extends out 16 feet and has an easy lock button that won't stop working after a month like some retractable leashes do. The comfort-grip, anti-slip handle is ergonomically designed and capable of holding pups up to 110 pounds. "My dog is 40 lbs and I think he believes that he is walking *me,* by the way that he tries to pull me around," said one happy Amazon user. "This is the only retractable I have found that is comfortable, durable, and long enough for him to explore."
3

Best Hands-Free: A Leash With A Built-In Waist Belt For Running

This awesome hands-free dog leash features a built-in waist belt that frees up your hands for other things. The belt is soft and comfy with a special pouch that's custom fit to hold your phone. It also has another pocket for storing items like cash, dog treats, and poop bags. When you need to hold on to your pup, the leash offers two handles — one farther back for easy strolling and another one up close for immediate control. It has reflective night material and can hold dogs up to 150 pounds. "I honestly don't know how I ever went hiking without this leash," said one Amazon customer. "It's fantastic. Incredible. Amazing. I can't say enough good things about it."
4

Best For Chewers: A Metal Leash That Is Rust-Proof And Unbreakable

With sleek chrome plating and a sturdy, swiveled bolt snap, this metal leash is strong, stable, and perfect for dogs that love to chew through fabric leashes. It features a loop handle at the top with soft nylon webbing and a flexible foam grip that comes in three color choices. The professional-grade metal portion is rust-proof and breakage-resistant. "I love this leash!!!" exclaimed one Amazon reviewer. "My dog has chewed through so many nylon and leather leashes, I couldn't handle it anymore!!! He doesn't even bother trying anymore, because he knows it's hopeless with this leash!!"
5

Best For Pullers: A Shock-Absorbing, Durable Bungee Cord

While other leashes on this list are capable of withstanding dogs who tug, this shock-absorbing leash is specifically designed for pups who pull a lot. Each piece of the customized leash is reinforced to be extra tough, from the thick rope, to the sturdy metallic hook, to the rugged leather joints. Even the elastic bungee itself is extra strong and chew-resistant. The leash is lightweight yet stable with durable stitching and braided nylon rope. Its loop handle is padded for comfort and the main section features a reflective stripe for night walks. "My youngest Boxer (55 lbs) likes to try to take off after squirrels aka 'God's Tennis Balls' when I walk her," explained one Amazon customer. "(This) helps correct her while saving my shoulder. The bungee absorbs a lot of the sudden jerk."
6

Best For Two Dogs: A Two-In-One Convertible Leash

Built with a smooth, 360-degree swivel, the design of this handy double dog leash prevents tangling when your dogs cross back and forth in front of one another. Its cushioned handles are soft and comfortable to grip, while the shock-absorbent bungee cord material can be extended from 27 to 43 inches. While this leash can be converted and used as a single leash, there aren't quite as many reviews to speak to its shock-absorbing powers, which is why the best shock-absorbing leash above still wins the day for pullers. But, if you have two dogs, this leash has some of the best features of others on this list, and is strong enough for both puppies. One fan says, "My dogs and myself love the new leash!!"
7

Also, Great: A Stylish Leather Leash That Can Carry Up To 500 Pounds

Whether you want a leash with extra pull force or you just like the look of leather, this tough-but-classy training lead is a great option. The braided, handmade leash is constructed from 100 percent genuine leather that's been cut from a single piece. It showcases cooper alloy clips with high-grade plating and a stylish fashion clasp. Built for military grade training, it is exceptionally strong with an impressive tensile resistance that can carry 500 pounds of pull force. The best part is that even though it features thick leather, it weighs only 7.5 ounces. "VERY WELL MADE!" said one pleased customer. "This leash easily keeps me in control of my Pitbull, (it's) craftsmanship is impeccable. I really couldn't ask for a stronger leash, well worth the price!"

Bustle may receive a portion of sales from products purchased from this article, which was created independently from Bustle's editorial and sales departments.
Source: https://www.bustle.com/p/the-7-best-dog-leashes-for-big-dogs-9569929