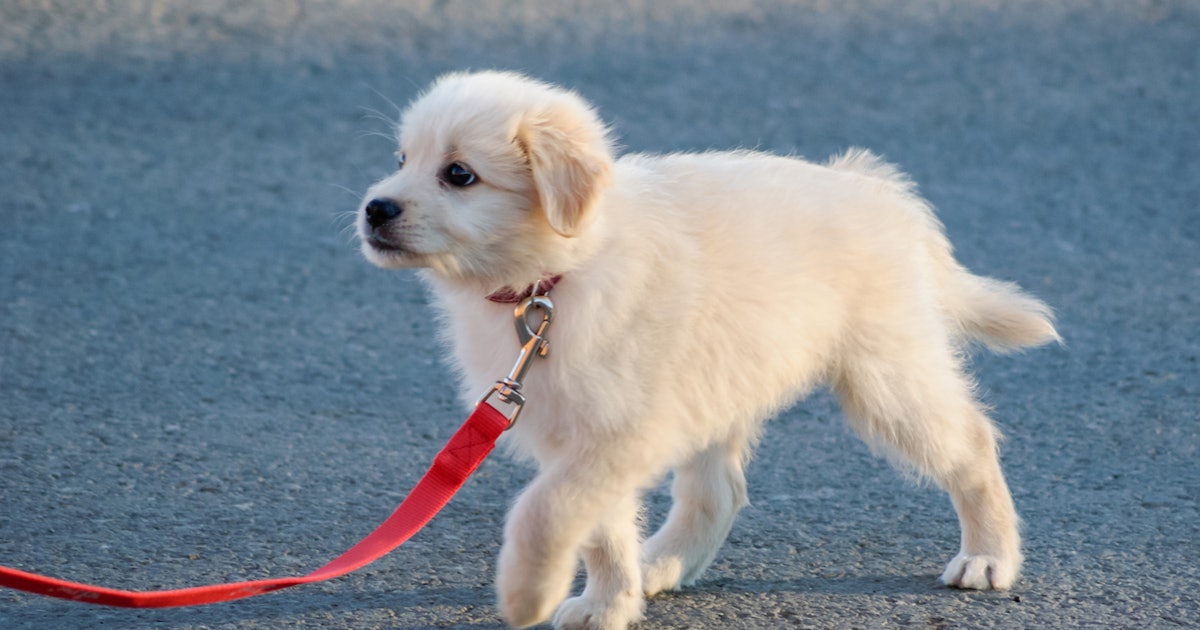 The first few months of owning a puppy, the joy of having a brand new four-legged friend is counteracted by the pricey cost of buying brand new toys, harnesses, leashes, beds, and food for your pup. In that moment, it's lucky that the best dog leashes for puppies are affordable, and designed with a smaller, likely untrained puppy in mind. What sort of things make for a great leash for puppies?
First, think about size. Because, most of the leashes I've included on this list come in multiple lengths and thicknesses, be sure to find the size that's right for your pup. The larger your puppy, the thicker and longer your leash should be. In addition, the length of your leash will affect how much room your pup has to roam, so a shorter leash might be more appropriate if you're early in the training process.
You'll also want to make certain it's sturdy enough to hold your puppy and will last for a while, even as your dog grows. And if your dog loves to chew, look out for thick leashes made out of either tough nylon on metal, which tend to be the best chew-proof dog leashes.
Check out some of these awesome options below, a round-up of the very best dog leashes for puppies.
1

The Best Classic Leash

This hugely-popular dog leash, which has more than 1,200 reviews on Amazon, is built with sturdy, high-grade nylon and a smooth coating finish. It's particularly great for puppies because it's fully compatible with training aids like harnesses and head collars, so no matter what training you have in store for your new puppy, this leash will suit. This leash has an easy metal clip and hassle-free opening mechanism, making it a breeze to attach to your pup. Plus, it comes in versatile sizing options with five lengths and thicknesses. As a bonus, the simple leash only costs $6. One fan raves, "We are in puppy training classes, and this leash is a great length, durability, and weight for our little one (8lbs right now, will get up to 20)."
2

The Best Retractable

With a smooth cord that glides in and out with ease, this retractable dog leash is a great choice for dog owners who want to be able to adjust the length of their leash as their puppy starts to become better trained. It has a responsive brake button that stops your pup quickly while the easy release is smooth and snag-free. The leash features a curved, ergonomically-designed grip for comfort and an array of sizing options ranging from 10 to 26 feet. As you peruse the sizing options, you'll find that varying lengths of this leash also correspond to how much weight it can hold — the extra-small size is designed for puppies up to 26 pounds, while the large can cater to dogs up to 110 pounds (and is a great investment for a larger or puppy or a breed you know will grow quickly). On top of that, it comes in four colors including blue, green, grey, and pink. Fans love it: "I got a new puppy and knew I needed a bigger leash than the one I have – I got the large size for my golden retriever so it can grow with her. Very light weight and sturdy."
3

The Best Leash For Chewers

If your puppy has already begun to chew its way through leashes, toys, and anything it can get its teeth on, this durable leash is the one for you. Made especially made for strong chewers, the tightly-webbed nylon is 3 millimeters thick with an inch of width to provide protection from their tiny teeth. It has a robust, 2-inch clip along with a D-ring to use for poop bags or training devices. The comfy handle is padded with neoprene and it has reflective threading woven throughout for visibility at night. "Our puppy was a big leash chewer when we first got him and worked his way through most of his other leashes and harness(es)," said one Amazon reviewer. "But this is still going strong with no signs of giving in. Great leash!"
4

The Best Leash For Pullers

For the puppy who is already a tugger — and on its way to getting even bigger and stronger — this leash will minimize pulling and strain on your arm. It showcases a shock-absorbing bungee cord that reduces the strain on both the leash and on you when your pup pulls, while still allowing you to have control over the walk. The neoprene-lined handle is super soft and it has reflective fabric to keep both of you visible during evening walks. All told, it's a fantastic choice for puppies who are hyper, energetic, or just love to charge ahead.
5

The Best Double Dog Leash For Puppies

This versatile double dog leash allows you to walk two dogs at the same time with plenty of comfort and minimal tugging. This makes it a great addition if you are adding a puppy to your dog family, or if you have two puppies to look after. Made with a blend of durable nylon and polyester, it has a soft grip with a comfy handle to avoid rope burn. Between the two sections there's a swivel clasp that auto-adjusts to ensure they don't get tangled up or cross over each other. Best of all, the leash can be used with dogs of all sizes and mixed and matched so if your dogs are different sizes it will still work.
6

The Best Hands-Free

This leash isn't just the best hands-free leash for puppies — it's the best hands-free leash you can buy for any sized dog. Built with a soft, adjustable waistband that fits up to 48 inches, this leash is made with a shock-absorbing bungee so your pup won't jerk you if they get going fast. The weather-resistant fabric is strong and sturdy with a reflective strip and top-grade stitching. Generally speaking, this is a leash your puppy can start using now and grow into as it gets bigger, particularly if you're planning to be active a lot. One reviewer even says this leash can perform double duty: "Quite useful in the home socializing phase of puppy training.…This will be useful when walking my dog and puppy at the same time."

Bustle may receive a portion of sales from products purchased from this article, which was created independently from Bustle's editorial and sales departments.
Source: https://www.bustle.com/p/the-6-best-dog-leashes-for-puppies-9910026