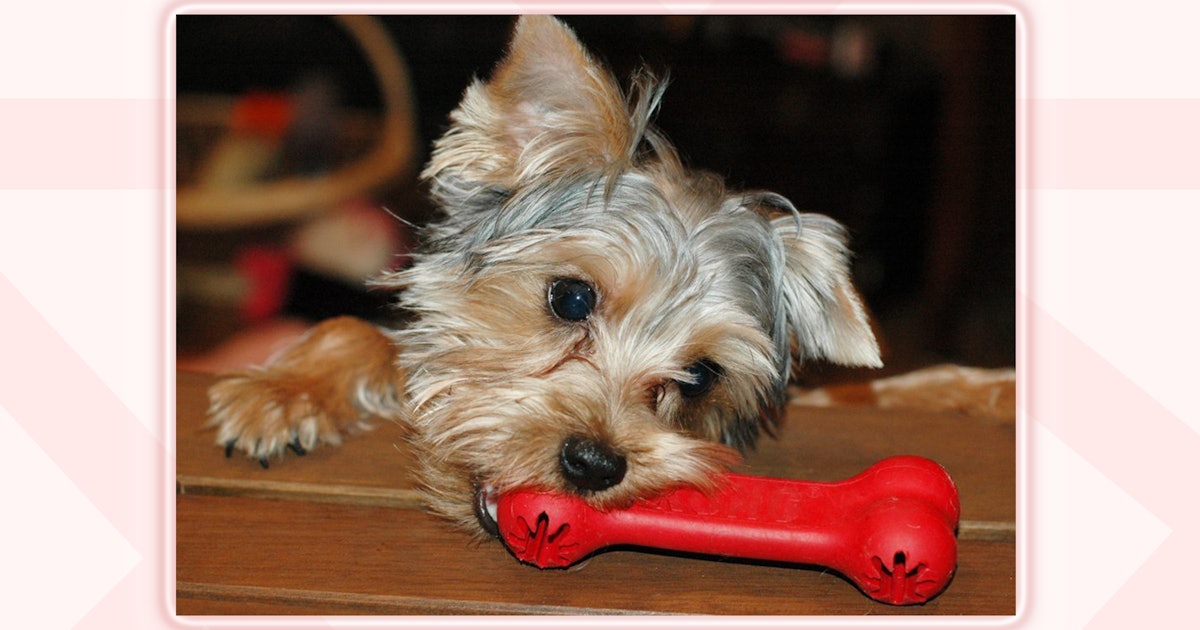 In a dog's mind there is nothing better than toys. But there is one thing that can make an average toy great: stuffing it with treats. And, regardless of the style you and your pup prefer, the best dog treat toys will make life for your dog a lot more fun.
There are a few things to keep in mind when looking for toys that can dispense treats. First, think about the size of the treats you'll be using. Are they small enough to fit inside? Are the treats big enough to stay in without falling out? Think about how big your dog is too and whether they'll be the right size for your pup. Unsurprisingly, the best toys for big dogs will be too large for smaller puppies, and the best toys for small dogs might bore a bigger dog (although some toys come in multiple sizes so check that too).
You'll also want to consider how durable the toy is and what material it's made of, especially if you have an aggressive chewer. Toys made out of durable silicone will be a better choice for dogs that love to tear through their toys. To help you out, I've rounded up the best dog treat toys in every category, from the best puzzles, to balls, to chew toys, and more.
1

A Bobble Toy That Bounces And Rolls

Unlike regular balls which follow a predictable path, this bobble toy has an uneven trajectory, bouncing erratically and dispensing treats while offering mental stimulation in the process. It features an adjustable opening which allows food and treats of all sizes to fit without falling out too fast. This lets you customize the game, deciding exactly how difficult you want to make it and how long you want the feeding to last. The large size option fits three cups of food which is bigger than some that only hold 3/4 to 1 cup. "If I could give this toy 10 stars I would," said one happy Amazon customer. "It fascinates our dog. She learn(ed) to push it with her nose within minutes and we leave it full for her every night."
2

A Chew Toy That You Can Fill With Peanut Butter Or Treats

Virtually indestructible, this tough, rubber chew toy is shaped like a bone with special slots on the ends where you can stick food and treats. The idea is that puppies who love bones but can't have real ones due to safety or digestive issues can still enjoy the chewing sensation. "The KONG bone dog toy is incredibly tough," said one pleased Amazon user. "My dogs have not been able to destroy it, even though they have spent hours chewing on it, fighting over it, and pulling on it. The ends are designed with slots that allow you to shove hard dog treats in there or something soft like peanut butter… perfect for those times when you need your dog to focus on something other than your houseguests for an hour or so."
3

A Noise-Making Toy That Cleans Their Teeth

While your typical squeaky toy makes annoying, high-pitched shrieks, this cool interactive ball is built with a magnetic field and induction line that creates a sound when you roll it across the floor or when your dog pounces on it. You fill the ball with their favorite treats, and they have a blast bouncing it around trying to get the snacks out. The tough, ultra-durable material is also designed specifically for aggressive chewers and, as a bonus, the ridged pattern helps clean their teeth.
4

A Puzzle Toy That Builds Up Their Doggie IQ

Made especially to build their IQ and make them sharper animals, this interactive puzzle toy offers your pup a fun challenge to help build their intelligence. To play, simply hide treats in the various chambers and allow your pup to play with the sliders, slots, and knobs to try to get them out. The brain-stimulating game is part of a series that includes flip boards, poker boxes, training towers, and other puzzles, each of which offers more progressively difficult challenges. "My dog loves this!" said one excited customer. "She gets super stoked when she sees me take it out for her to play with. … I am a professional dog trainer & recommend interactive games to my clients."
5

A Foraging Mat That Triggers Their Natural Instincts

This treat-dispensing foraging mat mimics grass and other places in the wild where they would naturally hunt for food. Just sprinkle treats throughout the shag and watch their natural instincts kick in. The clever mat stimulates their brain and offers a fun play toy, regardless of their size. The only drawback is that some dogs, depending on how big or how smart they are, will figure out that if they pick the mat up and shake it, they can get the food to come out faster.
Bonus: A Treat And Food Dispenser That's Full Of High-Tech Features
While this high-tech pet monitor isn't a treat toy specifically, the smart treat dispenser offers a ton of other cool features. The dispenser itself stores up to 11 treats and is equipped with a launcher you control remotely from your phone to shoot treats across the room up to three feet away. It also has a remote-accessed laser beam you can use to play with your dog while you're at work or school. A built-in camera lets you take photos and record videos and it has a microphone that lets you talk to your bestie when you're away, soothing them with your voice.
Bustle may receive a portion of sales from products purchased from this article, which was created independently from Bustle's editorial and sales departments.
Source: https://www.bustle.com/p/the-5-best-dog-treat-toys-9553893