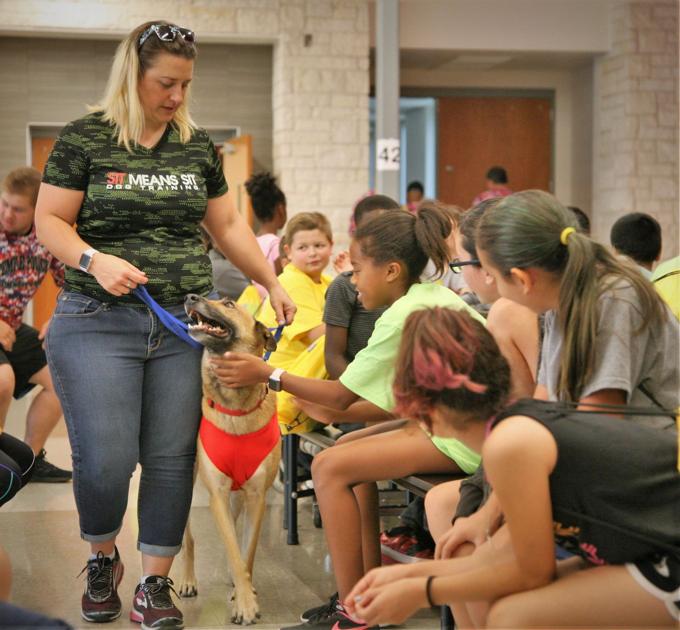 Elementary school-age students attending the Temple Police Department's School Resource Summer Youth Camp learned Monday how to handle themselves around dogs they don't know.
The students learned techniques and more at North Belton Middle School from Robin Webster and her dog Turbo with Belton-based Sit Means Sit Dog Training Central Texas.
Turbo, a 4-year-old Belgian Malinois that Webster got when he was 8 weeks old, has taught her a lot, she said.
The boys and girls trekked into the large, open room from the gymnasium, where they'd been playing games with several Temple Police officers dressed in shorts and colorful red, white and blue T-shirts.
Forty-eight boys and girls going into the fifth and sixth grades were taught how to react if they're approached by a strange dog, and Webster used Turbo, and sometimes willing students, to demonstrate what she meant.
Most children love animals, so there was enthusiasm and desire to answer questions and to volunteer Monday.
The first things to remember are to be calm and don't run, and then put a barrier between yourself and the dog, Webster said. That might be a bush, tree or a fence, but it might be something as simple as a backpack or a shoe.
Don't make direct eye contact with the dog. Instead, look down and make your hand into a fist so your fingers are hidden. Look boring. If the dog is still there, then crouch down, continue to look down and hide your fingers in a fist.
Webster had the students demonstrate as a group their understanding of the techniques by doing them.
Three days after Webster put on this program at a school, a boy was attacked by a dog, she said. He was hurt, but not as badly as he could have been because he remembered what Webster said. Â 
A dog's level of understanding can be increased by several different means — verbal language, a leash, body language, hand signals and touch.
There is a correct way of introducing yourself to a dog owner and a dog, and it should always be done with respect. No one should ever just walk up to a dog and start petting it without asking the owner for permission. Permission should be asked in a clear voice from a distance. If permission is given by the owner, first let the dog smell the outside of your closed, relaxed fingers. Only then should the dog be petted under the chin, on the chest or shoulder. Avoid petting the top of the dog's head.
Everyone who wanted to pet Turbo did so under supervision before the program ended. Then Turbo did some impromptu tricks. He ran, jumped sideways off a wall and caught a disc that Webster threw.
The Temple Police camps started about 25 years ago, Sgt. Brad Bennett said. They began as rewards for students who finished DARE (Drug Abuse Resistance Education) and then GREAT (Gang Resistance Education and Training) programs. Now the camps are sponsored by the school resource officers.
The camps are a great way for the students to relate to the officers outside of school and in a more informal way, "which is what community policing is all about," Bennett said. The students learn they don't have to be afraid of the officers and can trust them.
Each camp is kept to a total of about 50 students and at a minimal cost. Camp this week costs a total of $20, which includes games, drinks, snacks, lunch and a T-shirt. Lunch Monday was donated by Domino's Pizza, Bennett said.
Source: http://www.tdtnews.com/news/article_578be184-83da-11e8-a6c8-dfc747d1886c.html