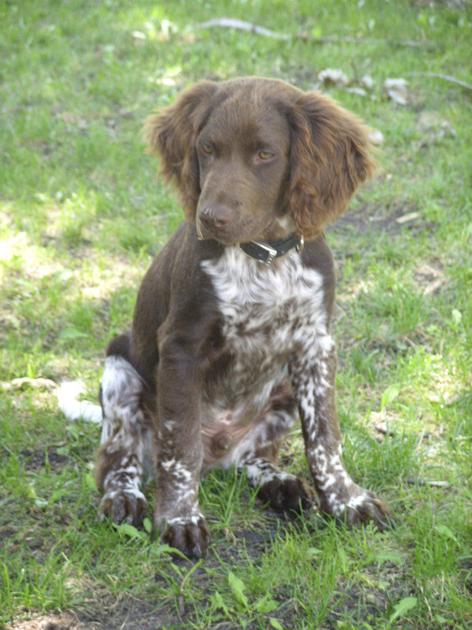 This summer, our home got decidedly livelier with the addition of a new family member. Of course, I'm talking about a puppy.
Just to clarify, we still have Phantom, my beautiful and brilliant bird finding machine. This past season was our best yet, and at age 7 she was just hitting her prime.
However, a health scare this spring, which Phantom now seems to be recovering from nicely, prompted me to consider getting another pup.
A decision had to be made, and although I always swore I'd never have two dogs at once, that rule has since flown out the proverbial window. We picked up the pup in late June, not as a replacement for Phantom, but to boost her spirits and relieve her in the field as needed.
So far, he's definitely perked her up, when he isn't driving her (and us) crazy. Phantom's new buddy is Komet, who also happens to be her first cousin.
Komet might be more my wife's dog than mine, as she was the one who actually picked him out, and they bonded immediately.
But, as fall approaches, the tide may be turning. After all, I'll be the one taking him hunting.
That's right, despite being only four months old, Komet will have likely went on his first hunt by the time you read this. Although he's too small to pull full duty this season, he should be able to fill in for Phantom when she needs a break.
We've been training all summer to ensure his success. One benefit of having two dogs is that the younger one learns from observing the older one.
Some of those things learned are good, some not, but that's the chance you take. In Komet's case, watching Phantom train each day quickly showed him what was expected.
The basic foundational commands I use to train a bird dog are sit, fetch, here and drop. Sit is taught to instill steadiness and calmness before tossing the bumper. Somehow, my wife had Komet taught to sit within a matter of days.
From there, it was up to me. By watching Phantom retrieve, Komet knew the commands already, so we were ahead of the game in that regard.
However, trusting him to follow those commands was another matter, so Komet began his fetch work on a check cord, which is just a fancy name for a long leash.
I started with a short check cord and then progressed to a longer one. He would run to fetch the bumper just fine, but getting him to recall (here) was another matter, hence the check cord, which I used to reel him in like a thrashing catfish.
Once he finally delivered the bumper to me, either willingly or unwillingly, getting him to drop it became the new challenge. Some epic battles ensued, and with his sharp puppy teeth, I was often on the losing end.
Eventually, I got tired of dealing with the check cord getting tangled up around Komet's legs and mine. At this point, I was convinced he knew the commands, even if he didn't always obey them.
It was time to go off leash, so I turned to the most effective item in a dog trainer's bag of tricks — treats.
With a pocket full of bite-sized dog biscuits, I commanded Komet to sit, then threw the bumper and yelled "fetch" followed by "here" once he picked it up. To my surprise, Komet actually ran back to me, and when he saw the biscuit in my hand immediately dropped the bumper at my feet.
As expected, there were some setbacks. At one point, biscuits became less appealing than running around a tree with the bumper in a fun (for Komet) game of keep-away. We took a couple days off from training and then went back to the check cord for a few sessions.
Komet got the message, and within a week we were back to biscuits and retrieving off-leash. We strive for three or four good retrieves per session and then quit while we're ahead.
Treats may seem like a cop-out, but I remembered how on my initial hunts with Trigger some 20-plus years ago I still had a bag of dog biscuits in my hunting vest to ensure he'd bring the birds to me. Trigger was over eight months old at the time. Komet will be only half that age when he enters the fray, so some Milk Bone encouragement only makes sense.
Hunting puppies also need to be properly introduced to water and gunfire. Swimming was no problem. We simply took Komet to the local dog park and led him into the lake. He swam like a fish.
For gunfire introduction, my brother-in-law and I took the dogs out in the country to a favorite hunting spot and turned them loose.
While they were running around, I loaded a blank Kent training round into my old single-shot 12-gauge. Kent blanks make less noise than a standard shotshell. While Komet was chasing Phantom around the field, I fired.
He looked up briefly and then continued running around. I fired three rounds total, all with no noticeable reaction.
A week later, my wife and I repeated the process, and Komet actually ran towards me when I fired the gun. Komet is not gun-shy.
Crate training took only a few days. We put Komet's crate next to Phantom's at night so he could see and hear her sleeping. Crate training is essential as it provides a safe way to transport your animal in a vehicle, as well as a place to confine them in the house.
Most dogs come to view their crate as their personal den where they can calmly rest.
Walking at heel is a challenging command, and we're still working on that. Likewise, we still don't fully trust Komet to be completely housebroken yet.
All that will come in time, though. Once you've sold your soul to the dog and gun lifestyle, any amount of torture these tiny canines may put us through is well worth it when that first point is struck, that first shot is taken and that first bird is retrieved.
For Komet, the adventure is just beginning. For me, the adventure is beginning anew.
Source: https://www.theindependent.com/sports/outdoors/spilger-it-s-a-new-season-with-a-new-pup/article_12192834-b08d-11e8-983f-935e569ea95d.html