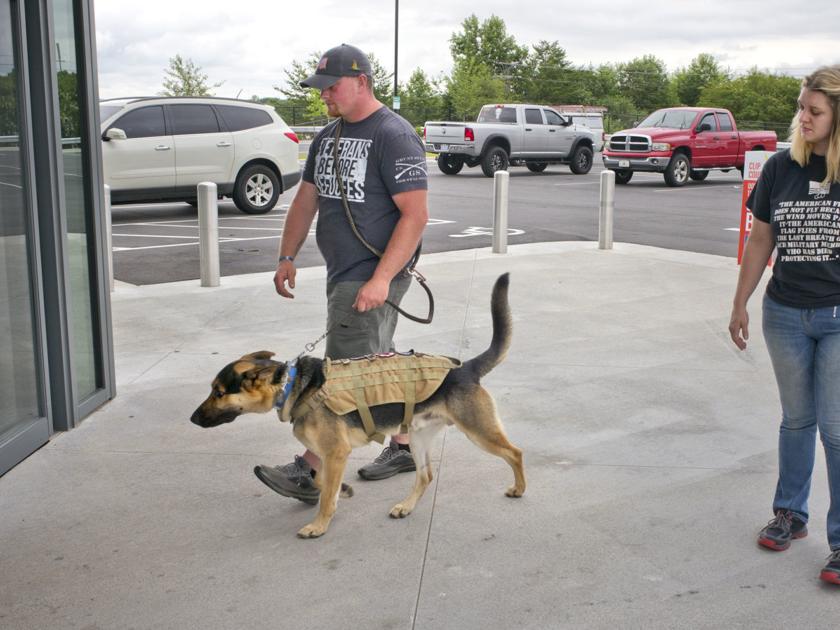 LEXINGTON — As his vest was strapped around his chest, Max wagged his tail and danced in place.
"This is my favorite part," said Brigette Parsons, the director and founder of Saving Grace K9s, a program designed exclusively for military veterans.
She stitches vests for each service K-9 to go through the program. The veterans usually have the vest made out of their uniform, with some of their personal items added to it, as well as the dog and owner's names, the service branch and a patch that says the dog is a service animal.
Until Max's service vest was ready, he wore a training one the organization had.
When Parsons strapped his official vest around Max, a boxer, Rafael Ramos beamed.
Ramos comes to Lexington weekly from Mooresville so Max can be trained as a service dog.
Ramos spent eight years in the Marines and served in Iraq. He adopted Max from another family and has trained him since April.
"Some days I want to throw up my hands, but it's rewarding. Just in the past few months I'm sleeping a lot better at night," he said. "I'm on the road a lot for work, but he eases me from being away from my family."
Ramos isn't the only one to come from out of town to train at Saving Grace K9s.
Jay Smith comes from Trinity with his dog, Diesel, and Brandon Young comes from Galax, Va., with his German shepherd, Sarge.
Young retired from the Marines as a field MP in 2013, having done two tours in Afghanistan. He said he needed a service dog to help him cope.
"I had a lot of anxiety in public. I don't like being around a lot of people, especially having people behind me," Young said. "I had been looking to get a service dog or find someone to train Sarge, but most (organizations) want to charge $8,000 or $10,000, and I can't afford that."
He said his wife found a pamphlet for Saving Grace K9s and he decided to try the organization, even though it was located in another state.
The Lexington nonprofit offers its training free to veterans. If a veteran is unable to afford a dog, Saving Grace K9s will work with area foster groups to find a dog that's suitable, and will supply a leash, collar, tags, crate, bowls, toys and other items, if necessary, Parsons said.
"This is an owner-trained service program, making them train their dogs," said Kat Carter, the lead trainer. "The advantage is they have a custom, trained dog who has a solid bond. We see 35 teams a week from three states, because they don't have to wait five years for a service dog. The downside is the amount of time and commitment they have to put in, but most want it that bad."
The idea for the organization came out of Parsons' plans to do something else entirely.
"I was going for my master's degree in vocational rehab and a veteran said that didn't help them. I asked what did help, and they said they needed service dogs. I started this within a few months," Parsons said, adding that she has seen the difference a service dog makes. "This is their battle buddy. It allows them to interact again, be in public again, be a dad again, to feel safer. PTSD never goes away, but this helps."
The program is financed by corporate and private donations, grants and fundraisers.
Most veterans spend time bonding together at the Saving Grace training center, as well.
Carter said some of what veterans feel after leaving the military is losing that connection they have with each other. Because Saving Grace works exclusively with veterans, there's a kinship among them.
"A big part is family and support in the military. Once you get out, it's gone," she said. "Here, they have it back. They often spend extra time together talking."
The organization began training dogs in 2014 and has about 60 graduates. The teams must go through 250 hours of training before they are certified. That includes putting a dog through obedience training, task training and public-access training so it will behave in any situation. They visit stores, restaurants and festivals to test whether a dog is ready to respond to real-world situations, such as having someone pet it, ignoring dropped food and people stepping over it.
Dogs are also checked on "blocking," an important technique for a veteran in which the dog gets behind their handler if a person gets too close.
"For veterans, it can trigger a panic attack, a disassociation episode, all sorts of things they don't need to be reminded of," Carter said.
It only takes a few months for most dogs to pick up on what they need to do.
In six months, Young's dog, Sarge, went from being a high-energy dog who wanted to bark and play with other dogs to being mellow and minding Young's commands and subtle cues.
Before training begins, however, a dog is first assessed to determine if it is calm, not aggressive; confident, not skittish; isn't problematically possessive; is willing to work for a human; and has the same energy level as its partner, Carter said.
She said Saving Grace K9s prefers dogs ages 12 months to 3 years old, but the group will work with any age if they owner is committed to the dog. Carter said puppies take longer to train, and it's harder to tell their temperament. She said the organization once trained a 70-year-old Vietnam veteran who had a 9-year-old Pomeranian. She said he already had the animal as a pet and didn't want to get a new dog.
Jay Smith, who retired from the Marines in 2011, started with a 6-month-old puppy. However, he decided training a younger dog wasn't fair to the animal, and switched to his current dog, Diesel. The two have bonded well since beginning their training in April.
Smith said he has wanted a service dog for a long time but was unsuccessful getting one.
"I've been fighting with the VA for years to get a service dog. My wife heard about this program, so I contacted Brigette and we've been family ever since," he said.
Smith did four tours in Afghanistan and three in Iraq. He was injured by a suicide bomber during his last deployment.
"The last time, I was wounded, they told me they could fix me and I'd be deployed again in six months, and my wife said not to. I got lucky," Smith said. "I took retirement."
Diesel is helping Smith cope with everyday tasks. Diesel's vest has a patch that reads PTSD-TBI, for post-traumatic stress disorder and traumatic brain injury.
"I can't deal with people. With him, he distracts me and helps me focus," Smith said of Diesel, his stocky, mixed-breed dog. "Every day I try to take him somewhere in public."
He said his wife is grateful for Saving Grace K9s and Diesel.
"If she's busy, me and Diesel can go get something now," Smith said. "I didn't go anywhere before him. I was a recluse."
Like Ramos, Smith requested that Diesel's vest be made out of his uniform.
"It was part of me. I wore it most of my adult life," Smith said.
Parsons said the nonprofit is something that is important to the community.
"Even if we have a full group, I'd still take a veteran that asked to participate," she said. "I know 22 veterans commit suicide every day, and I don't want to turn them down when there's something I could do to help."
Source: https://www.greensboro.com/news/local_news/service-dogs-from-lexington-group-offer-lifelines-to-military-veterans/article_a2679423-4dab-58ac-9f2e-f683b99f4cde.html