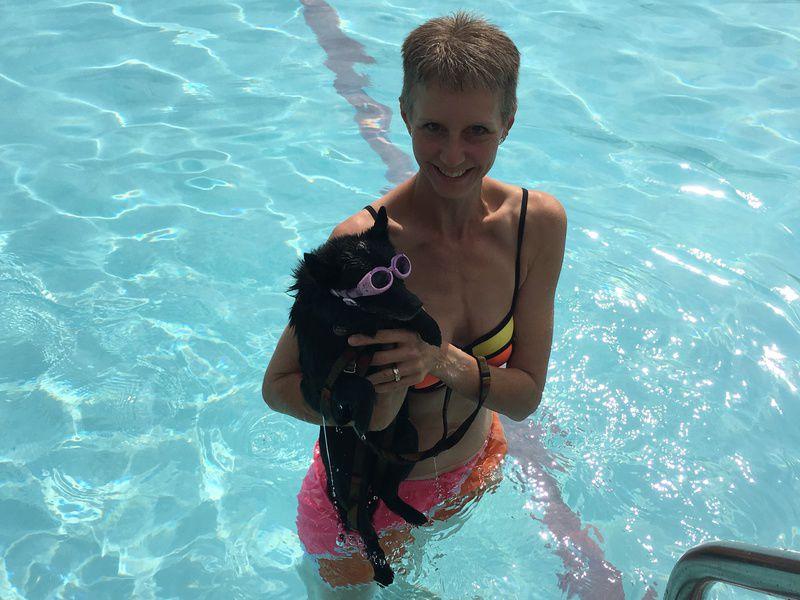 SUNBURY — Doug Brubaker watched his golden retriever "Kimber" swim after a plastic toy.
The 1 1/2-year-old seemed to love to dive into the water at the Sunbury Community Pool, as if to show why her breed is called what it is.
Kimber was among 43 dogs to play in the pool on Sunday afternoon for the Dog Swim, Splash & Play, sponsored by the Susquehanna Trail Dog Training Club to benefit SUN P.E.T.S. The event raised $354, said Marcy Benner, a SUN P.E.T.S. board member.
Brubaker, 63, of Elysburg, agreed with a comment that the dogs would sleep well that night.
"I'll probably have to carry her in the house," he said.
Most dogs who came along with their owners seemed to enjoy the water — and shaking it off back on the pool deck — but some just wanted to play in the grass.
"We have had labs, golden retrievers, a couple of other breeds, a couple puppies, Chihuahuas, pugs," Benner said, then joked, "I personally would have a swim meet. Some are graceful getting in the water, some not so graceful."
Nicole Drumheller, of Sunbury, had her 6-month-old black lab, "Bear," on a leash as he splashed around in the baby pool.
"We tried to get him on the slide," said Drumheller, 39. "He wouldn't go on it."
Penny Gaugler, of Northumberland, kept throwing a disc into the pool for "Sam," short for "Samantha," a lab mix who will turn 3 in October. Gaugler, 60, said she brought Sam to the event last year, too.
"We could just let her swim in our above-ground pool, but she'd rip the liner," Gaugler said. "And the dogs all get along. Two Chihuahuas swam. They were really good swimmers."
Owners were asked to pay an $8 entry fee for one dog, $10 for two. Benner said some people just gave a $20 donation.
SUN P.E.T.S. also held a raffle for a vacuum cleaner.
Phil Hallden of Susquehanna Trail Dog Training Club coordinated the event.
"This is the third year we've done this," Hallden said as he sat with his two dogs, "Tripp," a 4-year-old male black lab, and "Sage," a 10-year-old female black golden retriever, both therapy dogs who visit Evangelical Community Hospital and nursing homes.
SUN P.E.T.S., a volunteer nonprofit organization, helps lower income people spay and neuter their pets to help reduce dog and cat overpopulation in Snyder, Union and Northumberland counties. 
Source: http://www.dailyitem.com/news/local_news/pups-make-a-splash-at-sunbury-benefit/article_832849e3-c71c-58cf-bcb6-5ffcff47698e.html