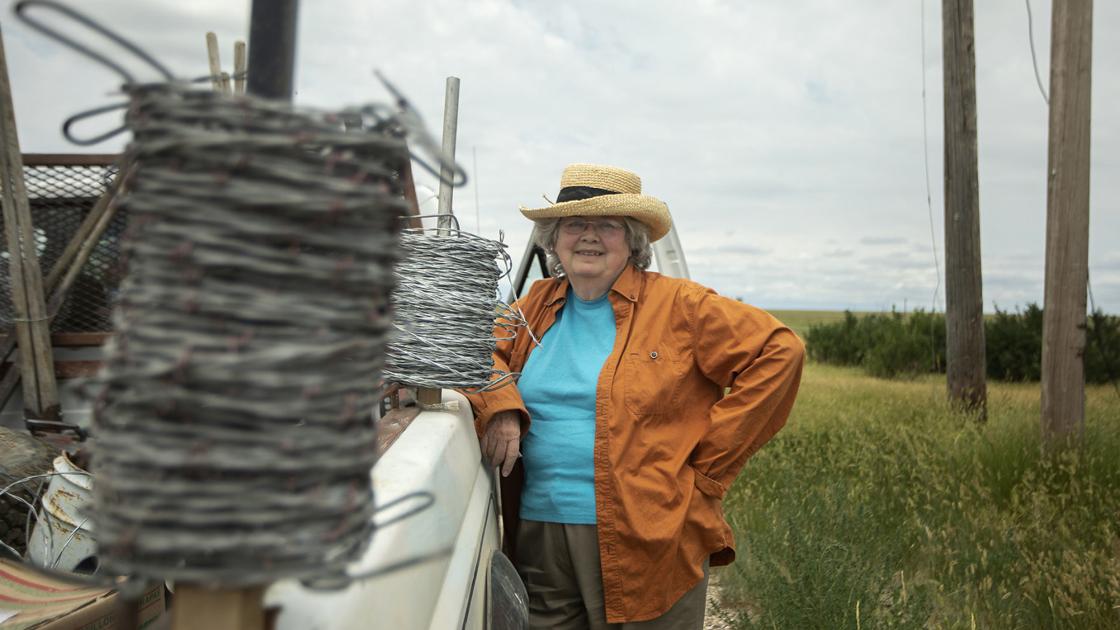 The man whose dusty hands grip the dirt-caked steering wheel calls out the birds by name as his pick-up barrels a trail through the grass unusually tall and green this summer for Fall River County. Like porpoises tailing a ship in a marine bay, the birds burst out of the pasture, encircling the truck.
"Meadowlark, says David Zimiga, the man hired for this ranch, pointing at zigzagging birds. "Those two are doves."
Susan Henderson, his boss, sits resolutely next to him in the cab. A wide, straw hat covers her curly, gray hair. 
"You think there're prairie dogs in this grass?" she asks, in her high drawl. She nods to the foliage that should, in theory, be eaten or cleared away by the burrowing rodents. "That's rich."
As Zimiga dips the pickup's nose down toward the creek, Henderson tenses up. "Watch out, David. Watch out!"
Zimiga rams the truck into a ravine, water creeping up the hubcaps, before the tires catch the border of tall bunch grass, blue and yellow wildflowers dotting the brush.
"This is my road, Susan," Zimiga says diplomatically. "There's no other way across."
He smoothly summits the banks. The tree bearing the nest of the golden eagles — who along with burrowing owls and bald eagles star in the ongoing court drama 70 miles away in Rapid City enfolding the ranch — looms in the field. It's a sight only visible so far to people following Henderson's lawsuit through blurry photographs entered as exhibits. But it's clear the eagles, only a football field or so removed from the pasture the county intends to kill prairie dogs on with poisonous gas tablets, wouldn't need to swoop far to pick off any dazed or dead dog with a liver still congealed with toxins.
"They (county weed and pest board members) won't even come out here," said Henderson, as she sits in the pick-up truck, pointing to the eagle's nest. "But if they want to use poisons on my land, I want them to come out and look at what they'd be destroying."
Ranch culture prizes precedent. But what's going on in Fall River County might be new. Plenty of landowners across South Dakota can recall run-ins with a county weed & pest board, the un-elected, administrative bodies whose sometimes thankless job it is to protect agricultural lands from noxious weeds or critter or insect nuisances that can significantly hamper cash crops or livestock that producers rely on for incomes. But not many can remember a board getting sued. Maybe over weeds. But not pests. And definitely not prairie dogs.
"If she wins," said Scott Guffey, Weed and Pest Board Supervisor for Pennington County, "It could totally change how we do business."
In April, four months after a declaration of prairie dogs by the board on her land, Henderson sued the Fall River County Weed & Pest Board and its supervisor, Nina Steinmetz, arguing the county's application of poison would kill the nesting burrowing owls and eagles on her land. After a May court date, she won a preliminary injunction, giving her the summer to self-control prairie dogs. On July 10, however, she submitted to the court a revised complaint, arguing not only are prairie dogs not a "statewide pest," but that the board's "methodology" for determining how many prairie dogs live on her property is "faulty and wholly inaccurate."
In a court response filed on Thursday, attorneys for the board denied new allegations and argued, instead, the board operates like a traffic cop who is allowed police powers. Moreover, attorney Rebecca Mann argues, the only remedy for appealing county board decisions — and both sides agree the notice of declaration of infestation issued to Henderson arrived in early December — is by filing an appeal with the circuit court within 20 days. 
"Plaintiff's claim is untimely," Mann writes.
The stage is set for a September 5 hearing that could undercut the broad authorities weed & pest boards have to do their jobs, or — viewed by the stubborn landowner's perspective — allow her some peace of mind that her land is free from poisons.
"I wasn't going to let them push this girl around," Henderson says.
Life on Henderson's pastoral 8,100 acres — she claims she's one of the largest landowners in this wide-open county sandwiched to the east by the Pine Ridge Indian Reservation and to the west by Wyoming — can feel far off from the sterile courtroom drama. 
To the east, a row of humped hills — what some locals call the hogbacks — ripple toward the Nebraska border. One pointy hill Henderson calls a "volcano." To the south runs a long coal train out of Wyoming. "The railroad was here before we were," she says. Her grandfather homesteaded the land. To the west eight miles is the ghost town of Provo, farther along are the former army bunkers now overtaken by a doomsday prophet luring far-off buyers interested in purchasing a dorm for the coming apocalypse. It's remote country. But there are people here, too — and the county government.
Northward is one of the neighbors who a summer earlier filed a complaint with the county weed and pest board, saying prairie dogs from Henderson's land were encroaching — the legal word for scampering, burrowing or invading — from his neighbor to the south. Henderson said the county's weed & pest supervisor Steinmetz visited her and proposed poisoning the dogs, but she relented.
"They got me to use poison after I first took over the ranch in 1991, and I poisoned the whole pond," Henderson says. "I had dead hawks everywhere."
Henderson prefers managing prairie dogs like her father did, with water tankers. She runs a hose down the burrows, turns on the water, and drowns the dogs. She also hires a shooter out of Pringle. 
"It's the only sure way to clear those towns," Henderson says. "Then I'll run a grader over those holes and clamp them shut."
Steinmetz, at least last summer and fall, was sympathetic, giving Henderson time to cull the dogs to a manageable population. But at a December meeting of the Fall River County Weed & Pest Board, members voted to declare an infestation on Henderson's land. They gave Henderson till April 1 to achieve an 80 percent kill. Come late March, Steinmetz and a Department of Agriculture employee, Ron Moehring, drove out to a highway along Henderson's land and counted the prairie dogs.
"We didn't even see tire tracks," Steinmetz told a courtroom in May. 
The board moved to eradicate some prairie dogs. According to South Dakota's pest law, SDCL 38-22, the board can act like a policeman spotting a mugging or speeding car. So the board sent a letter on April 17, telling Henderson it was coming onto her land to deliver Fumitoxin, a lethal gas, into the burrows and leave her with the nearly $9,000 bill. Henderson's attorney — former state attorney general Roger Tellinghuisen — filed a lawsuit within a week, requesting a temporary injunction from a judge. 
"If the Board is allowed to administer their poison on the subject property, there is a high likelihood that bald eagles, golden eagles and burrowing owls will be disturbed, damaged and/or killed," the lawsuit stated.
Fumitoxin is a common if powerful fumigant that is often used on grain storage to wipe out insects and is approved for use by licensed applicators by South Dakota's Department of Agriculture. But 7th Circuit Judge Jane Wipf Pfeifle agreed with Henderson's attorney and a letter from the U.S. Fish & Wildlife Services, that no emergency existed and the poisons would endanger the burrowing owls and eagles against "incidental take." Henderson was given the summer to shoot or drown her way to a problem, whichever she saw fit.
But the latest court documents, before the September hearing date, ask philosophical questions about operations of a weed & pest board in ranch country. How does a county count prairie dogs? Are prairie dogs considered "pests "under state law? And just what is an infestation?
Prairie dogs: Public enemy No. 1
At Wall Drug, tourists can spend $10 and buy a plush prairie dog with a South Dakota license plate around its neck. The animals, along with buffalo and jackalopes, function as a kind of cute, yipping state mascot. But seventeen miles north on a dirt road, is Josh Geigle's family ranch. And prairie dogs aren't anybody's friend in ranch country. 
"We've joked around the table with different neighbors that if the city people want prairie dogs, let's just put them in their backyard," said Geigle, who says he sees it like if mice were filling his kitchen.
The acreage surrounding Geigle's ranch has been in the family for nearly a century. He says the critters are industrious, eating or clipping grass ten-times their height to clear a lookout for predators like badgers or hawks. Geigle can't run cattle on dog towns and has to walk his horse across.
"The old-timers say back in the 30s this entire bottom-land here was a dog-town."
On the two dog-towns on either side of his parents' house, he treats the dogs with poison oats. Un-treated oats are put around the rim of the burrows to lure the prairie dogs. Once the dogs are hooked, poison is added. This treatment effectively manages small towns. He's used Fumitoxin, or aluminum phosphide tablets, which are dropped down a hole that is covered and activated with water. He get strays this way. And it's a team effort. 
"We work with them (neighbors) to poison what we can, and the town kind of does this," he moves his hands backward and forward like playing an accordion. "Do they have a purpose for the landscape, ecologically? Maybe. but I'm going to say, 'not in my backyard.'"
South Dakota is home to nearly a quarter of the acres impacted by prairie dogs in the country. Prior to 2001, prairie dogs were a state-declared pest. But in the late 1990s, conservation organizations pressured the Department of Interior to consider putting prairie dogs on a federal protected species list. So in 200 the legislature cycle created a new category — species of management concern – and slotted prairie dogs into it. Since then, prairie dogs can be considered pests, under certain conditions.
Today, prairie dogs are subject to two separate routes of government-enforced mediation. The state's Game, Fish, and Parks Department steps in when prairie dogs encroach onto private land from public land, such as the national grasslands. When prairie dogs encroach from private land, complaints are supposed to go to the Department of Agriculture. 
A building adjacent the juvenile detention center in southeastern Rapid City carries the label "Pennington County Weed & Pest." A rain garden of antlers runs around the perimeter. Inside, colorful maps detail military campaigns against foes: the pine beetle and Canadian thistle. Guffey runs operations for the entire county from here and knows his role.
"We do the Department of Agriculture's dirty work," he said.
Chapter 38-22 of South Dakota Codified Law allows Guffey the power of the South Dakota Weed and Pest Commission, which leases authority of the Secretary of the Department of Agriculture. Each spring, Guffey places notices in county papers-of-record, declaring war on pests and noxious weeds. According to state law 38-22-16.1, "weeds or pests in any amount (are) considered infestation." Guffey (or staff) have police powers to enter private property without the owner's permission. But he prefers a cooperative approach.
When a neighbor complained of prairie dogs running on their property from a Rapid City auto salvage dealer, Guffey drove out to talk to both parties. Eventually neighbors split the costs to hire a commercial applicator to handle the prairie dogs. "I try to get landowners to work together to solve the problem."
Just how to count prairie dogs is not spelled out in statute, however. In the days before Henderson's April 1 deadline, Moehring drove with Steinmetz out to a public road adjacent to count dogs. Moehring said at trial he did simple math: multiplying dogs by holes and reaching an estimated 8,000 dogs.
Guffey agrees it's not rocket science.
"You look out in the field and you see them. It's pretty obvious."
But which way are they moving? State law says dogs must be on the complainant's property, not near a fence or road. And they must've moved from the neighbor's. And even if this can be ascertained, supervisors must determine a kill-rate. Guffey once requested an "80 percent kill" of prairie dogs from a landowner.
"'How do you know what 80 percent is?'" Guffey said one homeowner asked. "And I was like, good question."
Guffey now declares a "reasonable attempt" needs to be made to manage a population. 
But it's these statutes that Henderson's legal team has tried to poke holes in. More broadly, how do landowners at any point challenge the board's decisions? In court, Judge Wipf Pfeifle appeared perplexed, too. 
"Where is there due process?" she asked the county's attorney.  
Mann replied she didn't think there was any.
"That would be one of the very few governmental bodies that would be able to act with no ability of somebody to challenge it," the judge replied.
In court documents filed Thursday, Mann says due process comes from the courts. That particular state law, Mann writes, "provides no mechanism for appealing or challenging a county weed and pest board resolution or decision." Such an appeal, like a property owner disputing a county board's property line, goes straight to circuit court.
From the office of the Pennington County Weed & Pest supervisor, Guffey thinks due process is in the time he gives landowners to self-regulate. "I would say due process is we give them three or four months with prairie dogs to take care of the problem on their own."
September deadline approaching
Last session in Nebraska, the legislature repealed a 2012 state law that allowed county weed & pest boards authority to enter private property without the owner's permission to eradicate prairie dogs. In April, however, Nebraska Gov. Pete Ricketts vetoed the legislation, arguing the law would damage property rights of neighbors afflicted by prairie dog encroachment.
Henderson becomes animated talking about the Nebraska decision or a case in 2010 in Utah, where two girls exposed to Fumitoxin later died. But her most persuasive case is that she's handling the infestation on her own.
"He's been shooting like mad," Henderson said Friday morning of her hunter. 
As she climbs back into her pick-up, a Journal photographer poised in the tailgate, Zimiga navigates back over the creek and heads toward the pasture at the center of the lawsuit. On these acres directly east of the house, where neighbors initially complained the dogs lived, the prairie is like a microcosm of the land before agriculture. 
"They might not come out today," Zimiga says. "They can be truck-shy."
But it only takes a few minutes. Zimiga pumps the brakes and throws the truck into a low-growling idle. His hand rises again. "There's one," he says, calmly. "Point your camera toward the rise."
In the blurry distance — the horizontal heat waves jiggling almost like a Road Runner cartoon short — a small, white and brown burrowing owl stands on its thin legs.
"See," Henderson says. "I told you they're everywhere."
As if on cue, more animals join the burrowing owls on the eastern pasture: a badger with a bushy white tail lopes through the grass. Pronghorn are spotted on the horizon. The grass also hides rattlesnakes and rodents, including prairie dogs. But this wetter summer has meant more grass and less literal turf battles between prairie dogs and ranchers. The previous summer, when the first complaint was received, came early. 
"See, this whole thing got started," Henderson says, "when they (her neighbors to the east) tore up their land and ran those dogs onto me first. They did it in the middle of the night. Now, they're wanting me to pay. Well, I'm not about to."
"This whole thing," is what Henderson calls the various constituent elements of this fight with the Fall River County Weed & Pest Board, as if it's all one giant problem, like a stubborn cow sitting in a roadway. The state laws. The burrowing owls. The weed and pest board.
"If we don't protect this land and the critters on it, who will?" she says, her foot on the pick-up, the broad brimmed hat shadowing half her face. Before letting the visitors back down the driveway toward the county road, she emphasizes a point. "You asked what'll happen next?"
"They're going to be totally defeated," Henderson says. "That's what happens next."
Source: https://rapidcityjournal.com/news/local/prairie-dogs-poison-and-power-of-local-pest-boards/article_8ae41382-3523-59ab-9a5a-b72dd9e0d93f.html