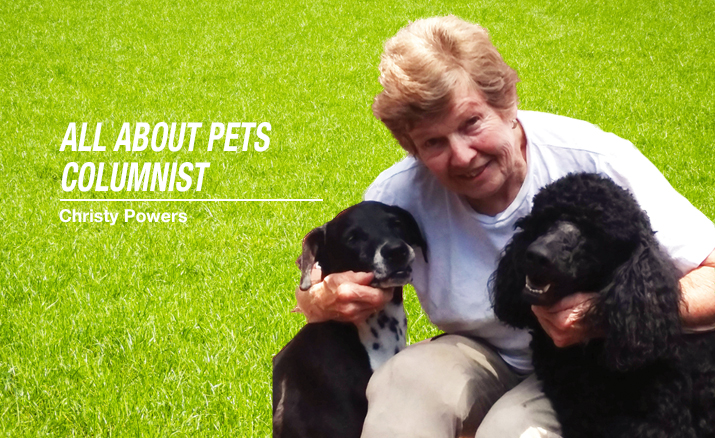 I am excited to begin this new adventure. This is the very first pet column, written by me, for The Daily Courier. Naturally, I hope you will look forward to reading it each week. Hopefully, it will give you some new insights into your relationship with your pet. Primarily, I will be writing about dogs — and there is so much to write about — but any topic dealing with pets will be considered.
The subjects to cover are endless. Pet food, nutrition and pet health are huge interests of mine. We are what we eat — and the same is true for our pets. I worked in the pet food industry and wrote about pet food for many years — and I am still studying and learning. The pet food industry and our understanding of pet health is constantly revolving, just as it is for the human population.
My other area of interest is training and having fun with your dog, which I believe can be one and the same. Ages ago, I trained my dogs for obedience competitions. No more. The new fun sport is Canine Musical Freestyle. My dogs and I competed for 15 years, winning lots of ribbons and having loads of fun. It is a great sport, and if you are not familiar with it, look it up on your computer. The dogs love it as do the handlers. Much more fun than rigid training, and they still learn all the basics plus lots more.
Prescott and Prescott Valley are such wonderful, pet friendly communities. In my little neighborhood, people and their pooches are constantly walking by. The unfortunate thing is that too many dogs are con-fined to small spaces due to fencing restrictions in many areas. One of the advantages of having a dog is that he keeps us moving — if we listen to him/her. Besides the needed physical exercise, our dogs need the mental stimulation that comes from a bit of daily training. It can be five minutes of one on one. Put on some music and just move around the room. Just see how your dog responds. You both will love it.
Speaking of exercise and walks, in my house, we don't call it "going for a walk", we call it "going for a sniff." Our dog's noses are so acute to the smells around them — mine want to smell every fallen pine needle. And today the smells are way different than yesterdays, particularly if there has been any kind of weather change. And although this constant sniffing can be annoying if one is trying to get some exercise, we must realize that this activity is mentally stimulating for our dog.
Spending 15 years traveling with my then three big dogs in my little RV around the US and Canada, I have lots to share about traveling with pets.
I believe in positive training with lots of yummy treats. I have remedies for barking dogs. I have lots to say about people who do not clean up after their dogs!!! I want to ask them, who should pick it up if you will not?
My two dogs are Lacy, a 12-year-old roadside rescue — and we are beginning to deal with her aging, but she is still in charge of the house, and BoJay — a 3-year-old black Standard Poodle. He is almost as smart as his big sister but don't tell him I said that!!
Just a reminder: Be sure to check your pet's water dish several time a day during this extreme heat. It is amazing how much water they consume, so it is best to have several water dishes available to them, inside and out.
If you readers have an area of interest that you would like me to address, just contact me at the email address at the end of this column. If you disagree with me about something, please let me know.
As for now, I look forward to writing this column and I hope you look forward to reading it.
Thank you, Christy
Christy Powers is a free-lance writer who moved to Prescott in late 2017 and loves this pet friendly, and human friendly, community. She can be reached at cpowerspak@gmail.com.
Source: https://www.dcourier.com/news/2018/jul/30/powers-exciting-new-venture/