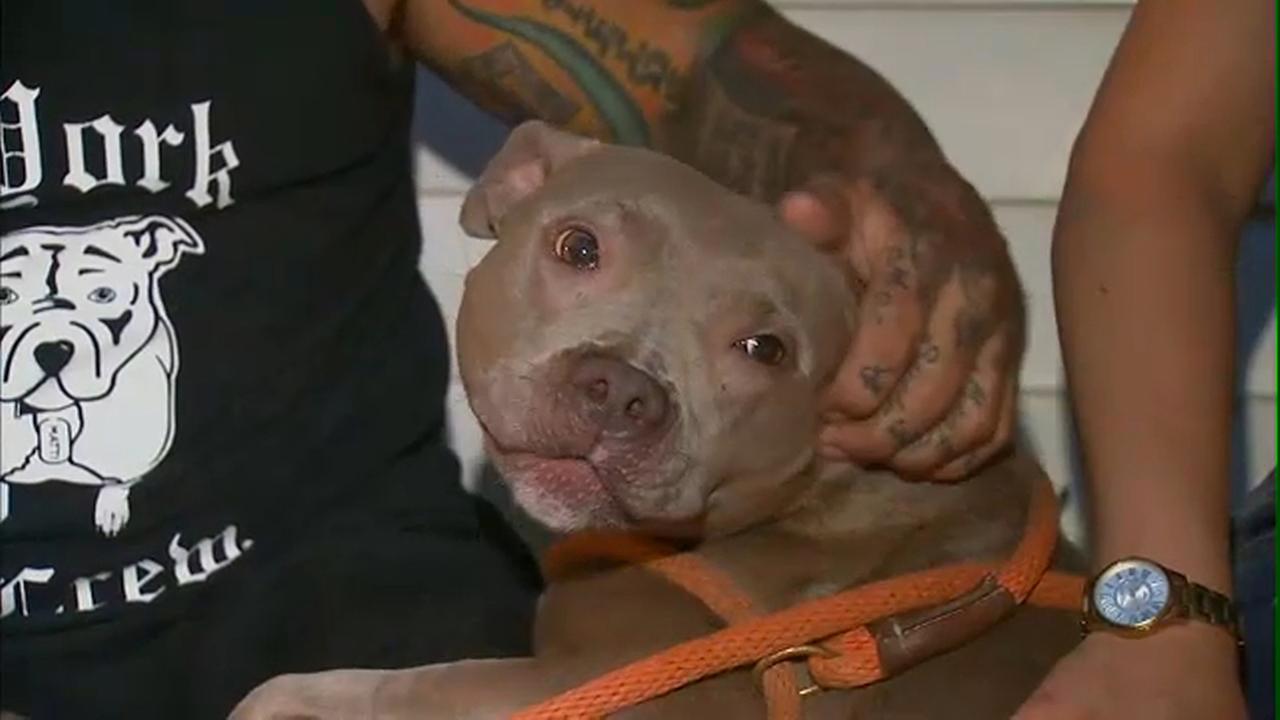 NEW YORK (WABC) —
Rescuers saved an abandoned pit bull, who had been left chained to a tree in the woods without food or water in the Bronx.
Llana, a 1-year-old female pit bull, was all love and happiness Tuesday night, only 24 hours after getting rescued.
Sunday night, a jogger heard some barking deep in the woods near the Bronx River Parkway.
Troubled, the jogger went back Monday morning to check. Sure enough, the dog was still tied to the tree with no food or water.
Craig Fields was called. He runs New York Bully Crew, a pit bull rescue charity. He drove in from Suffolk County and despite the dog's initial aggression, he got the animal to trust him, and he took her home.
"I bribed her with food and that's how I got her off," he said. "I distracted her with a big burger."
In just one day, Llana had transformed from aggressive to affectionate, from growls to kisses.
Craig fears the owner was training the young dog to fight. Now he's re-training her to be a good family pet.
"Eventually she'll forget about what has happened to her and that's the beautiful thing about dogs, they live in the now," said Fields.
Llana will probably be ready for adoption in a few weeks. Given that she's so young, cute and affectionate, and given her sad story, they are now looking for a loving family to adopt the pit bull.
To fill out an application to adopt Llana, visit https://www.nybullycrew.org/
A hotline number has been established for anyone who sees an abandoned pit bull: 347-609-7300.
———-
* More Bronx news
* Send us a news tip
* Download the abc7NY app for breaking news alerts
(Copyright ©2018 WABC-TV. All Rights Reserved.)
Source: http://abc7ny.com/pets-animals/pit-bull-saved-after-being-chained-to-tree-without-food-or-water/3858040/