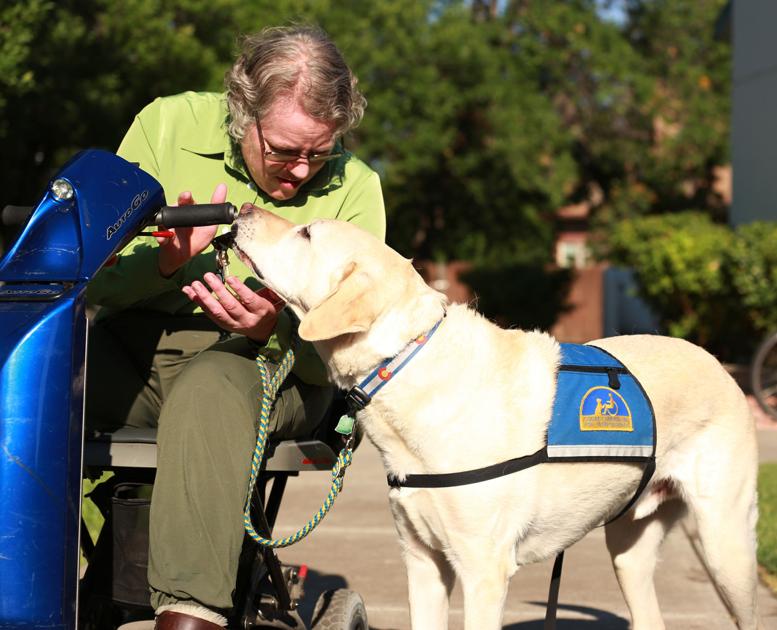 For Lynne Klish, having a dog everywhere she goes is a matter of life and death.
Karina, her service dog, is trained to guide her safely around town. The yellow Lab golden retriever mix was highly trained by The Seeing Eye dog program — so much that she will stand in front of Klish and block her from taking another step if there's something dangerous approaching, like a quiet Prius stealthily gliding through a parking lot.
Having Karina with her at all times is something that's not only necessary, it's protected by the Americans with Disabilities Act, adopted in 1990.
But for other people, having their animals with them for emotional support, therapy or companionship is something that's nice but not required by law. In places like restaurants and grocery stores, only trained service animals are allowed, though a recent trend in complaints at the Mesa County Health Department indicates there have been increasing numbers of complaints and confusion about animals in food-related businesses.
"I think people are getting frustrated, and even angry, with people who are bringing their pets," said Monique Mull, program manager for the Health Department's consumer protection department.
Mull said her office receives complaints about untrained animals being taken into restaurants and grocery stores from customers, and investigates every complaint.
"They're seeing untrained animals, they're getting upset because the dog pooed in the grocery aisle," she said. "People don't want to shop with other people's pets. Most of the complaints are, this was an animal that was out of control, it was not trained, it was sniffing food."
Pets aren't allowed in food-service areas because of hygiene and sanitation rules. Because animals can carry disease and spread bacteria, being around food is a concern, Mull said. However, trained service animals are allowed to be in these places under federal law. Some businesses, such as Home Depot, allow pets in their stores. They're not inspected by the health department and this is a corporate policy the company adopted.
Mull said her department started seeing an uptick in complaints about 18 months ago, mostly from customers who reported animals at restaurants that were obviously not service animals. She said the complaints themselves reveal there's a misunderstanding about the difference between legitimate service animals — ones specifically trained to do tasks to help a disabled person — versus emotional support, therapy or companion animals.
"That's where we get a lot of confusion," she said. "They say, 'There was this dog and it didn't even have a vest on.' "
Service animals are not required to wear vests or anything proving they are trained to perform specific tasks for disabled handlers.
"(You should) expect to see a well-behaved, highly trained animal," Mull said.
Business managers sometimes contact Mull to ask whether they must allow people with emotional support or therapy animals to bring their animals into the business. Though some customers with animals wearing vests that say "therapy dog" insist that their animal must have admittance, that's false. A cottage industry has popped up online, offering "therapy dog" or "emotional support animal" certificates, vests and other accessories, but those things don't make a service animal. Mull encourages customers who have questions about animals in businesses to first talk to the manager and to remember that dogs and miniature horses are the only animals allowed to be classified as service animals under the ADA.
If a business serves food and would require a health department inspection, it's not a place that would allow any animals except service animals. So if you see an iguana or a cat on a leash in a grocery store, those won't qualify.
It really comes down to two simple questions that anyone can ask, said Mary Moore, who works at the Center for Independence, a Grand Junction nonprofit that supports disabled people.
"You can ask, 'Is this a service animal?' and, 'What work or task has it been trained to perform?' " she said.
If the answer is the animal is there for emotional support or therapy, that's not a required reason to have it in a restaurant or grocery store, Mull said. Technically, having those animals in places inspected by her department is a health code violation. But Mull said the first step is educating the managers and workers at those businesses to let them know the difference between customers who try to bring in pets versus those who have legitimate service animals that can go anywhere their owners are allowed to go.
Because there are no limitations on breed requirements for service dogs and they can be trained to perform a variety of tasks, one shouldn't assume a dog is or isn't a service dog by its size.
However, the dog's demeanor can be a giveaway.
Moore's service dog, Embree, is trained to help her with mobility. He can pick up anything for her, from dropped keys to a piece of paper. He was trained by Canine Companions for Independence and, in his case, wears a vest when he's working.
Embree's behavior is calm, focused and serious when he has his vest on, which serves as a cue to him and anyone who approaches them that he's working. Once the vest comes off, and Moore tells him to "release," he relaxes and acts like a regular dog, ready for petting, attention and playtime.
Some public places, like Mesa County Libraries, allow therapy animals on a limited basis. For example, the branches host registered therapy dogs in their Dog Ears program often, where children can read aloud to dogs. But otherwise, only service animals are allowed in the library.
Patrons have attempted to bring non-service dogs, cats and even a ferret in a purse one time to the library, said library spokesman Bob Kretschman.
Library security is trained to deal with patrons who have animals that cause issues, are unsafe or poorly behaved.
"Sometimes folks will bring animals into the library and the animals will misbehave in some way, they'll either mess on the floor or they'll bark," Kretschman said. "It's not the trained service animals that do that. We have not had a problem with trained service animals doing those kinds of things."
Colorado lawmakers enacted a new law in 2016 that makes misrepresenting an animal as a service animal a petty offense. But in Grand Junction, it appears the law hasn't been put to the test yet. The Grand Junction Police Department hasn't issued any citations under the new law, according to spokeswoman Heidi Davidson. Mesa County Animal Services did not respond to inquiries about whether the agency has issued citations.
The law makes intentionally misrepresenting a service animal a class 2 petty offense, punishable by a $25 fine for the first offense, $50 to $200 for a second offense and $100 to $500 fine for a third offense. This can be committed either if the person claims to need a service animal but doesn't actually have a disability or claims an animal is a service animal when it isn't trained to perform a specific task to help with a disability.
"False answers to these two questions harm not only the place of public accommodation and its patrons, but also individuals with disabilities who legitimately rely on service animals," the law said.
"People sometimes erroneously think that a therapy animal, an emotional support animal, or any animal wearing a vest or having any other type of marking is a service animal as defined by law," the act said. "There are an increasing number of occurrences where people exploit the confusion related to service animals and attempt to bring an animal into a place that it would otherwise not be allowed to enter by passing off a pet, therapy animal or emotional support animal as a service animal or a service animal-in-training, either by oral misrepresentation, placing a vest or other marking on the animal, or presenting a 'certificate' despite knowing that it is not a services animal."
Klish and others who need trained service dogs for safety and independence see the increased push to have non-service animals in all public settings as a threat, something that makes their lives more difficult and erodes public understanding of the integrity of service animals.
"I've been charged by animals," Klish said. "They distract my dog. It keeps her from doing her job."
People who need service animals have found others are increasingly skeptical of their animals because, in many cases, they've encountered non-service animals in public places that behaved poorly or were clearly just pets wearing vests. Klish and Moore don't like this because it blurs the lines between legitimate service animals and people who just don't want to leave Fido at home.
"By them doing this and pushing the envelope, they're actually beginning to rob me of my privacy," Klish said. Now, she has people asking her questions about her disabilities, something she considers rude and invasive.
Although she sees the need for people to have unconditional love and companionship from pets, it's not the same thing has having a service dog that keeps her from running into poles or traffic.
Klish has had people come up and gush about how fortunate she is to be able to bring her dog everywhere she goes, a comment she finds insensitive and ignorant.
"Don't tell me you wish you could take your dog everywhere and how lucky I am," she said. "As much as I love my dog, I would rather be driving."
Source: https://www.gjsentinel.com/news/western_colorado/pets-not-always-allowed/article_ee5b3ee2-8593-11e8-bd7b-10604b9f1ff4.html