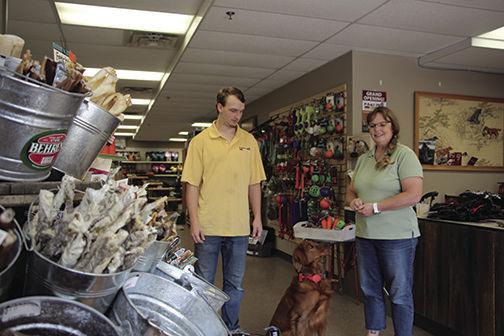 Jodi Theis and family have been operating a pet boarding and dog training facility outside of New Germany for 20 years now called Paws Inn Resort.
With training comes talk about collars, leashes, training treats and nutrition, so those essentials are a natural extension of the business. And this spring, after three years of consideration, Theis opened Paws Inn Pet Essentials in Waconia with a complete line of pet supplies.
Paws Inn Resort offers some pet supplies at its New Germany location, but the Waconia location is a more central and convenient spot for clients, Theis said.
It'Äôs also larger, and she is able to offer a broader selection of supplies 'Äď not just for dogs, but also cats, rabbits, hamsters, birds 'Äď even reptiles. The store carries crickets and meal worms for those creatures.
And remember the Wild Bird Store? Paws Inn is selling the line of bird feeders and seed carried in that store, now closed. The new pet store also has a loyalty program, where pet supply purchases lead to discounts for boarding, and it will start having weekly specials next week.
Theis never envisioned herself in the retail businesses, growing up a farm and spending the past 25 years as a trainer, interacting primarily with animals not humans. But she said, 'ÄúI find I really like the education piece of training 'Äď not just dogs, but owners.'ÄĚ And she found she really likes the retail component of the pet care business, helping customers identify solutions for their pets'Äô nutritional, behavioral, or other needs.
Pets are family, Theis said. She knows dogs when they come into her store and identifies customers by their pets.
'ÄúIt'Äôs kind of like being a school teacher,'ÄĚ she said. 'ÄúTeachers get to know parents by their students, I get to know customers by their pets.'ÄĚ
Paws Inn Pet Essentials is located at 120 South Vine Street in Waconia, which Theis calls an ideal location. It's not a visible presence like on Main Street, but she says her clients don't have to worry about Main Street traffic either.
'ÄúIt'Äôs easy to get kids and pets out of the car without having to be concerned about them running into traffic,'ÄĚ she said. There'Äôs also adequate parking and it'Äôs easy to carry products out of the store. Plus, there'Äôs a city park right across the street where customers can walk their dogs.
In fact, Theis brought the training component of the business to the store last month offering a 'Äúcommunity canine class,'ÄĚ where dogs and their owners walked around the park and downtown to help them learn how to deal with the distractions and encounters in a community.
And she invites anyone out walking their dog to drop by Paws Inn Pet Essentials for a doggie biscuit and to socialize. Her dog Louise, a 3-year-old golden retriever, will be at the door to greet you.
Follow The Patriot on Twitter @waconiapatriot
Source: https://www.hometownsource.com/sun_patriot/community/waconia/paws-inn-provides-all-the-essentials-for-pet-owners-expands/article_64415c16-9bf3-11e8-9e54-ff410d035bbe.html