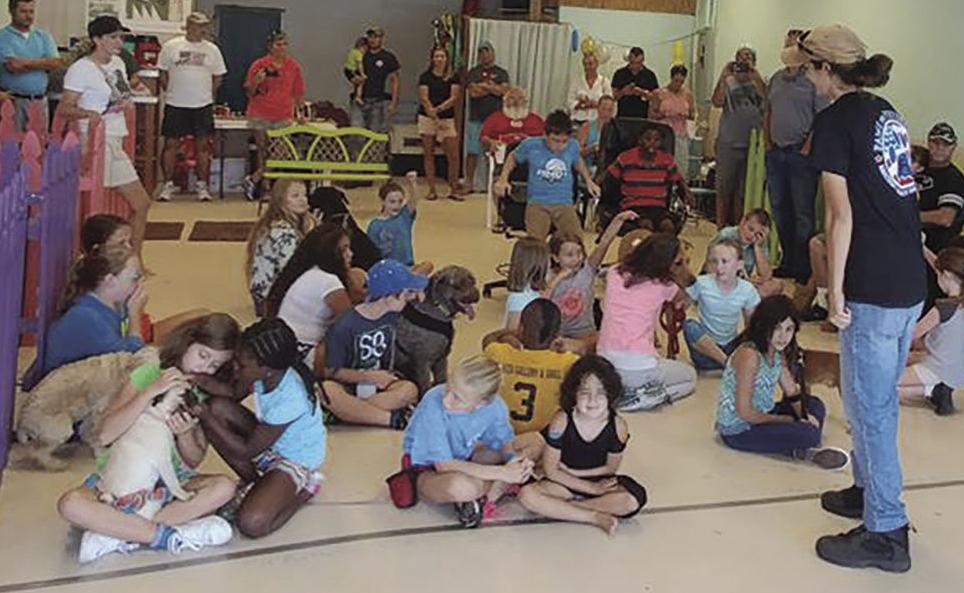 BREVARD COUNTY — Service dogs aren'Äôt like normal house pets; they'Äôre hardworking caretakers of their owners, and need to be approached accordingly.
On July 9 and July 30, Paws for Veterans will be offering up their 2nd Annual Junior Dog Trainer Summer Camp, which helps children learn basic dog training skills and behavioral tactics.
Paws for Veterans is a group that is dedicated to providing service dogs for veterans, as well as spreading awareness of service dogs.
The JTC is designed for children and teens, ages 5-17, which will train in separate groups according to age. Groups will be led during the week-long camp by certified professional service dog trainers.
'ÄúKids will learn everything [with] age appropriate dog training skills, such as how to teach dogs to sit, lay down, come, stay, walk on a leash, bring and drop items and toys, [etc.],'ÄĚ Paws for Veterans officials stated. 'ÄúFriday afternoon, at noon, we will have a demonstration [time] for the kids to proudly show their parents all they learned.'ÄĚ
Throughout the week, 'Äėcampers'Äô will be participating in JTC sessions from 10 a.m. to 3 p. m. Parents are advised to send their child with a lunch, water bottle, and a snack.
Participants are encouraged to bring their own dog, with proper shot records and proof of spay/neuter, to be turned in before camp begins on Monday. All dogs must be on flea and tick medication, as well.
Required shots are:
Rabies
Distemper
Lepto
Parvo
Bordetella
Influenza
The camp is designed to not only be fun, but also informative for campers.
'ÄúOur [JTC] began as a way to introduce children between the ages of five to 17 the basic need-to-know of handling dogs and how to behave around dogs that you know, [you] don't know and service dogs for the safety of the community,'ÄĚ said Siara Callahan Administrative Office Manager at Paws for Veterans. 'ÄúWith any pet you don't know, just running up to a dog could result in a severe accident if the dog is not friendly; many children and adults will [often] approach our service dogs, petting them without asking their handler for permission. A service dog is more of a caretaker than a pet in many aspects. They are working dogs.'ÄĚ
Paws for Veterans is a nonprofit organization, and the JTC provides 100 percent of benefits to training local service dogs for veterans.
'ÄúNot only does this camp provide lifelong information about dog handling and service dog knowledge, but it also helps provide the monetary value that it takes to buy training supplies, dog food, dog treats, dog beds, vet visits etc., all so that the veterans don't have to pay a single penny for their service dog,'ÄĚ said Ms. Callahan. 'ÄúBy the end of [owner and service dog acclimation training], the owner experiences what their service dog can do for their life. You can see in their eyes that their life has changed, from that moment on, and to say it is a rewarding experience to see is an understatement. This organization does wonders, and we are eager to share our knowledge.'ÄĚ
The 2nd Annual Junior Dog Trainer Summer Camp will be held at Paws for Veterans, Inc. 63 Ocean Blvd., in Satellite Beach.
Participants can register online at www.signmeup.com/site/reg/register.aspx?fid=5Z2V4H7. Tickets are $120 for each camper with a dog, and $150 to have a dog provided for them.
For more information, visit www.pawsforveterans.com.
Source: http://www.hometownnewsbrevard.com/news/paws-for-a-cause-training-camp-is-on/article_154631e6-8130-11e8-b9e8-db34ed44b237.html