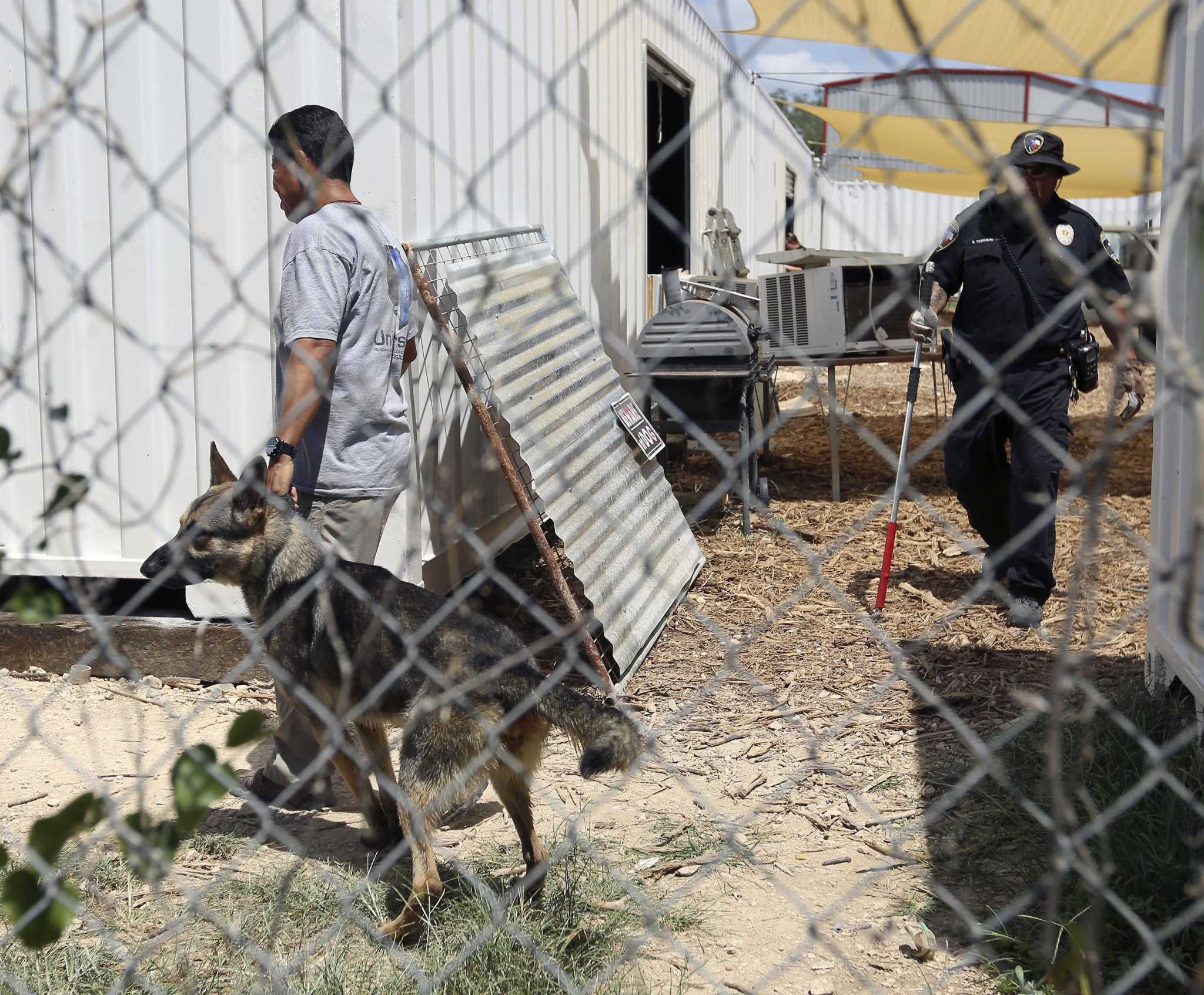 Photo: William Luther, Staff Photographer / Staff Photographer
A Northwest Side school that trains military veterans on dog-handling was raided Wednesday by federal authorities who served a search warrant as part of an investigation, allegedly regarding fraud.
No arrests were made and federal officials would not explain why they were searching Universal K9.
District 8 Councilman Manny Pelaez, who was briefed at the scene, told reporters that "this is an ongoing FBI investigation into fraud allegations of the business operator. This looks like one of the first steps in that investigation."
Pelaez said later in an online post that "the IRS and the FBI just shut down an operation that was preying on veterans and not doing right by dogs. That's a good thing worthy of mention and support."
Former agents said the FBI and IRS were likely involved because Universal K9 receives federal money from veterans programs and agents would want to look at tax records.
The FBI and the Internal Revenue Service's Criminal Investigation division were among the agencies that served the warrant at Universal K9, 15329 Tradesman, near Loop 1604. San Antonio Police Department officers assisted. The Express-News confirmed that the Department of Veterans Affairs also was involved.
Universal K Nine Inc., which does business as Universal K9, began in 2010 as a for-profit business, according to a lawsuit it recently filed against two ex-students and information on its website.
"Universal K9 specifically outreaches to veterans and offers a two-week K9 Handlers course or a ten-week trainers course in which any veteran may utilize his or her GI Bill to cover 100% of course costs, including the canine," the Universal K9 lawsuit said.
It costs $12,500 for a 10-month course, according to exhibits included in the lawsuit.
Universal K9 is also listed as a nonprofit foundation that donates dogs to police departments nationwide and has been featured on local and national media, including CBS News. Its 2016 federal tax Form 990 shows contributions of about $170,000 from two sources —Animal Farm Foundation of New York and the Veterans Commission of Austin — but assets of just $27,075.
Bradley Croft was identified as Universal K9 founder in multiple news stories. But in the lawsuit, Universal K9's lawyer wrote that Richard Cook is the founder and that Croft is a trainer. Other public records show Universal K9 bought the Tradesman property in April, and those documents list Cook as president. His LinkedIn account says he's Universal K9 director and lives in Richmond, Va.
Its principals and lawyer did not respond to calls or emails seeking comment.
Military veterans at the scene of the raid said they used their GI Bill to go to Universal's training program to learn how to be dog trainers and handlers.
Andy Torres, 29, who served in the Marines from 2012 to 2016, said he has spent $10,000 so far paying Universal K9 and moving from Washington state to San Antonio to attend the training. After more than two months in the program, he arrived about 6 a.m. Wednesday for more training, but the FBI turned him and other students away, he said.
Now, Torres and other students — who watched the raid from across the street — said they may have to repay basic housing allowance and other schooling expenses to the VA.
"They advertise it as nationally recognized," Torres said of Universal K9. "They were targeting veterans, which is (expletive)."
He said Universal K9 didn't have the "proper tools" for adequate training. While describing some dogs as seeming unhealthy, neither he nor any of the trainees had information of any mistreatment.
"I came down here from Washington state, drove down here 36 hours, came down here with the hopes of being an instructor," Torres said. "What happens now, I'm not sure."
During the raid, Animal Care Services removed 26 dogs from the canine training school.
Shannon Sims, ACS assistant director, said the dogs' owner, whose name was not released, agreed to surrender the animals because he didn't think he would be able to continue caring for them because of the ongoing federal investigation into Universal K9.
Sims said the dogs were in adequate but not optimal condition and were living in "makeshift kennels" created out of modified shipping containers cooled by window air conditioning units.
"The animals are in pretty good condition, healthwise," Sims said. "They all looked to be healthy. We didn't see any in there upon initial walk-through that appeared to be exigent in condition or requiring immediate medical care."
The search warrant, signed by a federal magistrate this week, denotes that it was to be served on a business/residence. The property is situated in an industrial corridor and a vacant business sits at the front. A motorhome sits behind the building, and veterans who attended the training said Croft lives in it. The modified kennels and Universal K9 occupied the rear of the property. It took five ACS trucks to transport the surrendered dogs to the ACS campus.
Pelaez, who represents the council district where Universal K9 is located, questioned whether some of the dogs were appropriate for use in training.
"A lot of these dogs are not the kind of dogs that you would expect to be part of a security training organization," Pelaez added. "Some of them, because of their age and their condition, just were not appropriate for this situation and for this operation. I'm very happy we can step up and provide the dogs some shelter."
Sims said there were 31 dogs on the premises; the only five that were left behind were the dogs that were the owner's personal pets, he said.
Stacey Coleman, executive director of the Animal Farm Foundation, said it previously had a detection dog training program through Universal K9.
The Animal Farm Foundation would take dogs from shelters and cover the cost of training the dogs to do detection work for police. Universal K9 provided the training and placement with police departments.
"Our goal in that was to get good PR for shelter dogs," Coleman said. Her organization would sponsor the care for the dogs and pay for two weeks of training for handlers and their expenses while staying in San Antonio. Animal Farm Foundation contributed $111,750 to Universal K Nine in 2016. She didn't know offhand how much it contributed last year.
"We ended our relationship with Universal K9 in 2017," she said, adding it did not renew its grant for 2018. Asked why the relationship ended, she answered, "Just philosophical differences, I would say."
Universal K9 wanted to expand the program beyond what Animal Farm Foundation was willing to fund, she said.
San Antonio-based Petco Foundation spokeswoman Lisa Lane confirmed that it has provided grant funding to Universal K9 but had no information about the investigation.
The raid at Universal K9 comes less than a month after the nonprofit filed defamation and breach of contract lawsuits against two of its former students. It seeks more than $200,000 in damages from the pair.
Universal K9 alleges in its lawsuit that after David Palasek and Eric Ramos were terminated from training after confrontations with Cook, in which Croft had to intervene, they began disparaging Universal K9 with "negative and false accusations, resulting in at least three students terminating their contracts." The remarks were made in violation of a nondisparagement clause in an enrollment agreement the pair signed, the suit adds.
Ramos, who lives in Nevada, said he was planning a countersuit but wanted his attorney to speak for him.
Palasek was among those watching the raid unfold across the street. He denied the suit's allegations and said the training he received was of little value.
"Their certificates mean nothing," Palasek said.
Guillermo Contreras covers federal court and immigration news in the San Antonio and Bexar County area. Read him on our free site, mySA.com, and on our subscriber site, ExpressNews.com. | gcontreras@express-news.net | Twitter: @gmaninfedland
Source: https://www.mysanantonio.com/news/local/article/FBI-IRS-searching-residential-area-on-San-13140772.php