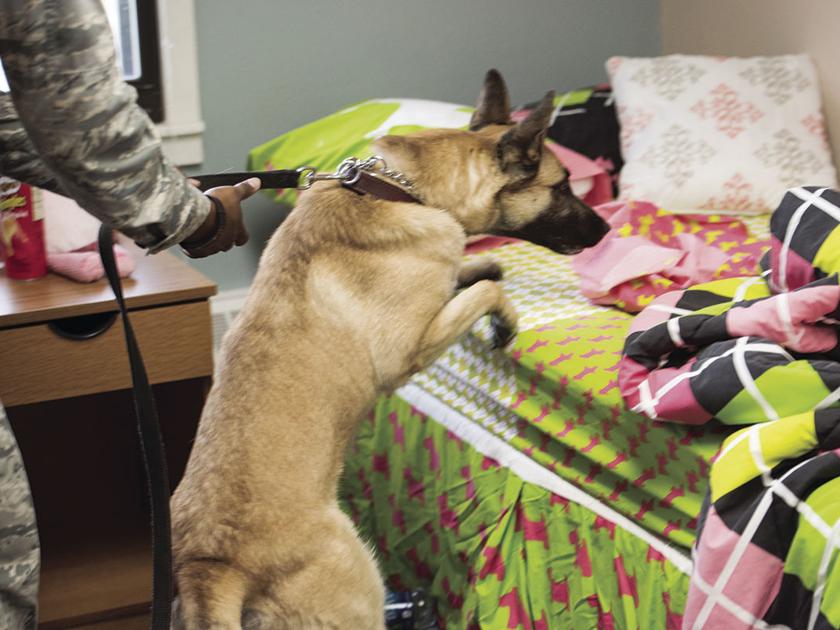 It would not be surprising to find pizza boxes, soda cans and hygiene products scattered across a teen's or young service member's room. These items, while common, are the perfect places to  cache pills, alcohol and drug paraphernalia.
The unsuspecting parent or first sergeant may overlook these things, said Andrew Toller, Army Substance Abuse Program prevention coordinator. 
Enter the ASAP office at Joint Base Elmendorf-Richardson. They have partnered with organizations across the installation to create two "Mock Drug Rooms" with the goal of informing parents and noncommissioned officers of the warning signs with alcohol and drug abuse.
The two rooms were modeled after a teenage dependent's room and a young service member's barracks or dorm rooms.
While ASAP might have Army in its title, the services they offer go beyond branch boundaries. 
"We're a joint base, and we want to get the Air Force leaders here to see what we can offer them," Toller said. 
ASAPs goal is not to scare parents or service members, but to educate on the signs of potential substance abuse. The barracks will primarily be a training space for NCOs and first sergeants to properly conduct a health and wellness inspection, while the dependent room will hopefully inspire parents to start a dialogue with their kids.
According to the National Institute on Drug Abuse, by the time they are seniors, almost 70 percent of high school students will have tried alcohol, half will have taken an illegal drug, nearly 40 percent will have smoked a cigarette, and more than 20 percent will have used a prescription drug for a nonmedical purpose.
"Health and wellness checks are important because we're a fit to fight force," said Air Force Staff Sgt. Tony Higgs, 673d Security Forces Squadron military working dog trainer. "If I'm on the front line with another service member and they're on something, then I can't really rely or depend on them."
Military working dogs, the Air Force Office of Special Investigations and the Army Criminal Investigation Division will also use the rooms for training. 
"We plan to use this space any time we get a chance," Higgs said. "Our dogs are on a one-year certification but every six months we do validation training to make sure the dog teams are still proficient."
Each room can accommodate five participants plus the ASAP employee as a guide. The barracks room has an attached space to accommodate an additional 10 visitors, with a large opening to observe the training and speak with participants. A training session can last from 15 to 30 minutes.
The rooms will evolve with trends, Toller said, and ASAP workers will take feedback.
To schedule training, contact ASAP at 384-1411.
Source: https://www.frontiersman.com/arctic-warrior/mock-drug-rooms-offer-training-space/article_ead2fa24-ad4a-11e8-999e-3b0133a806f9.html