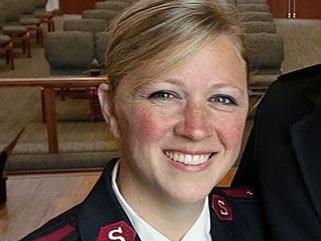 Carol Kaminski, a Greensboro artist specializing in the use of pigmented resin to create her unique style of realism, has been invited to participate in the Corn Hill Arts Festival slated for Saturday and Sunday, in Rochester, N.Y.
Along with manning a booth, Kaminski plans to auction a commemorative piece of art, "Spring in Lunsford Park," and donate the proceeds to the family of the late Bob O'Brien. O'Brien, a close friend of Kaminski's, recently died of myelodysplastic syndrome. Proceeds will be used to help his family pay his medical expenses.
Greensboro College has been added to the Center for Applied Science and Technology's list of institutions with Universal Design for Learning initiatives.
The designation came after a recent visit and review with executives from the center. The center, based in Boston, is the founding institution for Universal Design for Learning and promotes UDL principles in all levels of learning.
Raphael Brown, a special needs teacher assistant at Christine Greene Education Center, was named the Guilford County Schools Employee of the Month.
Brown was specifically recognized for staying with a student who was taken to the hospital, accompanying the student well into the evening and missing his niece's graduation as a result. The student's family was not able to be there.
N.C. A&T is among the nation's best schools offering online programs for women studying science, technology, engineering and mathematics, according to the SR Education Group and its 2018 list of Best online Schools for Women in STEM.
A&T ranked 11th out of 76 institutions. Columbia University topped the list, which also featured such well-known names as Stanford, the University of Michigan, Johns Hopkins and Georgia Tech.
Institutions were chosen due to their support of women pursuing STEM degrees. The top 15 were ranked based on the percentage of women STEM graduates, the number of online STEM degrees offered and the online support for women studying in those disciplines.
A STEM-friendly score was calculated using a combination of factors, including female representation in student populations, the number of online STEM degrees offered and the extent of online resources and support for women students in STEM disciplines. The maximum score is 100. A&T's score is 86.22.
Jeffrey Jobe of Barking Dog Jewelry Design Studio in Thomasville was selected for the 2018 Directory of Traditional American Crafts, the highest possible award for an artist working in traditional styles, media and techniques.
An honor equivalent to an Academy Award in their field, selection for the directory means the artist's work equals that of skilled craftspeople working hundreds of years ago.
Goodwill Industries of Central North Carolina has announced its 2018-2019 board of directors.
Officers include: Board chairman, Peyton Fairbank, HICAPS; chairman elect, Robert Hudson, Northwestern Mutual Financial Network; first vice chairman, Mike Gannaway, retired, VF Corporation; secretary/treasurer, LaTonya McCummings, BB&T; and legal counsel, Charles Younce, Younce & Moore.
New appointees to Triad Goodwill's board of directors are: Brian Clarida, UNC-Greensboro; Diana Hardy, CPA, Rives & Associates; and Rhiannon Kelly, West Market United Methodist Church.
Triad Goodwill's 2018-2019 board of directors also includes: Steven Billings, First National Bank; David Evans, Inmar; Gary Fly, Performance CXO; Carrie Griswold, United Way of Greater Greensboro; Frankie Jones Jr., Lincoln Financial Group; Joe Johnson, retired, UNCG; Mark Kinlaw, Rockingham Community College; Alex Maultsby, Smith Moore Leatherwood; David Reich, Best Logistics; David Shelton, Advanced Technology Investigations; Carole Stoneking, High Point University; Lori Thompson, Premier Federal Credit Union; and G. Randolph Uzzell Jr., Global Security Solutions.
Triad Goodwill's 2018-2019 board of advisors are: Kathy Cates, PIP Greensboro & Triad Signs; David Moff, The JerHR Group; Gary Rogers, D.H. Griffin Construction Company; and Johnny Wood, CPA, LBA Haynes Strand.
The North Carolina Supreme Court honored the following attorneys in Judicial District 18 for devoting 50 or more hours to pro bono work during 2017: Charles W. Calkins, Locke T. Clifford, Matthew Alan Cordell, W. Erwin Fuller, Richard W. Gabriel, Mary E. Hassell, Phyllis J. Lile-King, Christina Freeman Pearsall and Kristen Michelle Redman.
They are among a group of 345 attorneys recognized in the 2017 class of the N.C. Pro Bono Honor Society.
The society, founded in 2016 as an effort by the N.C. Pro Bono Resource Center, encourages attorneys across the state to provide at least 50 hours of pro bono service per year, as well as financial support to organizations that provide legal services to people of limited means. Fuller was also recognized last year by the society for his pro bono service in 2016.
Triad Financial Advisors has been named to the 2018 edition of the Financial Times 300 Top Registered Investment Advisers. The list recognizes top independent RIA firms from across the U.S. This is the third year in a row that TFA has received this distinction.
RIA firms applied for consideration, having met a minimum set of criteria. Applicants were then graded on six factors: assets under management (AUM); AUM growth rate; years in existence; advanced industry credentials of the firm's advisers; online accessibility; and compliance records. There are no fees or other considerations required of RIAs that apply for the FT 300.
The Guilford County Guardian ad Litem Program recognized Peggy Adelman for 19 years of service to the children of Guilford County with the President's Call to Service Award signed by President Trump. Adelman has volunteered more than 10,000 hours having served more than 140 children.
Guardian ad Litems are volunteers who represent and promote the best interests of abused, neglected and dependent children in the state court system.
U.S. Secretary of Defense James N. Mattis named Duke Energy as one of the 15 recipients of the 2018 Employer Support Freedom Award, signifying Duke Energy as one of the nation's top employers for National Guard and Reserve service members.
Penn Nursing Center has been recognized as a 2018 recipient of the Bronze — Commitment to Quality Award. It is presented to organizations for their commitment to improving the lives of residents through quality care.
The distinction is the first of three progressive award levels through the National Quality Award Program, presented by the American Health Care Association and National Center for Assisted Living, an association for long-term and post-acute care. Each progressive step requires a more detailed and comprehensive demonstration of quality integration and performance. The criteria for each step is based on the Baldrige Performance Excellence Program.
High Point Regional Health has received the Mission: Lifeline Silver Plus Receiving Quality Achievement Award for implementing specific quality improvement measures outlined by the American Heart Association for the treatment of patients who suffer severe heart attacks.
High Point Regional earned the award by meeting specific criteria and standards of performance for quick and appropriate treatment through emergency procedures to re-establish blood flow to blocked arteries in heart attack patients coming directly or by transfer from another facility.
The Radio Television Digital News Association awarded the Edward R. Murrow Award for Excellence in Innovation to 88.5 WFDD, the public radio station licensed to Wake Forest University.
Murrow Awards, among the most prestigious in broadcast and digital news, are presented to news organizations that demonstrate the spirit of excellence that Murrow set as a standard for the profession of broadcast and digital journalism.
Ronda Faggart, a financial advisor with an Edward Jones office in High Point, recently won the firm's exclusive Spirit of Partnership Award for outstanding performance during 2017.
Faggart was one of 1,152 financial advisors out of the firm's more than 16,000 to receive the award.
Alex Ruppert, an ammunition technician with Supply Company, Combat Logistics Battalion 451, Combat Logistics Regiment 45, 4th Marine Logistics Group, based in Greenville, recently participated in Integrated Training Exercise 4-18 at Marine Corps Air Ground Combat Center Twentynine Palms, Calif., for the first time as a Reserve Marine.
ITX 4-18 is a service level training event which aims to prepare units for combat under the most realistic conditions possible.
Ruppert is an adjunct professor of kinesiology at UNC-Greensboro, a personal trainer and the director of a community exercise program on campus for the elderly and post-bariatric patients.
On the move
l Captains Matt and Jessica Hedgren are the new commanders at the Salvation Army, Greensboro Corps. They take over for Majors Don and Daphne Vick, who have been reassigned to divisional headquarters in Charlotte.
l Brian Simpson has joined the Brady Family of Companies as chief financial officer.
l Schnabel Engineering has promoted Gerald Robblee, a dam and geotechnical engineer, to principal.
l High Point University recently welcomed the following new staff members: Connor Harris, community concierge; Melissa Garcia de la Noceda, assistant director of campus engagement and student activities; Maddison Ferranti, event planner; Hayden Bardorf, Julia DeWinter, Mason Horst and Mary de Poortere, university liaisons; and William Kibler, project manager.
Tracy Clemons has been named morning news anchor at WGHP FOX8.
Morgan Payne, a certified physician assistant, has joined UNC Regional Physicians and will see patients at UNC Regional Physicians Internal Medicine at Premier.
Source: https://www.greensboro.com/business/milestones/article_ff61f909-3fd8-52d6-bedd-f7d8ffa7a8a0.html