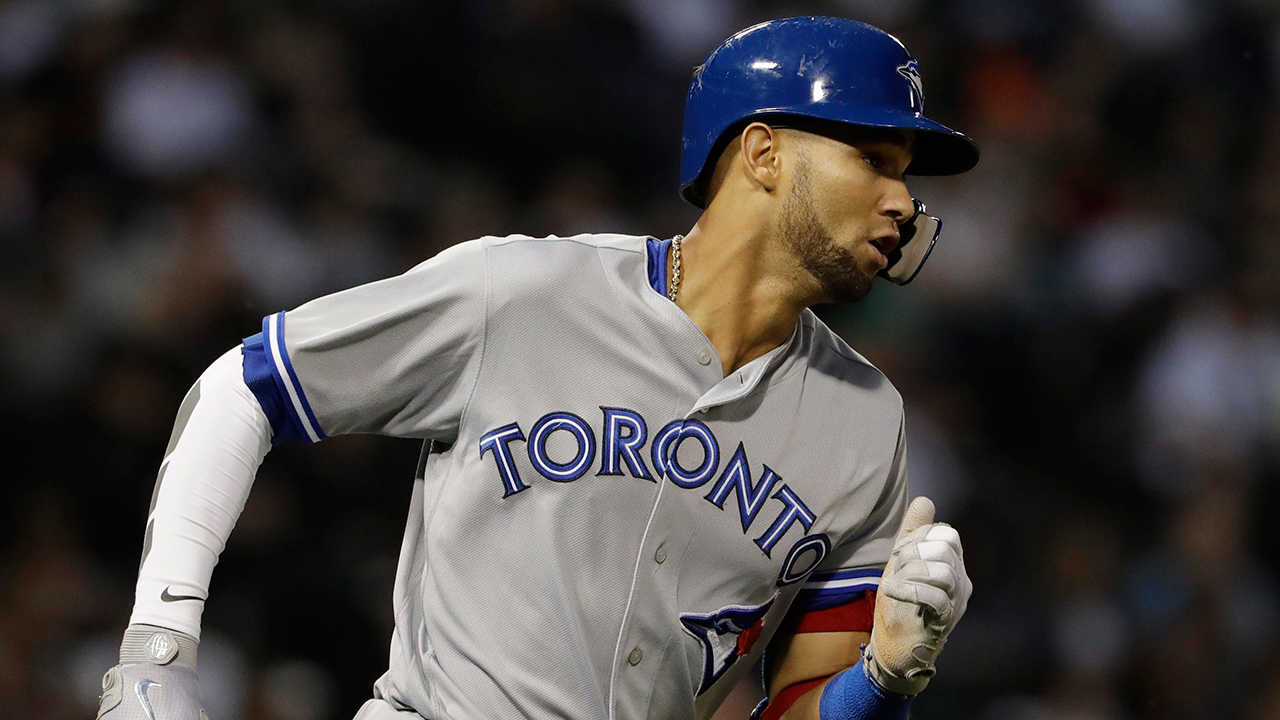 CHICAGO ā€" Thursdayā€™s trade of staff ace J.A. Happ, the latest maneuver in the Toronto Blue Jaysā€˜ continued sell-off of short-term assets ahead of Tuesdayā€™s non-waiver trade deadline, was not the categorical closing of the clubā€™s most recent competitive window. Thatā€™s been shut for some time. The only thing up for debate is exactly when it happened.
Optimists will say it closed a couple months ago, right around mid-May, when the Blue Jays squandered a strong start to the season, falling below .500 while the New York Yankees and Boston Red Sox surged to the top of the American League East.
Cynics, meanwhile, will tell you the window closed before the season even began. That when the clubā€™s back-to-back ALCS runs were followed up by a disastrous 2017 campaign, the writing was on the wall. As with all things, itā€™s a matter of perspective.
For those who prefer to look forward, whatā€™s clear today is that the Blue Jays must spend the final two months of 2018 determining which players could be a part of the clubā€™s next period of contention. And with each passing game, each multi-hit performance, and each triple-digit exit velocity, Lourdes Gurriel Jr. is making a loud statement that he can be a foundational part of it.
ā€œHeā€™s unbelievable. Heā€™s extremely hot. Heā€™s raking. Heā€™s on every pitch. Heā€™s young, but heā€™s a professional hitter and he knows what heā€™s doing in the box,ā€ Blue Jays starter Marcus Stroman said of the Cuban infielder, after the Blue Jays took down the Chicago White Sox, 10-5. ā€œItā€™s exciting to see. I think heā€™s going to be a mainstay name for a long time in Toronto.ā€
Friday night at Guaranteed Rate Field in Chicago, Gurriel drove the first pitch he was thrown into the left field seats. Two innings later, he came back up and hit the first pitch he saw into the left field bullpen. It was his ninth consecutive multi-hit game, tying him with Blue Jays legend Tony Fernandez for the longest streak in club history.
And, as if trying to prove heā€™s capable of more than just ambush home runs, Gurriel came up later in the game, and fought his way through a 12-pitch plate appearance against White Sox reliever Hector Santiago which resulted in a ringing double to left-centre field. Gurriel fouled off six straight pitches after working the count full, before turning around an 83-m.p.h. change-up at 99-m.p.h. off his bat.
An example of that advanced approach Stroman was talking about? Gurriel was actually looking to hit that change-up throughout the at-bat after a dugout discussion with Kendrys Morales, who predicted Santiago would be trying to set up the off-speed pitch. It only took a dozen offerings to get to it.
ā€œI was just thinking to stay through the field, think about the big part of the field,ā€ Gurriel said. ā€œAnd he threw me the change-up, a pitch I could hit. And I connected real well.ā€
For Gurriel, it was the latest example of the exceptional bat speed and raw power the 24-year-old features at the plate. All four balls he hit Friday came off his bat at 95-m.p.h. or higher. Of his 105 batted ball events this season, 48.6 per cent have been hit that hard. That puts him among the top 21 players in baseball, and has him ahead of some exceptional names such as Shohei Otani (48.2), Ronald Acuna (47.3), and even the best player on the planet, Mike Trout (45.9).
Yeah, the kid hits the ball awfully hard. Itā€™s why the Blue Jays will live with his aggressive plate approach for now, while encouraging refinement. Gurriel saw only 12 pitches across his first four plate appearances Friday. And while the Blue Jays will never complain with the result of two first-pitch homers, they certainly wouldnā€™t mind if Gurrielā€™s process involved a longer plate appearance.
Gurrielā€™s certainly capable of it, as demonstrated prior to his eighth-inning double. He just needs to do it more consistently.
ā€œIā€™m ready for every pitch,ā€ Gurriel said. ā€œWhen you go out there, you have to be ready for any pitch ā€" first pitch, second pitch, whatever pitch comes.ā€
Gurrielā€™s now hitting .303/.324/.492 with seven home runs over his first 36 MLB games. And that includes significant struggles during his initial major-league stint earlier this season, a 20-game span that saw him bat .206/.229/.309.
Gurriel toiled in the minors for more than a month after that brief audition. In the 15 games since his return, heā€™s made an emphatic statement that the Blue Jays didnā€™t give him enough rope.
ā€œI thought he was good that first go-round. I think he just got to the point where he got a little frustrated, got too aggressive,ā€ said Blue Jays manager John Gibbons. ā€œBut heā€™s obviously on a pretty nice roll right now. He can hit.ā€
Of course, there is still work to be done defensively, along with those plate approach improvements to be made. And killjoys will point to Gurrielā€™s .347 batting average on balls in play as evidence heā€™s been lucky. But when you hit the ball as hard as Gurriel does ā€" and run as well as he does, with a StatCast Sprint Speed of 28.4, the second-highest on the Blue Jays ā€" youā€™re going to create your own good luck.
In only the second season of the seven-year, $22-million contract he signed as an international free agent in November of 2016, Gurriel is positioned to be an integral part of the next contending Blue Jays team. Whenever that window may reopen.
It wasnā€™t only Gurriel shooting rockets around the south side of Chicago Friday night, as the Blue Jays clubbed five home runs over the first five innings. Torontoā€™s hitters were all over White Sox starter Reynaldo Lopez from the jump, as Curtis Granderson and Gurriel hit back-to-back home runs to lead off the ballgame.
Granderson jumped on a 1-0 fastball on the plate, before Gurriel pulled his hands in to ambush the very next pitch, a fastball down and in. And neither shot was cheap, as Grandersonā€™s travelled 413-feet to right and Gurrielā€™s went 369 to left.
Torontoā€™s offensive success continued in the second, as Russell Martinā€™s leadoff walk came in on another bomb, this time off the bat of Randal Grichuk who drove a full count fastball 416-feet over the wall in dead centre field. Granderson walked a batter later before scoring on a Justin Smoak double. In all, the Blue Jays put six balls in play with exit velocity of 105-mph or higher in the first three innings alone.
Gurriel hit his second shot off Lopez in the fourth, before Morales led off the fifth with a 400-foot shot to right.In all, the Blue Jays hit eight balls off Lopez with exit velocities north of 105-m.p.h.
Stroman, meanwhile, turned in his second strong outing in a row, and the third in his last four starts. He allowed two runs on seven hits over 6.2 innings, lowering his season ERA to 5.20 and his FIP to 4.04.
In seven starts since returning from a six-week stint on the disabled list in late June, Stroman has a 2.55 ERA with 2.3 BB/9. In his seven outings before hitting the DL, he posted a 7.71 ERA and 4.3 BB/9.
Stroman leaned heavily on his two-seamer and slider over his 106 pitches (68 strikes) Friday, earning 13 groundballs in the process, a hallmark sign he was locating his sinker the way he wanted to.
ā€œEver since I came back from the DL, I feel like Iā€™m back to being myself,ā€ Stroman said. ā€œAnd when Iā€™m myself, Iā€™m being aggressive, Iā€™m keeping the ball on the ground, and pitching off that sinker.ā€
Source: https://www.sportsnet.ca/baseball/mlb/lourdes-gurriel-jr-showing-can-important-part-blue-jays-rebuild/