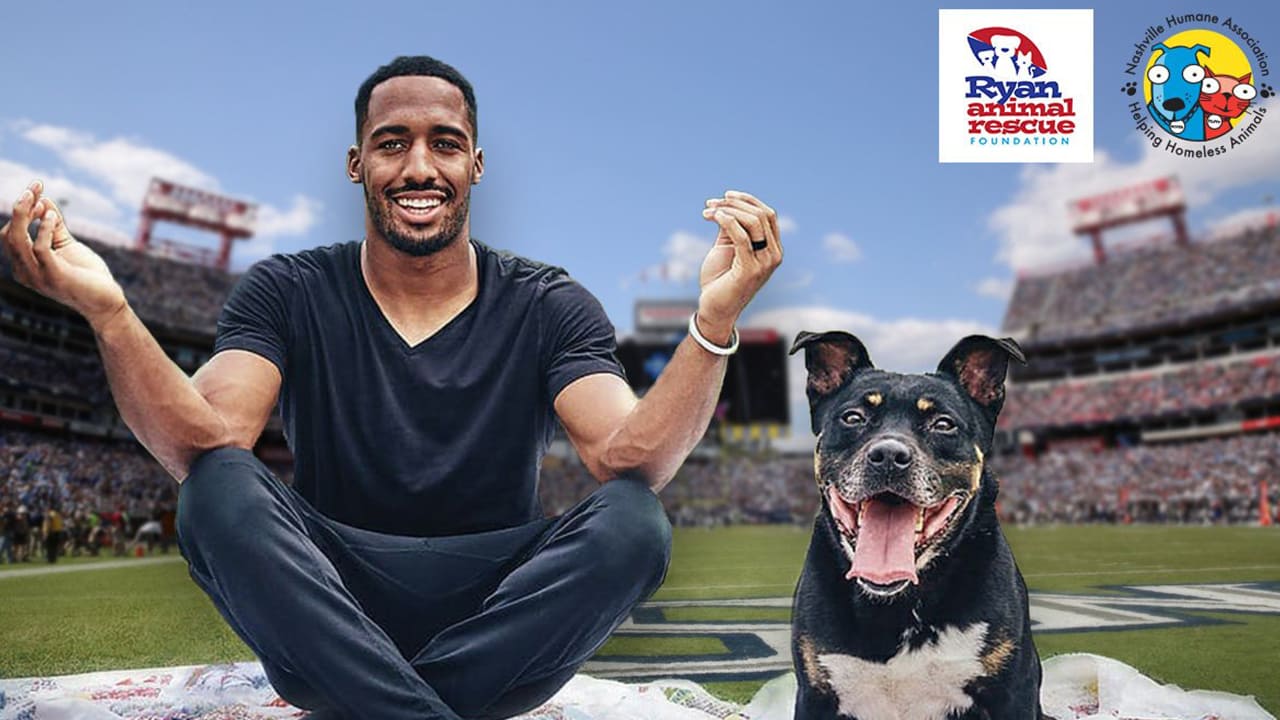 NASHVILLE, Tenn. 'Äď Cornerback Logan Ryan and the Titans are hosting a 'ÄúPup Rally'ÄĚ at Nissan Stadium on Saturday at the team'Äôs scrimmage.
The event is sponsored by Ryan Animal Rescue Foundation and the Nashville Humane Society.
Ryan aims to place 26 adoptable dogs in homes at Saturday's public scrimmage.
The 'ÄúPup Rally'ÄĚ event is a partnership between Logan Ryan'Äôs Ryan Animal Rescue Foundation and Nashville Humane Association to have 26 dogs in need of homes available for adoption at Nissan Stadium.
Titans players, controlling owner Amy Adams Strunk, coach Mike Vrabel and general manager Jon Robinson have each named a dog available for adoption.
WHEN: Saturday, August 4
2:30-5:30 p.m.
WHERE: Nissan Stadium Gate 1
1 Titans Way
Nashville, TN 37213
'ÄúPeople know that my foundation, the Ryan Animal Rescue Foundation, is big with animals here in Nashville. It's going to be our first big event,'ÄĚ Ryan said. 'ÄúThey allowed us to do it at the stadium, so I encourage fans to come early. There might be a little more, but we've got 26 dogs. I'm hoping that they'll all get adopted. Pedigree will be sponsoring dog food, leashes, collars for all the dogs that do get adopted. The players got involved, and I asked some friends of mine, some teammates of mine to name dogs. So, Marcus Mariota named two dogs, Adore√© Jackson's named a dog, Kevin Byard, Rak (Brian Orakpo), Taylor Lewan, myself and a couple, my daughter named one. Amy Adams (Strunk) has a dog named Amy that will be available. Coach (Mike) Vrabel has a dog named Vrabes. Vrabel and Jon Robinson's dog which is J-Rob are in the same litter, so they're brothers. I figured put them together. Many, many guys got involved to help me with it. P.K. Subban named a dog P.K. as well so he got involved. A lot of friends of mine definitely helped me with this one, and I just encourage fans to show up a little early and see if they want to bring or maybe you guys want to bring a little puppy home that would be good for the family.'ÄĚ
Ryan said the cause is one that's close to his heart.
Mariota named a pair of pit bulls from the same litter 'ÄúMana'ÄĚ — which means power in Hawaiian — and 'ÄúLani'ÄĚ — which means heaven. Jackson's named a dog Reese(s) because of his favorite candy.
'ÄúIt's awesome,'ÄĚ he said. 'ÄúI mean dogs have made my family a better family, and these animals need a home. I encourage everyone to rescue dogs just sitting there in shelters. The Nashville Humane Association – I have a good partnership with them since I've been here for over a year, and they volunteered to bring all of the volunteers and the dogs and keep the dogs cool and try to make it as humane as possible for them. It's a great opportunity to get the dogs in front of the fans. I hope it encourages more fans to show up, the animal lovers out there to show up and check out these dogs and come hang out with some dogs and see if you want to bring one home for your family. You get to meet, you get to learn about rescue, you get to learn about my foundation and get to give these dogs a home. I think that animals unite families, so I think it's great.'ÄĚ
Source: https://www.titansonline.com/news/logan-ryan-and-titans-host-pup-rally-on-saturday-before-scrimmage-at-nissan-stad