MANILA, Philippines — Even before Christmas comes, feel the joy of the season through these novelties, movies and activities for the entire family.
'Rapunzel! Rapunzel! A Very Hairy Fairytale'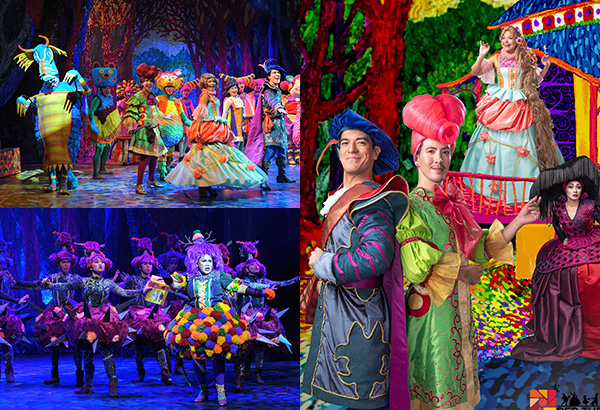 Scenes from Repertory Philippines' "Rapunzel! Rapunzel! A Very Hairy Fairy Tale"
Rediscover a beloved fairytale as Repertory Philippines' Theater for Young Audiences brings you a unique spin on the classic story of Princess Rapunzel in "Rapunzel! Rapunzel! A Very Hairy Fairy Tale," playing until January 27, 2019 at the OnStage Theater, Greenbelt 1, Makati City.
Twists and turns abound in this musical retelling of the childhood classic, including delightful new characters with their own mysterious stories, intersecting at just the right comical—and heartwarming—moments. Joy Virata directs the colorful cast in this magical world, including an evil would-be queen, a handsome prince, a determined hairstylist, a lovable dragon, and the princess with a famous head of hair.
The story first introduces you to the beautiful, extremely long-haired Princess Rapunzel (Cara Barredo, Mikkie Bradshaw, Justine Narciso and Alyssa Rosa) as she's kidnapped and trapped inside a tower by the evil Lady Za Za (Carla Guevara-Laforteza and Christine Flores) in an attempt to take over the throne. 
Meanwhile, Sir Roderick (Hans Eckstein and Andres Borromeo) and his friend Edgar (Steven Hotchkiss, Chino Veguillas, and Kenny Isidoro), who chose beauty school instead of knight training, are on a quest to find the perfect head of hair when they stumble upon the tower. Together with a strange Gypsy Woman (Bituin Escalante and Naths Everett) looking for a powerful piece of jewelry that was stolen from her, and witty, old dragon Socrates (Arnel Carrion, Raymund Concepcion and Jamie Wilson), they band together to try to rescue Rapunzel and defeat the scheming Za Za.
Based on the story, music, and lyrics by Janet Yates Vogt and Mark Friedman, "Rapunzel! Rapunzel! A Very Hairy Fairy Tale" offers show dates and tickets via Repertory Philippines' website.
Ballet Manila's 'Cinderella'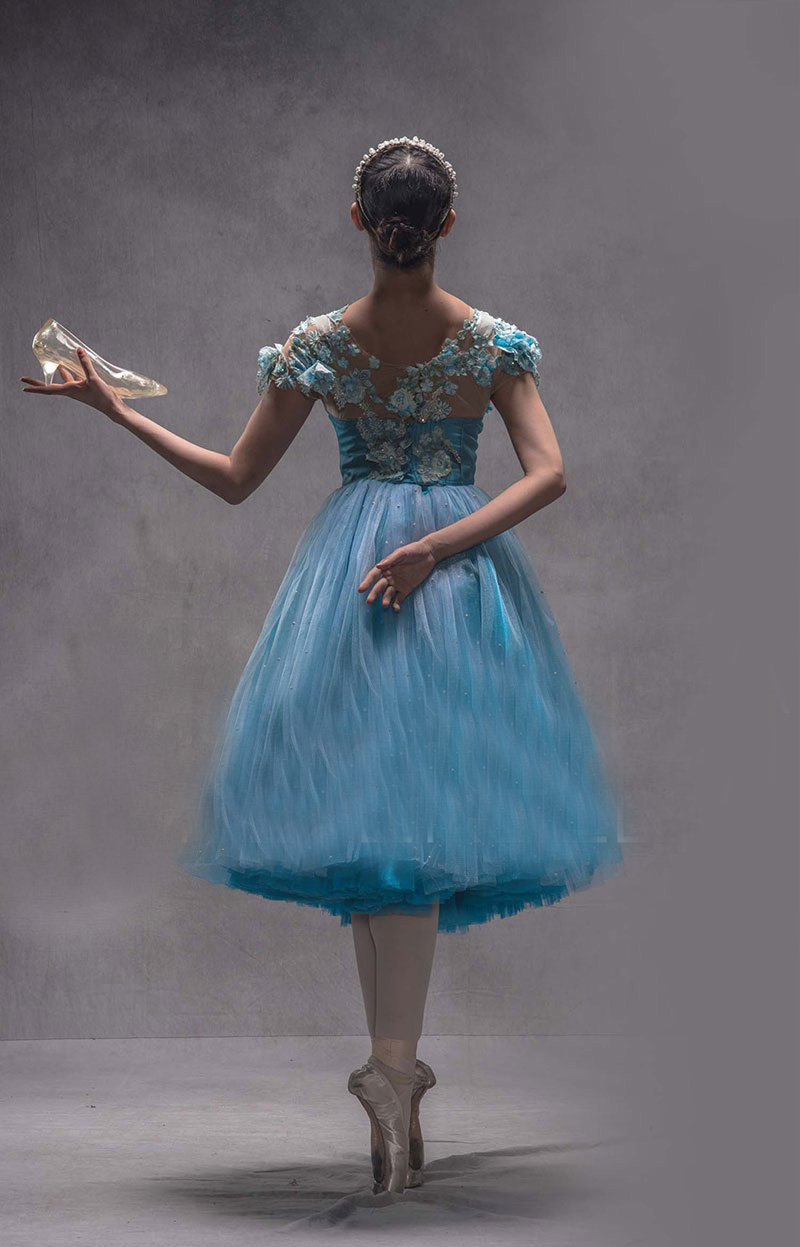 Ballet Manila's "Cinderella"
In true Ballet Manila fashion, the country's premier classical dance company is staging one of the most thrilling classics of all time, "Cinderella."
From some high-action storytelling, comes the return of a family favorite. Lisa Macuja-Elizalde's "Cinderella" makes its way again to the Aliw Theater stage, and she is more than excited to relive the magic again. 
Those who have missed it the first time will get to witness the magic, the spectacle, and the theatrics – a true must-see for the audience. 
"Cinderella was a surprise hit two years ago, and I'm so excited that we get to perform it again! I really missed it and I hope that more people watch it this time around," said Lisa.

Macuja-Elizalde's "Cinderella" makes it return on November 24 and 25 and December 1 and 2.
"Cinderella" comes after Ballet Manila's "Le Corsaire," a volatile cocktail of love, adventure, and heart-stopping action. It follows the story of Conrad and his band of pirates as they rescue harem girls—especially the beautiful Medora—from slave traders and the sleazy Sultan Pasha. Their adventure takes the audience through an exotic journey over land and sea, punctuated by the clash of swords and dazzling acrobatics.
"Le Corsaire" was headlined by three of the company's most decorated aces. Fresh from back to back wins at the 2018 USA International Ballet Competition (USA IBC) and the 2018 Varna International Ballet Competition, Resident Guest Principal Katherine Barkman heads straight to the Aliw Theater stage as she debuts as the lovely Medora. Meanwhile, her longtime stage partner and fellow USA IBC gold medalist Joseph Phillips will play the swashbuckling Conrad. They will be joined by Katherine's fellow Asian Grand Prix medalist and USA IBC Jury Encouragement special awardee Nicole Barroso, who will dance one of the most iconic ballet variations in her debut as Gulnara.
New chocolate flavors to try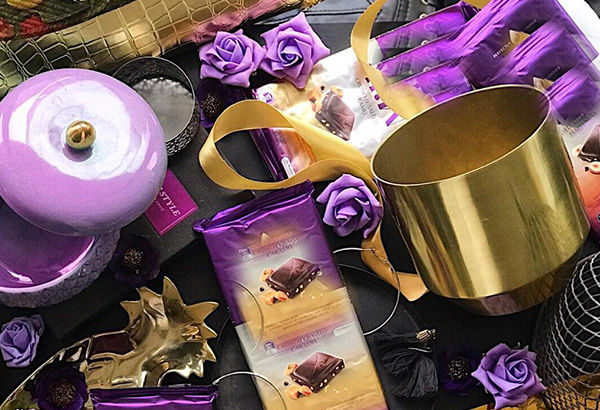 This new offering comes in three flavors
The best of both worlds collide in Cadbury's newest limited edition Cadbury Dark Milk. With the blend of the rich cocoa taste of dark chocolate and the velvety texture of milk chocolate, this new offering comes in three flavors: Perfectly Blended Chocolate, which merges rich cocoa notes with the smooth taste of milk chocolate; Crunchy Salted Caramel, which mixes dark milk and salted caramel bits; and Roasted and Caramelized Hazelnuts, which has a nutty kick with roasted and caramelized hazelnuts.
"With these new offerings, you no longer need to choose between the comforting sweetness of milk chocolate and the richness of dark chocolate," said Arlene Amante, Brand Manager for Chocolates of Mondelez Philippines, Inc. 
Available at leading department stores, supermarkets, and convenience stores by the end of October, the new product comes in 160 gram bars.
Princess party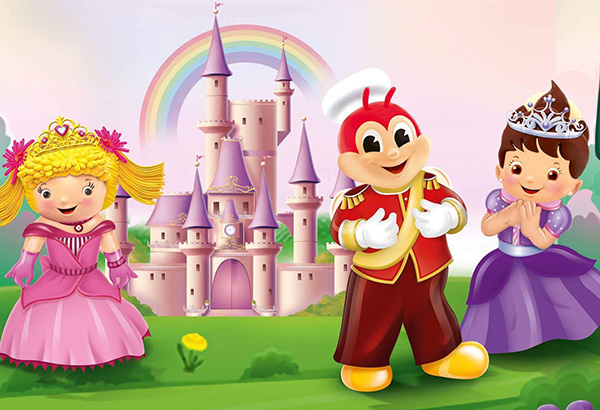 Fairytale Land
Every little girl's dream is to become a princess, even just for a while or on her special days like birthdays.
At Jollibee Fairytale Land, children can step into a fantasy kingdom with fellow princesses Twirlie and Hetty, and dashing prince Jollibee and create magical memories with their fellow royalties.
Here, little princesses can enjoy a feast of their fast food favorites, fairytale-themed games and performances, and prizes and party favors fit for princes and princesses.
"We've always wanted to give kids the most magical birthday moments and we thought, 'What better way to do this than with a Fairytale Land?' This is our simple way of encouraging kids to embrace their imagination and explore their fantasies. Every kid deserves to feel like a prince or princess on their birthday and we plan on delivering the royal treatment on their special day," shared Jollibee Brand Manager for Kids Marketing Malot Agustin.
The Fairytale Land is just one of the many party themes to choose from, including Jollitown, JolliRace, and Hello Kitty Fun Carnival. 
The fast food chain recently celebrated the opening of its branches in London and New York through rolling out Chicken Joy buckets inspired by these fashion capitals.
Disaster preparedness for children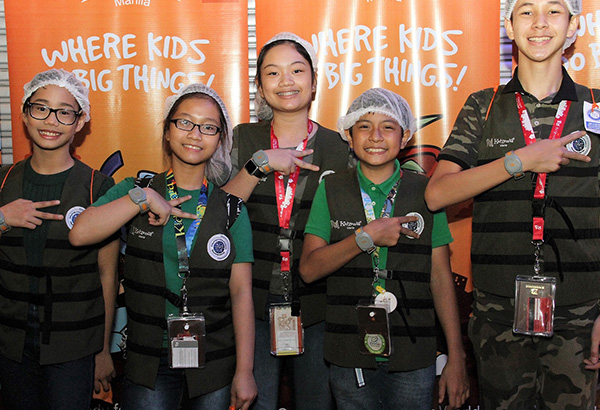 The latest establishment adds another role play activity at the theme park
Children get to experience responding to disasters while learning basic survival skills at KidZania Manila's newest attraction, the Disaster Preparedness Training Center, an all-in simulation facility where they will discover different types of natural dangers and the threats these pose to citizens in a community.
The latest establishment adds another role play activity at the theme park, which is celebrating its third year in the country. It teaches young disaster response trainees, aged seven to 17 years old, how to plan, prepare for, survive and recover from natural disasters.
Apart from the training, the young trainees also undergo a lifelike disaster scenario which will challenge them to assess the emergency situation and secure the area, find survivors and help carry them to safety, locate exits and escape safely.
The new establishment aims to promote disaster preparedness and resiliency among children, while seeking to develop their collaboration, communication, and critical thinking, when disaster strikes.
New holiday pizza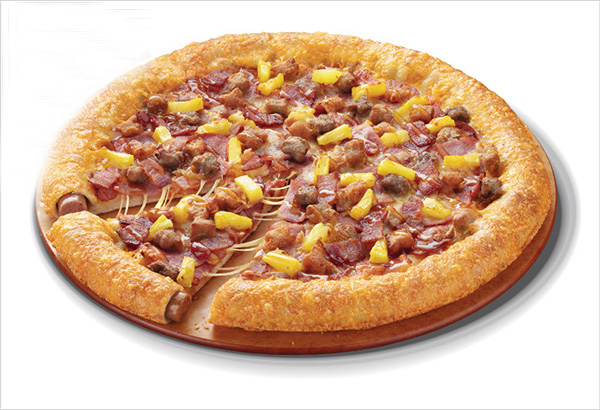 Meaty Hawaiian Supreme Pizza
Everyone knows Christmas is the most wonderful time of the year, especially because it is a season of feasting. Pizza Hut aims to make it easy to bring back the joy of Christmas with its newt innovation, the Sausage Stuffed Cheesy Crust Pizza.
This sausage-filled, cheddar cheese-topped crust is available in regular or large size, ideal for celebrating with friends or family. The Sausage Stuffed Cheesy Crust is available on any pizza flavors, including the brand new Meaty Hawaiian Supreme Pizza, topped with bacon, beef, pork, ham, Italian sausage, pepperoni, pineapples and a sweet pineapple glaze.
Surprise from Yassi Pressman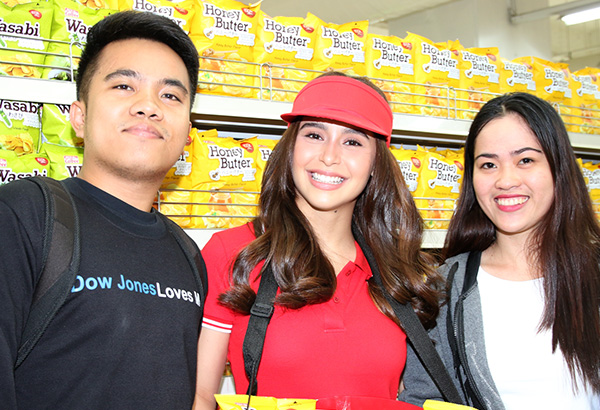 Yassi (center)
Disguised as a Jack 'n Jill Calbee promodizer, Yassi invited supermarket customers to try the potato chip brand's latest offerings: Honey Butter, and Wasabi Potato Chips. 
The unsuspecting participants eagerly lined up to try free samples of the snacks and were surprised after Yassi revealed her identity. They also received gift bags with assorted products.
Participants could not help but express their excitement after discovering that the sampler was TV actress Yassi. One fanatic shared, "Sobrang fan ako ng Calbee, lalo na 'nung Honey Butter. When Yassi appeared, nagulat talaga ako kasi hindi ko siya ine-expect. It was really a fulfilling experience lalo na siya 'yung nagbigay 'nung gift pack."
"As part of our NAKS level campaign, which aims to take consumers' snacking experience to a whole new level, we continue to elevate the fun by coming up with exciting activities and innovative product offerings," shared Kate Barrios from Calbee-Universal Robina Corporation.
A very merry November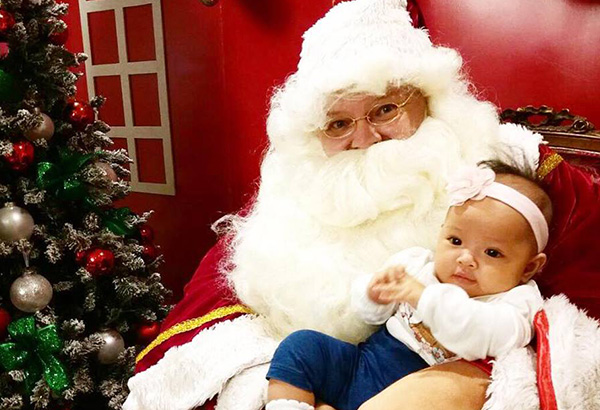 Meet and greet with Santa at Shangri-La Plaza
This November, Shangri-La Plaza kicks off the holiday with festivities and exciting events and unique sale fairs for mall guests of all ages.
Make the little ones' wishes come true and take them to Meet and Greet Santa on November 25 to 26, 3:30 to 6:30 p.m. at the Level 4 Open Café.
Foodies will get a taste of their favorite stars' kitchen prowess at the Celebrity Bake Fest at the East Atrium on November 24 and 25. Spearheaded by celebrity "mompreneur" and food adventurer Christine Bersola-Babao, the fair features a variety of baked goods and unique food items from Miriam Quiambao, Christine Babao, Janice De Belen, Ara Mina, Maricar Reyes Poon, Nikki Valdez, Grace Lee, Niña Corpuz, LJ Moreno, and Nene Tamayo. The food fest features anything from sweet favorites like brownies, cookies, and polvoron to savory treats like authentic kimchi and bottled chili. 
For travelers, offers and travel packages await at the Cathay Pacific Travel Sale, a one-stop shop for planning next year's vacations early and stress-free. Find unique travel deals and book your flights at the Grand Atrium from November 24 to 26.
Power up snack time with soy drinks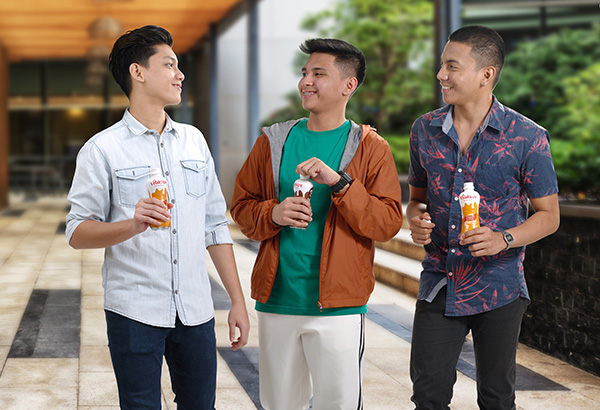 Friends enjoying soy drinks
From working the entire day, to doing groceries, and even making time for gym workouts or hanging out with friends, living a hectic and active lifestyle may take a toll on your stamina. Help boost energy throughout the day with Vitasoy Classic.
Vitasoy-Universal Robina Corporation (VURC) offers Hongkong's well-loved soy milk drink to suit everyone's on-the-go lifestyle. The nutritious answer to consumers' snack time needs, the beverage is made from high-quality soybeans that are free from cholesterol and genetically-modified organisms (GMO). It is packed with the right nutrients and protein to power anyone on a hectic daily schedule. 
The drink is reportedly low in saturated fat, making it an ideal refreshment choice for fitness and wellness enthusiasts who want a healthy drink to accompany their diets. It is also lactose-free and packed with protein. Available in  convenient stores, leading groceries and supermarkets nationwide, the drink comes in a 330ml bottle convenient for snack breaks. 
New twists to chocolate-coated candies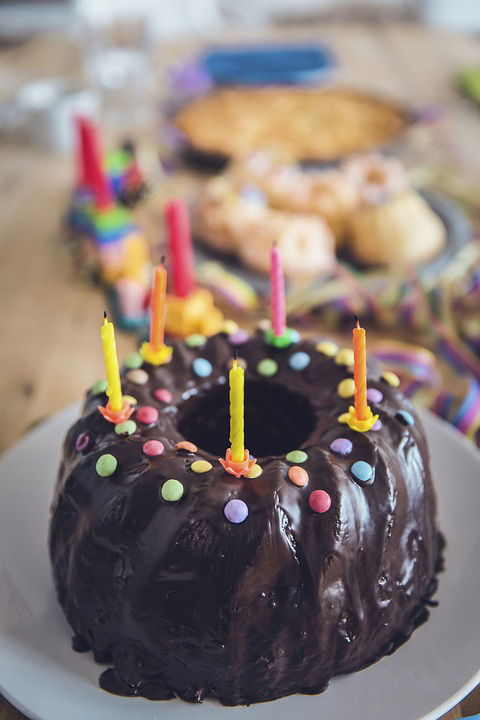 Cake topped with chocolate-coated candies
Jack 'n Jill Nips takes its premium chocolates to another level with its two new variants: Peanut Deluxe and Fruit & Nut. These new additions aim to make any break time special.
A mix of sweet and savory, Peanut Deluxe has the goodness of extra-large roasted nuts inside candy-coated chocolates. Likewise, raisins and roasted peanuts are the surprise inside the Fruit & Nut variant. Both new flavors are available in leading supermarkets, groceries, and convenience stores.
Playtime snacks to enjoy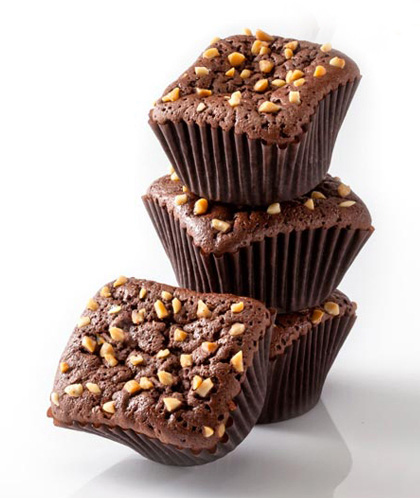 Fun Square brownies
Playtime, according to child development experts, is not only healthy, but also helps kids develop communication and problem-solving skills.
Studies show that kids who share meals with their parents develop positive moods well into the crucial stage adolescence. 
For small breaks in between playtime, try Lemon Square Fun Square, made with fresh ingredients and can be eaten straight out or drizzled with toppings and tossed into the oven, an easy way to make weekends more fun.
'Flash' and 'Supergirl'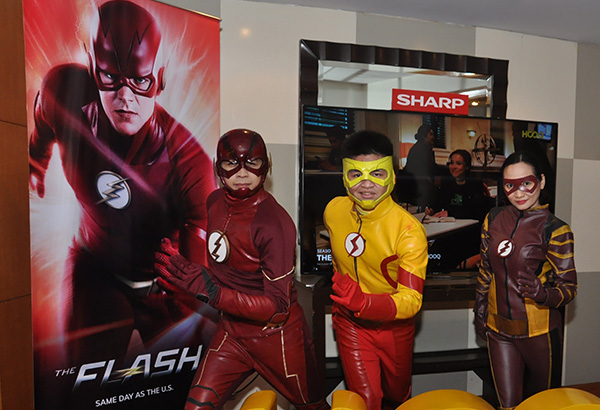 Cosplayers dressed as Flash
HOOQ, a video on-demand service in Southeast Asia, ushers in "Arrowverse: The Next Wave" with the launch of the latest seasons of top-rated U.S. TV series "The Flash" and "Supergirl." 
"Our customers get a bang for their buck as they enjoy blockbuster movies and exclusive day-and-date series releases direct from Hollywood.  We are all very excited to catch the latest seasons and have been counting down to them," said Jennifer Batty, Chief Content Officer.
The streaming service claims to be the only one in the Philippines to offer these DC Comic series same day as the U.S. release and customers can kick start their action-packed October with the complete seasons of the "Arrowverse" — "The Flash," "Supergirl," "Legends of Tomorrow," and "Arrow."
"We are thrilled to be bringing the latest seasons of these two shows to our viewers. The Flash and Supergirl have garnered a strong and loyal following in the Philippines and both of these shows are constantly in the Top 20 most watched titles. We hope you are as excited as we are to catch the latest seasons and find out what epic challenges await Barry and Kara!" said Sheila Paul, HOOQ Philippines Country Manager.
'The Nutcracker and the Four Realms'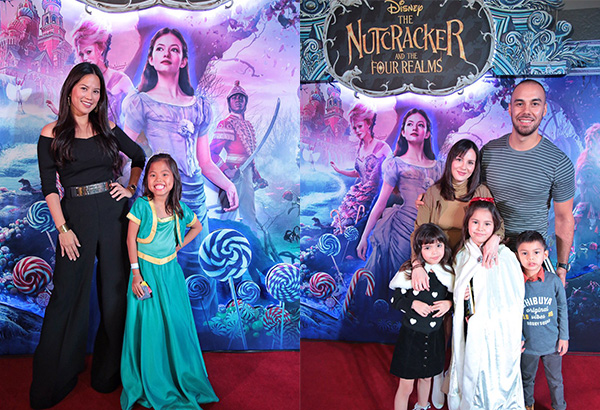 Celebrities attended the recent screening of Disney's "The Nutcracker and the Four Realms." Walt Disney Philippines/Released
All is set for the Disney's "The Nutcracker and the Four Realms" showing in Philippine cinemas nationwide on October 31.   
All Clara (Mackenzie Foy) wants is a key – a one-of-a-kind key that will unlock a box that holds a priceless gift. A golden thread, presented to her at godfather Drosselmeyer's (Morgan Freeman) annual holiday party, leads her to the coveted key—which promptly disappears into a strange and mysterious parallel world.
It's there that Clara encounters a soldier named Phillip (Jayden Fowora-Knight), a gang of mice and the regents who preside over three Realms: Land of Snowflakes, Land of Flowers and Land of Sweets. Clara and Phillip must brave the ominous Fourth Realm, home to the tyrant Mother Ginger (Helen Mirren), to retrieve Clara's key and hopefully return harmony to the unstable world.
Starring Keira Knightley as the Sugar Plum Fairy, Disney's new holiday feature film "The Nutcracker and the Four Realms" is directed by Lasse Hallström and Joe Johnston, and inspired by E.T.A. Hoffmann's classic tale.
The Grinch is back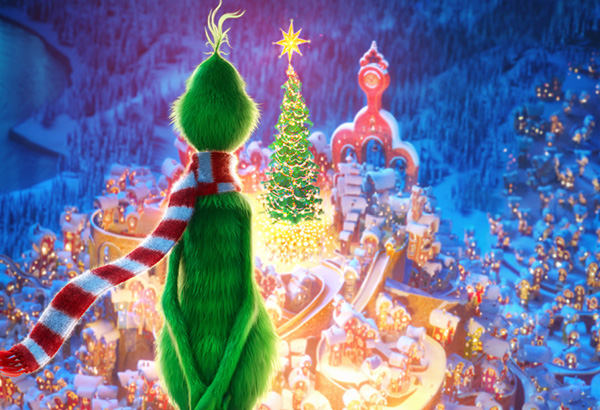 Scene from 'The Grinch.' United International Pictures/Released
For their eighth fully animated feature, Illumination and Universal Pictures present The Grinch, based on Dr. Seuss' beloved holiday classic. 
The Grinch tells the story of a cynical grump who goes on a mission to steal Christmas, only to have his heart changed by a young girl's generous holiday spirit.  Funny, heartwarming and visually stunning, it's a universal story about the spirit of Christmas and the indomitable power of optimism.
Academy Award nominee Benedict Cumberbatch lends his voice to the infamous Grinch, who lives a solitary life inside a cave on Mt. Crumpet with only his loyal dog, Max, for company. Â With a cave rigged with inventions and contraptions for his day-to-day needs, the Grinch only sees his neighbors in Who-ville when he runs out of food.
Each year at Christmas they disrupt his tranquil solitude with their increasingly bigger, brighter and louder celebrations. Â When the Whos declare they are going to make Christmas three times bigger this year, the Grinch realizes there is only one way for him to gain some peace and quiet: he must steal Christmas. Â To do so, he decides he will pose as Santa Claus on Christmas Eve, even going so far as to trap a lackadaisical misfit reindeer to pull his sleigh.
Ralph is back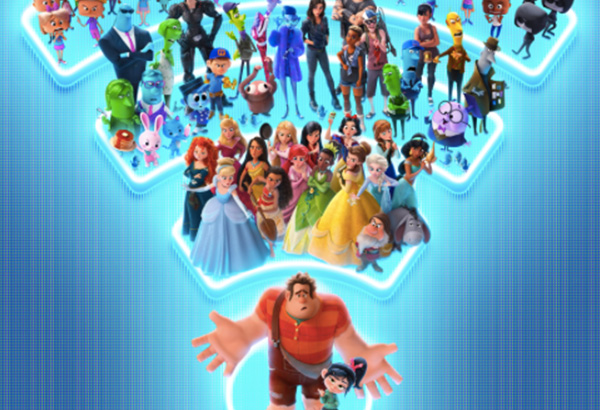 Scene from 'Ralph Breaks the Internet.' Walt Disney Pictures/Released
Walt Disney Animation Studios has shared the brand new trailer of "Ralph Breaks the Internet," the sequel to "Wreck-It Ralph" from directors by Rich Moore and Phil Johnston and featuring the voices of original cast members John C. Reilly and Sarah Silverman.
"Ralph Breaks the Internet" leaves Litwak's video arcade behind, venturing into the uncharted, expansive and thrilling world of the internet—which may or may not survive Ralph's wrecking.
Video game bad guy Ralph (voice of John C. Reilly) and fellow misfit Vanellope von Schweetz (voice of Sarah Silverman) must risk it all by traveling to the world wide web in search of a replacement part to save Vanellope's video game, Sugar Rush.
In way over their heads, Ralph and Vanellope rely on the citizens of the internet—the Netizens—to help navigate their way, including Yesss (voice of Taraji P. Henson), who is the head algorithm and the heart and soul of the trend-making site "BuzzzTube," and Shank (voice of Gal Gadot), a tough-as-nails driver from a gritty online auto-racing game called Slaughter Race. Directed by Rich Moore ("Zootopia," "Wreck-It Ralph") and Phil Johnston (co-writer "Wreck-It Ralph," "Zootopia," writer, "Cedar Rapids"), and produced by Clark Spencer ("Zootopia," "Wreck-It Ralph," "Bolt," "Lilo & Stitch"), "Ralph Breaks the Internet" hits Philippine theaters on November 21.
Live-action 'Avatar'
Netflix will produce a reimagined live-action series based on the award-winning and beloved Nickelodeon animated series "Avatar: The Last Airbender," from the original creators Michael DiMartino and Bryan Konietzko, who will serve as showrunners and executive producers.
The new series, in partnership with Nickelodeon, will be exclusively available on Netflix and will start production in 2019.
"Avatar: The Last Airbender" aired for three seasons originally on Nickelodeon, where it began in February 2005 and concluded in July 2008. The series was nominated for—and won—Annie Awards, Genesis Awards, a Primetime Emmy Award, and a Peabody Award.
The show follows the adventures of the main protagonist Aang and his friends, who must save the world by defeating Fire Lord Ozai and ending the destructive war with the Fire Nation.
Shadowplay
The Cultural Center of the Philippines is proud to present an exhibition on the distinct art of shadowplay.
Proposed by the Anino Shadowplay Collective, Bakas Bagtas Bukas is an exhibit that features Anino's shadowplay archive, bringing the stories of their shadows to light.
The Anino Shadowplay Collective was formed in 1996 and is composed of multimedia artists from diverse backgrounds: educators, cultural workers, visual artists, musicians, and theatre practicioners.
The group is known for their live performances and workshops, often done in collaboration with educational and art institutions. The heart of Anino's narratives lies in Philippine traditional art and literature, political history and contemporary culture. Its aesthetic, like Philippine culture itself, borrows from a wide canvas, taking influence from Filipiniana to universal pop imagery and "international" experimental art.
Be a play champion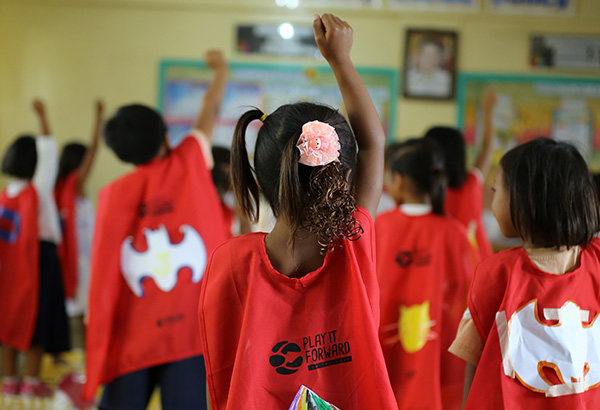 Play It Forward
Every child should have access to play. Be it disaster or disease, children are exposed to different situations where they become vulnerable, and they are forced to put their childhood on hold. They may already be suffering from trauma and distress, and there is often no space or opportunity for them to play.
Unilab Foundation believes that play is essential to a child's holistic development, which is why Play It Forward (PIF) was launched in 2012. All of PIF's activities are designed to highlight play and its significance to the mental health of children, especially in vulnerable situations. Play It Forward uses therapeutic play to provide psychosocial support to pediatric patients and to children in post-disaster or disaster-prone communities.
This year, PIF takes play further with Play Advocacy Week 2018, a week-long campaign to encourage everyone to take play seriously and to explore how play can be integrated in today's society. Happening from November 18 to 24, Play Advocacy Week 2018 aims to make the public recognize the importance of play in a child's holistic development.
Play is not "laru-laro lang" (it's just play and it's not important). According to Dr. Bles de Asis of the Mindfulness, Love and Compassion (MLAC) Institute for Psychosocial Services, "Play is not just important for the child's healthy and total development—it is essential." Play can allow children as well as adults to rise up from challenges and regain the strength to live a full life.
World Smile Day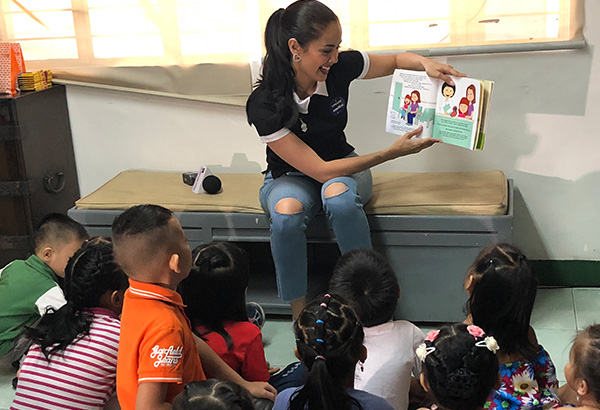 Megan Young storytelling to Smile Train beneficiaries
Smile Train, the world's leading cleft charity, continues to spread smiles one week after World Smile Day this year through a storytelling event with Smile Train Philippines' Ambassador Megan Young at partner hospital, Philippine Band of Mercy.
The actress and beauty queen visited Smile Train's patients at the Philippine Band of Mercy to share the story of Simon, a bright, red cardinal, hatched from his shell with a big gap in his beak. Smile with Simon is a story of friendship, love, acceptance, and kindness written by one of Smile Train's Cleft Community Advisory Council members and active supporter of the organization, Patricia Simon, a registered nurse who was also born with a cleft lip and palate. Having had cleft surgeries herself, Patricia has dedicated her life to advocating for those born with clefts all over the world.
"The story is one of love and acceptance and I am grateful to Smile Train for giving me the opportunity to share this message with the children. Similarly, by reading stories such as Smile with Simon to children with birth differences, I hope to boost their confidence and treasure their individuality when dealing with the world," said Megan Young, actress and Smile Train Philippines' Ambassador. 
"It is always a pleasure to work with Smile Train. You can see the impact of their work when you meet the children they have helped."
 A heartwarming adventure of a dog
The first trailer of the new family adventure "A Dog's Way Home" has been launched by Columbia Pictures.
"A Dog's Way Home" chronicles the heartwarming adventure of Bella, a dog who embarks on an epic 400-mile journey home after she is separated from her beloved human.
Directed by Charles Martin Smith, the screenplay is by W. Bruce Cameron & Cathryn Michon, based on the book by W. Bruce Cameron.
The film stars Bryce Dallas Howard, Ashley Judd, Jonah Hauer-King, Alexandra Shipp, with Wes Studi and Edward James Olmos.
In Philippine cinemas 2019, "A Dog's Way Home" is distributed by Columbia Pictures, local office of Sony Pictures Releasing International. 
Spidey returns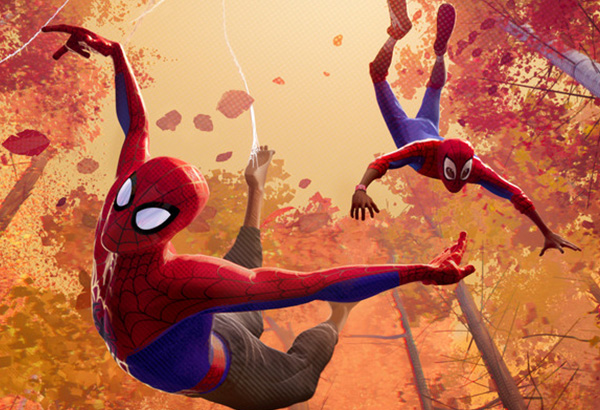 Scene from "Spider-Man: Into the Spider-Verse." Columbia Pictures/Released
Phil Lord and Christopher Miller, the creative minds behind The Lego Movie and 21 Jump Street, bring their unique talents to a fresh vision of a different Spider-Man Universe, with a groundbreaking visual style that's the first of its kind. Spider-Man: Into the Spider-Verse introduces Brooklyn teen Miles Morales, and the limitless possibilities of the Spider-Verse, where more than one can wear the mask.
Directed by Bob Persichetti, Peter Ramsey, and Rodney Rothman, the screenplay is by Phil Lord. The film is produced, in association with Marvel, by Avi Arad, Amy Pascal, Phil Lord, Christopher Miller, and Christina Steinberg.
In Philippine cinemas December 13, "Spider-Man: Into the Spider-Verse" is distributed by Columbia Pictures, local office of Sony Pictures Releasing International.
Free movie for kids
Superhero fans can expect action with Ask Hasselbalch's "Antboy." It tells a story of a 12-year-old boy who gets mighty powers after being bitten by an ant. Aided by his comic book nerd best friend, he creates a secret identity as a superhero Antboy. When a supervillain, The Flea, enters the scene, Antboy must step up to the challenge.
Animated movies are better than ever with the help of computer animation, and Esben Toft Jacobsen's debut feature film proves how far it has gone. "The Great Bear" is a story of a boy who must venture into a forbidden forest to rescue his little sister from the clutches of an ancient, massive bear.
Families can enjoy movie night with Renée Simonsen's "Karla's World." The film is about a Karla (Elena Arndt-Jensen), a runaway girl trying to escape from her problems. Karla's parents are divorced and she lives with her mom, stepdad, brother, and stepbrother. After arguments with mom, seeing her dad drinking again and no real Christmas in sight, she still badly wants her whole family to get together for the holidays.
The "Danish Children's Films" section of QCinema will be shown at Gateway Mall (Cineplex 10); Robinsons Galleria (Robinsons Movieworld); and Ayala Malls Cinema in Trinoma and U.P. Town Center.
Celebrity parents team up to fight stains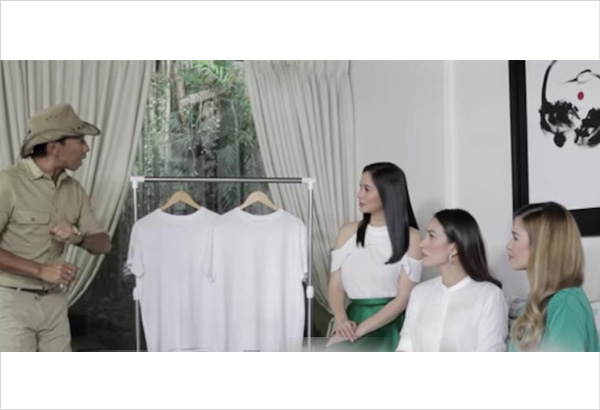 Kim Atienza with Mariel Rodriguez Padilla, Say Alonzo, and Joy Sotto
Have you ever experienced wanting to wear a favorite shirt only to be overwhelmed by that nauseating "kulob" smell? With those occasional rainy days suddenly coming up, many people think that kulob smell is caused by indoor drying. In truth, kulob is caused by invisible stains on clothes. 
Mariel Rodriguez Padilla, Say Alonzo, and Joy Sotto are just some of those people wishing for kulob smell to disappear. A new online video answers their wish, thanks to Kuya Kim Atienza laying down the facts behind the new Ariel, and how its latest formulation gives the deepest clean that keeps clothes free from invisible kulob stains that cause the malodor.
There are many myths behind that kulob stench that attaches on clothes. Good thing Kuya Kim shared his personal explanation for this: "Marami na akong mga naririnig na kuro-kuro tungkol sa amoy kulob sa damit, lalo na kapag maulan ang panahon. Alam mo ba na ang amoy kulob ay sanhi ng mga mantsang hindi nakikita ng ating mga mata? Maaari ring ito ay nagmula sa hindi sapat na paglalaba ng damit na siyang dahilan ng pagkakaroon ng mga mikro-organismong nagbibigay ng mabahong amoy ng kulob!", explains Kuya Kim.
For the ever fashionable Mariel Rodriguez Padilla, the awful kulob smell can cut down her confidence even while wearing her best-looking outfits. In the past, the start of the rainy season meant putting up with kulob, a problem she has finally conquered with the help of Ariel's innovative formula.
Kulob has also been an issue in Say Alonzo's and Joy Sotto's households before. Even with their children's freshly-washed clothes looking clean, there's still a tendency for that foul kulob smell to persist. They shared that this problem gets even worse during the rainy season, which deeply troubled meticulous moms like them. It's a good thing they don't have to worry anymore, since Ariel's superior cleaning power can now effectively fight against those invisible kulob stains.
In the video, Kuya Kim uses UV light to reveal that kulob are actually invisible stains. To the moms' delight, these stains can now be efficiently cleaned by Ariel's innovative formula that puts an end to all malodor problems. 
"Kulob smell on clothes is a problem for many Filipinos. Most people think this is caused by indoor drying, when it is actually due to invisible stains that harbor malodor-causing microorganisms. We hope that with Ariel's innovative and superior formula, Filipinos will be able to enjoy fresh-smelling and deeply clean clothes all year long – rain or shine," said Louie Morante, Regional Brand Communications for P&G Asia Fabric and Home Care.
Importance of proper hand washing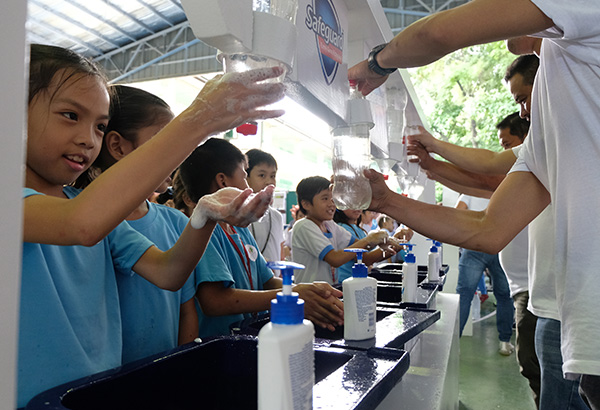 Global Hand Washing Day
To mark Global Hand Washing Day (15 October), the Department of Health and the Department of Education remind Filipinos that hand washing with soap is critical to ensuring good health. 
During that week, hygiene experts from all over the world gathered in Manila to discuss ways to support and promote the habit of hand washing with soap. The event, which marked the first time that the Hand washing Behavior Change Think Tank has been held in Asia, was facilitated by the Global Hand washing Partnership (GHP) and Procter & Gamble Philippines, in collaboration with the Philippines' Department of Health and Department of Education, and GHP partners UNICEF and GIZ. 
The Think Tank brought together hygiene experts from civil society, government, research institutions, and the private sector, and was designed to address challenges to hand washing behavior change in the Philippines, throughout the region and globally. During the event, participants shared best practices, explored new findings and innovative thinking, identified shared barriers, and co-created solutions in key areas, including Infrastructure and Design, Behavior Change and Habit Formation, and Policy and Measurement. In addition to productive knowledge exchange and networking, the event also identified tangible next steps in relation to each key theme.
In her opening remarks, DOH Assistant Secretary for Public Health Services Team, Dr. Maria Rosario Vergeire highlighted the scale of the challenge in the Philippines. 
"Maghugas ng kamay – to wash our hands. It sounds simple and easy, but studies have found that the majority of Filipinos don't practice hand washing at the most critical times, such as after using the toilet." 

Dr. Vergeire went on to emphasize that through the FOURMula One Plus program, which focuses on boosting Universal Health Care, the Department of Health is committed to ensure that hand washing is integrated into health care facilities and outreach programs at the community level.
"It is also critical to engage the support of other National Government Agencies so that water, sanitation and hygiene can be prioritized and inculcated in every sector. By mobilizing these sectors, we can come closer to our goal of promoting hand washing to more Filipinos, as part of our efforts to improve health and hygiene," she said.
Dr. Ella Naliponguit, representing the Department of Education, reinforced the importance of integrating water, sanitation and hygiene into the work of the Education sector, and welcomed the opportunity to learn from experiences of other countries.
This year, Global Hand Washing Day reminds us that "clean hands are a recipe for health."
"This year, the Global Hand Washing Day theme focuses on the importance of hand washing before eating, and before preparing food for others.  Hand washing is an important part of keeping food safe, preventing diseases, and helping children grow strong. The 2018 Global Handwashing Day tagline, Clean hands – a recipe for health, reminds us to make handwashing a part of every meal." said Carolyn Moore, Secretariat Director for the GHP.
The three-day Handwashing Behavior Change Think Tank concluded with the celebration of Global Handwashing Day at the Andres Bonifacio Elementary School, where over a hundred children pledged to support and practice handwashing daily. International hygiene delegates were given a tour of the classrooms and WASH infrastructure, providing a glimpse of hand washing implementation in the Philippines. 
To conclude the celebration, Procter & Gamble Philippines via its leading brand Safeguard, treated all the experts and guests of the Think Tank to a traditional Filipino boodle feast– which reminded them of the importance of having clean hands in order to better enjoy the experience. 
"This year's Global Handwashing Day theme of 'Clean Hands – A Recipe for Health' celebrates that most cherished moment in the day for families everywhere, the family meal. And it reminds us to wash our hands before every meal. There have been too many days and – sadly – too many lives lost to diarrhea and other food-borne diseases," shared Shankar Viswanathan, P&G Philippines General Manager.
Sparkling cranberry punch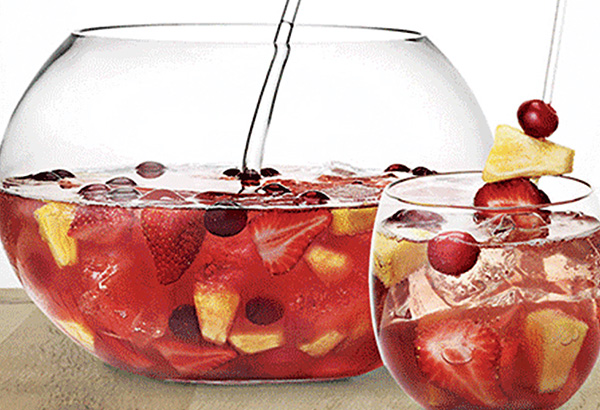 Sparkling Cranberry Punch
While there is chill in the air and everyone is thirsty, whip up this three-ingredient mocktail recipe that is almost effortless to make. Featuring the refreshing balance of sparkly, sweet, and tart, it is also a wholesome drink after the "trick or treat" activity with kids!

 

Not only is this concoction wickedly refreshing, but it also packs a punch. Several studies mention that cranberry juice helps reduce the risk of Urinary Tract Infections. The properties present in cranberry help prevent bacteria in the urinary tract. It is also rich in Vitamin C and dietary fiber that are known to prevent cancer and heart diseases. 
This Sparkling Cranberry Punch is the holiday drink that the whole family will enjoy:

1.    Combine 2 cups of Old Orchard Cranberry Juice with one tbsp. of lemon juice.

2.    Stir in 1 cup of sparkling water.

3.    Chill and serve. 
New caffeine-powered drink
Coca-Cola introduces  what it claims to be "the very first Supersoda in the Philippines": Thunder, which reportedly delivers a strong push to get you through the day but with the taste of soda.
Despite having zero sugar and calories, this "supersoda" aims to still give the right boost with a kick of caffeine and a splash of extra fruity flavor. It has two flavors : Citrus Shock and Fruit Bomb, which will be available in 300ml PET bottles.
"We are on the way to becoming a truly total beverage company. After several innovations in the Juice and Water segments, we are now launching a highly attractive product that delivers great taste and a strong energy kick which is new in the Philippines," shared Coca-Cola Philippines Marketing Director Stephan Czypionka.
What to do with too much holiday sweets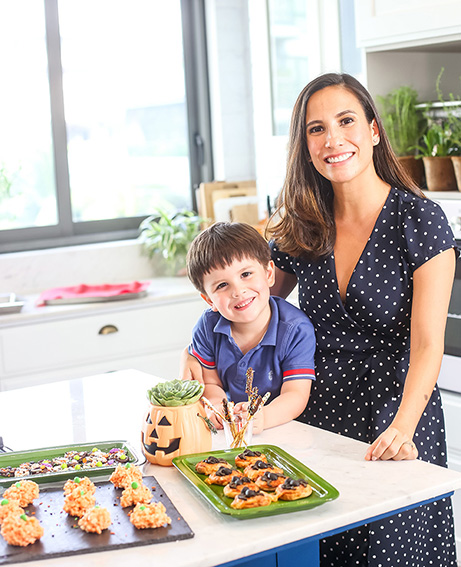 Travel enthusiast, foodie, and writer Stephanie Zubiri-Crespi and son
As a mother of two young children, travel enthusiast, foodie, and writer Stephanie Zubiri-Crespi recognizes that her boys should enjoy the thrill of Halloween and the holidays just like all the other kids, but also knows that curbing their sweet intake during this candy-crazed holiday is also important. 
To strike a balance between treats, Steph cranks up her trusty La Germania oven and breaks out her creative side. "It's nice to go trick or treating and have a few candies," the mother of two said, "but it's also good to have more filling, healthier treats waiting back at home when the kids come in from trick or treating around the neighborhood. Having wholesome Halloween-themed snacks on hand keeps them from attacking their candy stash right away, and when they're not feeling hungry, it's easier to negotiate a more reasonable schedule with them for eating the rest of their candy loot." 
Spider pizza and spooky pretzels are great examples of quick, easy-to-make, and hearty snacks for kids fresh from the candy trail. Stephanie makes hers with one simple secret: she uses frozen pizza dough. "It's faster and easier than making pizza dough from scratch, it's practically foolproof, and kids usually appreciate the taste of it," she explained.
To make spider pizzas, Stephanie loads a small disk of frozen pizza dough with toppings of choice: tomato sauce, cheese, and ham bits. She then takes an olive and cuts it into half for spider bodies, and then slices another olive for the spider's legs. Another, smaller slice forms the head, and voila, a large black spider sits on top of a tasty pizza.
"You can use any topping your kids like," Stephanie recommended. "As long as you decorate it with a Halloween theme, you don't have to convince your kids to try it out. They'll be excited to eat 'scary' food." 

Stephanie does not recommend that mommies and daddies push themselves too hard to create a "perfect" Halloween snack. "If you're stressed and you have less time to spend with your kids, nobody's having any fun, and the holiday is all about having a good time shared with your children."
If your kids like vegetables, slice up carrots, kamote slices, butternut squash, zucchini, and even potatoes into fun shapes like grinning faces, cats, and witch hats. Season with salt, pepper, and your favorite spices, drizzle with olive oil, and roast the veggies in the oven. They end up looking cool, tasting almost sweet, and being really nutritious.
Another thing you can do is bake whole wheat muffins ahead of time, and just pop a store-bought decoration on top of it. You can do the same with almost any baked good: cookies, cupcakes, tiny pies, and even toast slices.
The simplest treat of all is almost entirely store-bought. Gently melt some chocolate on your stove top, dip some store-bought pretzels in it, and sprinkle Halloween-themed candy sprinkles on it. 
So these holidays, opt for homemade treats for your little monsters and avoid the sugar crash altogether. Give these decorating tips a try, spend less time in the kitchen, and enjoy the thrills and chills of the holiday as a family.
Source: https://www.philstar.com/health-and-family/2018/11/07/1866692/list-holiday-treats-kids-and-kids-heart