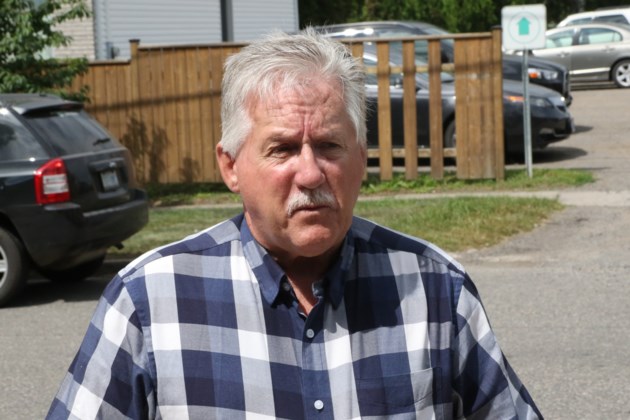 SHUNIAH, Ont. — A Kingston tourist is left with a bitter experience after a confrontational encounter over his service dog at a Shuniah business.
Ken Allan and his wife were visiting Thunder Bay, travelling with his service dog Karma who provides support for his post traumatic stress disorder.
The Allan family was visiting the Terry Fox Monument, when a person suggested they stop at a nearby fish market on Lakeshore Drive.
Allan said he and his service dog were only in the store for a couple of moments before the owner ordered him to leave the premises.
"He got very upset right away," Allan said. "He told me to 'Get [the dog] out of here.'"
When Allan tried to explain that Karma was a service dog, the owner explained the dog would get into an confrontation with a rabbit that resides in the shop.
"I told him I could pick her up, my dog is not confrontational, she's providing a service for me," Allan said.
The owner maintained that Allan needed to leave the store, he added. But minutes later, the two got in another verbal altercation outside the store when Allan was looking for an address.
"It came out of nowhere. He was very angry and irate," he said.
Food premises regulations under the Health Protection and Promotion Act allows service dogs into premises where food is served, sold, or offered for sale.
"I go into restaurants, and she sits with me at the booth. She can go anywhere I can go," Allan explained.
Allan said the only way a service dog can be asked to leave is if it "acts out," such as barking, biting, or behaving inappropriately.
The business operators would not make themselves available for comment upon request from Dougall Media.
Allan uses Karma to assist with his condition of post traumatic stress disorder. He spent 36 years working in correctional services and now suffers from mental health issues that stem from it.
He says getting people to understand the nature of the service dog is a constant difficulty for him. He hopes examples such as this will provide awareness for both service dogs, and post traumatic stress disorder.
"It's a battle," he said. "People immediately come at you and ask you to leave."
Source: https://www.tbnewswatch.com/local-news/kingston-tourist-with-service-dog-forced-out-of-fish-market-996156