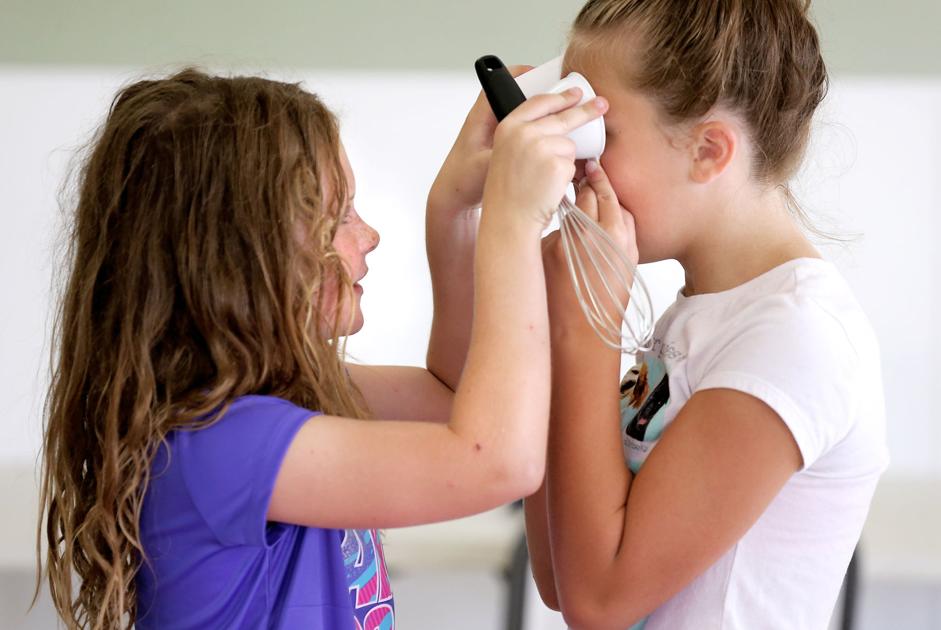 Doggie treats and obedience training are just a couple of the topics students learned about this week at the Edgerton Explorit Center's Mars Petcare Dog Science Camp.
The weeklong camp, which concludes Friday, was held at the Central Nebraska Humane Society at Grand Island. Mary Molliconi, executive director at the Edgerton Explorit Center, said this is just one of 38 Explorit summer camps.
Molliconi said the Mars Petcare Dog Science Camp is in its third year partnering with the Humane Society. The camp also has sessions in Aurora, where they've been partnering with the Aurora Adopt a Pet for six years. Twenty-one kids participated in this year's camp at the Humane Society, compared with last year's nine participants.
Katie Lofing, 10, Arianna Penate, 10, Isriella Penate, 7, and Natalie Luhn, 11, were among the camp participants. All four of the girls are from Grand Island.
The girls, along with other classmates, made healthy dog treats. The recipe called for 2 cups of wheat flour, 1 cup of rolled oats, 1/3 cup of peanut butter and 1 1/4 cups of water. The students mixed the ingredients together in a bowl, then kneaded and rolled it with their hands.
Lofing and her friends snuck a few quick bites of the treat dough, since they couldn't resist the peanut butter scent. After tasting the treats, the table of girls wanted to opt for more. If they liked the treats that much, their dogs would be sure to like them. They then rolled out the dough and cut the treats into shapes using cookie cutters. It was their first time participating in the camp.
Lofing said her favorite part about the camp was "getting to learn about the dogs and how to take care of them. Isriella Penate said the best part about the camp for her was just getting to see lots of dogs.
All four girls have dogs of their own at home, though most of them worked with other dogs to learn about obedience and agility training. Luhn had one of her dogs, Zeus, at the camp. Zeus is a young champion boxer.
Molliconi said the camp borrows some shelter pets for kids who aren't able to bring dogs in to work with. Also part of the camp is teaching the kids about the importance of spaying and neutering, as well as the options of adopting a pet.
"It's important to teach kids this age the idea that that can be a problem," Molliconi said about not spaying and neutering. "We try to give them a good understanding of dog science."
She said the camp couldn't happen without partnerships and volunteers. Mars provides many scholarships so that kids can attend the camp.
Molliconi said CNHS has been great to work with and is very accommodating.
"They're so welcoming and great here," she said.
Source: https://www.theindependent.com/life/youth/kids-work-with-dogs-make-treats-at-dog-science-camp/article_94befd8a-8636-11e8-b4e3-3fb9791820c1.html