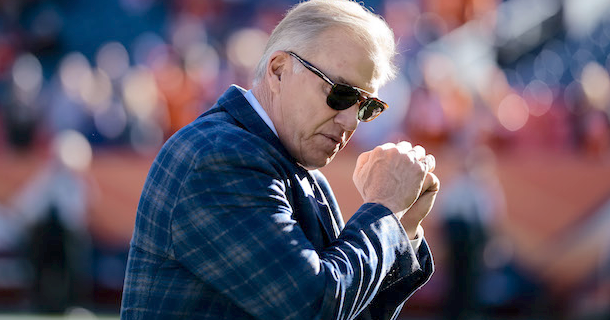 John Elway knows Aqib Talib well enough to understand the mercurial cornerback's bark is bigger than his bite.
So when Talib takes an evident shot at Elway regarding his roster tactics, the Denver Broncos general manager can deliver the perfect passive-aggressive response.
'ÄúI laughed because I knew it came from Aqib,'Äô'Äô Elway said during a sit-down with Mike Klis of 9NEWS. 'ÄúAqib was a great player for us a long time. I like Aqib a lot. But he'Äôs got his opinions and when he'Äôs the GM he can keep all the dogs 'Äď whatever that means.'Äô'Äô
For context: Talib, in a recent interview with Sports Illustrated, discussed the trade that sent him from Denver to Los Angeles this offseason, and shared a pointed message to Elway and the Broncos' front office.
'ÄúMaybe they should stop firing all the dogs,'ÄĚ he said. 'ÄúThat team was full of dogs, and now they'Äôre all gone. So, stop firing all the dogs.'ÄĚ
What's next for the Denver Broncos? Don'Äôt miss out on any news, take a second to sign up for our FREE Broncos newsletter!
Talib arrived to the Broncos in 2014, joining a star-studded defense that boasted both household names (Von Miller, DeMarcus Ware, T.J. Ward) and rising studs (Danny Trevathan, Malik Jackson), coached by arguably the game's best defensive mind (Wade Phillips). The collective talent and brainpower, having formed an all-time great unit, led the team to a Super Bowl title in 2015.
Then they disbanded. Trevathan and Jackson left in free agency in 2016. Phillips bolted to the Rams last January, his Broncos contract not renewed. Ware retired last March. Ward was cut last September, a parting of the ways that seeded discontent in the Broncos' locker room.
Elway isn't necessarily gleeful about the mass departure of talent, but he knows it's impossible to keep such an expensive core together in the salary cap era.
"Obviously, we had a lot of good players and we were so good on defense,'' he told Klis. "I'd have loved to keep everybody. It would have made my job a lot easier if we can keep everybody together all the time. But with the players and money that's involved, it's very difficult.''
Those left employed understand the nature of the business — and what's more, recognize Denver's defense is still pretty formidable.
"That's my guy," Von Miller said of Talib. "He has his opinion. But we still have dogs. Chris Harris Jr. is a dog. I am a big dog."
Talib turning on Elway represents a 180 for the five-time Pro Bowler, who thanked his now-former boss after he was dealt to the Rams in March, ending a highly successful yet controversy-filled four-year stay in the Mile High City.
'Äú(Broncos country)! Thank you!'ÄĚ he wrote on Instagram. 'ÄúI have enjoyed every minute of playing for you guys. My Brothers! Thank you! I definitely will miss that one of a kind locker room. I have made lifelong friends and gained a ton of knowledge during my time in Denver. So many memories were made over the past 4 years, Super Bowl 50 being our best. Thank you John Elway for believing in me, sticking up for me, and putting me in a great position to start the final chapter of my NFL career. Denver will always have a place in my heart! No Fly Zone will go down in history! Thank you!'ÄĚ
Source: https://247sports.com/nfl/denver-broncos/Article/Broncos-GM-John-Elway-claps-back-at-Aqib-Talib-over-dogs-criticism-120167567/