[embedded content]
Coordinators come and go, schemes and themes change. And yet "There's only so many ways you can do things," Bob Shoop says. The goal for Mississippi State's newest defensive coordinator is to find those best ways for this 2018 Bulldog bunch.
Entering this second full week of preseason practicing Shoop and head Coach Joe Moorhead both believe the defense is finding its way through camp. Saturday's evening scrimmage was to provide further proof, of which the staff can speak in the days ahead after evaluating results and adjusting practices accordingly.
What Shoop knows already is encouraging. "We are setting the pace and championship standard that Coach talks about."
The careers of veteran Dogs from all classes has been anything but standardized. Most all positions players have had at least one coaching change along the way; some as many as four already. And each has been introduced to a new coordinator every January.
Yet seven-plus months' exposure has shown Shoop a roster not at all calloused by constant changes. It's almost the opposite in fact.
"The negative is really a positive, too. Because they know the game."
Now Shoop intends to take advantage of all the accumulated experiences under different coordinators, coaches, and in differing schemes. There isn't much these 2018 vets haven't seen, tried, and done. So, rather than slap down a rigid system and force-fit Bulldogs…
"We alter our scheme to what our players are capable of doing," Shoop said. "We're still identifying what the players' strengths and weaknesses are, which is an ongoing thing."
Shoop, just like Moorhead and the offensive staff, have three weeks to do the ID'ing. Two weeks really, since game prep isn't far off. There are areas where, to all outside thinking, the deals have been identified since spring. Since the bowl win, even.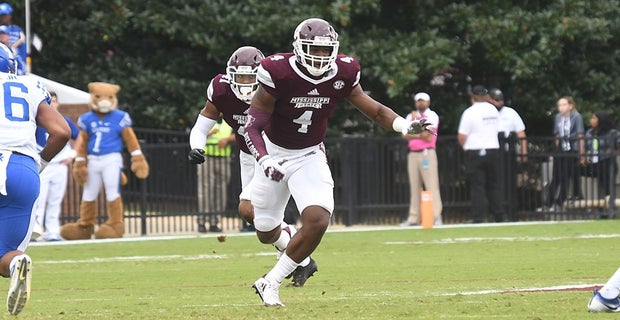 Gerri Green is making himself at home outside the tackle box on this senior season defense (Photo: Gene Swindoll, Gene's Page, 247Sports)
Such as a defensive front acknowledged as among the SEC and national elite lineups. As Shoop noted, "It doesn't take long to identify who numbers 94 and 9 are." True, tackle Jeffery Simmons and end Montez Sweat are easily ID'd as likely league-bests in their positions. The measure of the whole unit though is other proven interior big Dogs such as Cory Thomas, Tre Brown, Braxton Hoyette, belong beside Simmons.
And opposite sack-man Sweat, converted linebacker Gerri Green and end Marquiss Spencer are SEC-class performers, with redshirt Chauncey Rivers cleared at last to show his skills. These names alone make for a great front line, among the best in MSU memory. Shoop is greedy though.
"Everyone talks about the depth we have on the D-line. We have good depth that we will continue to develop over the next three weeks." All starters and subs do defer though to the main man in the middle, Shoop reminds.
"Simmons is the alpha Dog and the undisputed leader of the defense." And, the coach added, "He's very fun to coach." One would imagine the same for Sweat, who got to quarterbacks playing on a blocker last season. Now in a four-front base that lines him up on a true edge the senior should have straighter shots at passers.
Shoop certainly thanks Sweat for passing on pro ball one more year. "He's worked as hard as anyone during the off-season. Through six or seven practices, he's been one of the most dominant players on the field."
Finding depth is a larger issue at linebacker. The first three are first-class for sure with Leo Lewis and Erroll Thompson, both lining up between-tackles in a 4-2 sort of set; and true soph Willie Gay. Junior Tim Washington is backing up Thompson at mike 'backer.
After that? There are redshirts and squadmen from 2017 working up the ladder and a couple of signees who have more opportunity than usual to make an impression. Shoop though is keeping an eye on summer transfer Sh'mar Kilby-Lane, formerly of Florida State and by way of Co-Lin CC. An injury history has slowed SKL so far and he was not able to enroll for spring ball.
"But he gets the game of football," Shoop said. "He has a command and presence about him. I told him to just take a deep breath and do his thing. So far he's done a good job."
Linebacker depth concerns can be lessened a bit with the shift to a five-man secondary scheme. The nickel safety has a linebacker-like job description anyway, and a new facemask filling it. Like Rivers on the front, transfer Brian Cole was ready to play in 2017 but forced to wait a fall.
Cole emerged atop the nickel chart in spring, "And has picked up where he left off," position coach Shoop said. "But there's good competition at that position. You've got Jacquarius Landers, and Marcus Murphy, too." True frosh Murphy had the benefit of spring ball and will be in the safety rotation it seems, along with kicking teams duties. Offense, says Shoop, is off the table for the prep superstar for at least a while. In the future…?
The present of the inside safety jobs is of course Mark McLaurin and Johnathan Abram. "They create as good of a tandem at safety as there is," Shoop states. "We need to establish some depth there."
It will come from spring standouts Stephen Adegoke and C.J. Morgan, with Londyn Craft and Landon Guidry making their bids this month as well.
That leaves the other defensive side question mark(s). Not who will the cornerbacks be so much as are these cover-men of the same caliber as the rest of the lineup? Only the season can show, but Shoop is encouraged after these early working and contact days. "We've had a pretty good camp so far."
"We have several players that have played a lot. With the corner position, Cam Dantzler, Jamal Peters and Chris Rayford have all played a lot. Tyler Williams and Maurice Smitherman have had very good camps as well to get in the mix competing for playing time."
That competition continues for at least two more weeks. Maybe even into the '18 schedule, as players and revamped staff get a finer feel for each other and what works. And doesn't. Speaking of work…Shoop has been completely satisfied on that score.
Even, he said, as Bulldogs adjust to yet another coordinator and playbook. They've handled it just fine so far.
Himself? "I've found it to be very refreshing," said Shoop.
"You come here not knowing the guys, and you get to know their personalities. The blue-collar work ethic of our team is true. The student-athletes on our roster are mentally tough, smart football players with a great work ethic. That lends itself to success in the SEC."
That, and a plan for success which fits the talents along with the attitudes. Again, Shoop isn't about forcing fits and playing Dogs out of positions. Those will define themselves over time. There is though one absolute context for success to Shoop.
"What is non-negotiable about our scheme is that it's built on a pursuit of never-ending pressure. It's not about bend-don't-break or read-and-react, but it's about attack."
Source: https://247sports.com/college/mississippi-state/Article/Mississippi-States-2018-defense-is-on-an-attack-track-for-coordinator-Bob-Shoop-120616693/