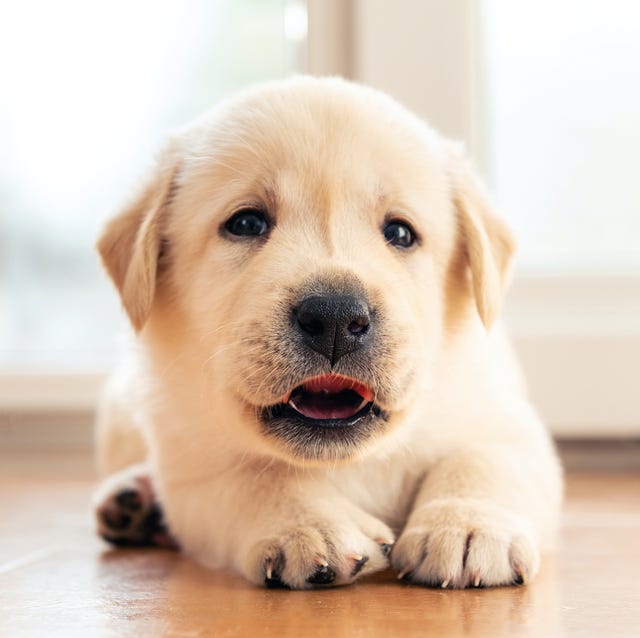 Stefan Cristian CioataGetty Images
House training your new puppy is about patience, positive reinforcement, forming good habits and consistency. Many puppies aren't house trained when you first bring them home, so there is lots to teach them.
"Puppies are exploring their new world, which is fun, exciting, and full of incredible smells, flavours and textures so they want to try everything," an expert from the PDSA tells Country Living.
"It's important to understand that nothing is sacred to a puppy and they could show interest in furniture, clothes, shoes, toys, even ornaments. Puppies don't understand what is good or bad for them, or what they should or shouldn't chew."
Keep reading for everything you need to know about house training a puppy…
Tip 1: Dog-proof your home
Puppies can get into all sorts of things, from rubber bands to cleaning supplies, so it's important you dog-proof your home to remove temptation. Place all of their toys into a personalised storage box so they know where to find toys, blankets and chew bones.
"Take everything up a level out of reach of your puppy, like you would with a crawling baby, and consider baby gates to keep them out of certain rooms where hazards may lie," the PSDA say.
"This way your precious pup won't get themselves into trouble for chewing the wrong thing. Provide plenty of pet safe toys, and direct them to what you want them to play with and chew."
Tip 2: Reward your puppy
Praise and reward will motivate your puppy so they continue to repeat their good behaviour. Whether it's their favourite treat or a game in the park, training with positive reinforcement teaches your dog that good things happen when they make a good choice.
"Training is really important for you and your puppy's long term happiness together," the PDSA say. "The key to training puppies is to reward them when they do something correct and to brush over mistakes, which helps them understand how you would like them to behave."
Tip 3: Don't be afraid of the word 'no'
Dogs might not be able to make sense of a full sentence, but they will soon learn what words such as 'sit', 'walk', and 'dinner' mean. When it comes to house training your furry friend, the PDSA explain the important of the word 'no'.
"You don't need to shout or scare them but a firm 'no' can make them sit up, listen and pause whatever they're doing that could be dangerous for them. Teaching them the command 'drop', rewarding them when they give up the item can be very helpful now and in the long term as even older dogs can try to eat things they shouldn't. Training classes can be really helpful for bonding and learning to work together."
If you are still struggling to train your puppy, training classes can be really helpful for bonding and learning to work together.
This content is created and maintained by a third party, and imported onto this page to help users provide their email addresses. You may be able to find more information about this and similar content at piano.io
Source: https://www.countryliving.com/uk/wildlife/pets/a40372547/how-to-house-train-puppy/