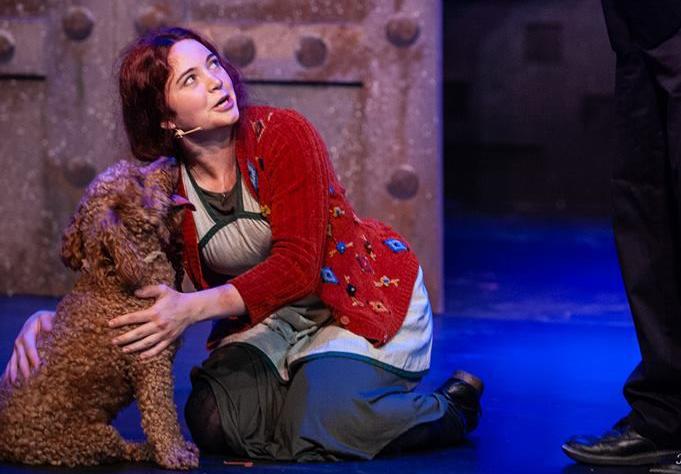 KEARNEY 'ÄĒ Hannah Geisz needed to create a special relationship with one of her fellow cast members.
'ÄúIn order to train Remy to have a special bond with Annie, I spent a lot of time with him, basically taking him on walks, kind of having 'Äėpuppy time'Äô to the point that he would recognize me on par with his owner, Judi Sickler,'ÄĚ Geisz said.
Director Steve Barth restricted contact with Remy by the cast to help reinforce the bond with Geisz who plays the lead character in Crane River Theater'Äôs musical, 'ÄúAnnie.'ÄĚ
'ÄúThat way Remy would know that he could only come to me for attention or treats,'ÄĚ Geisz said.
In the well-known musical, Remy portrays Sandy, Annie'Äôs trusted canine companion. The dog first comes on stage during the song, 'ÄúTomorrow.'ÄĚ
Geisz uses liver treats as a reward for Remy, treats that the human performer describes as smelling 'Äúreally, really bad'ÄĚ that she gets all over her hands.
'ÄúAny time I made a fist with my hand, that meant I had a treat for him and he should come to me,'ÄĚ Geisz said. 'ÄúDepending on the night you come to the show, I can sometimes get him to shake hands or roll over, but typically the scene where I sing 'ÄúTomorrow'ÄĚ is dictated by his whims. He'Äôs a bit of a diva.'ÄĚ
The final four performances of 'ÄúAnnie,'ÄĚ presented by Crane River Theater, continue at 7:30 p.m. today through Saturday and 2 p.m. Sunday at the Merryman Performing Arts Center.
Tickets for the production are $24-$32 for adults or $12-$16 for student K-12.
The story follows the adventures of Annie, an orphan searching for her parents 'ÄĒ and, ultimately, searching for love and acceptance in a sometimes harsh and cruel world.
Remmington 'ÄúRemy'ÄĚ Scott Sickler, which is a mini goldendoodle, plays the part of Sandy. His owner, Judi Sickler, appears in the musical as the character Frances Perkins.
For the most part, Remy ignores the audience.
'ÄúHe'Äôs knows that they'Äôre out there but because they are beyond the stage he isn'Äôt interested in them,'ÄĚ Geisz said. 'ÄúNormally, I'Äôm supposed to tire him out before the show so he only has energy to come to me and sit down, rather than run around and explore.'ÄĚ
The success of that strategy varies from night to night.
'ÄúThe director, Steve Barth, didn'Äôt really want the focus of the scene to be on Sandy,'ÄĚ Geisz said of Sandy'Äôs first appearance in the show. 'ÄúHe knows that when an animal is on stage, that'Äôs going to draw most of the focus. Most people will be interested in that. Remy is a catalyst of hope in the story and Steve wanted to focus on the story element of Sandy entering and giving this homeless little girl a glimmer of hope for the future. He wanted it to be more than just a dog trick scene.'ÄĚ
When Geisz took the role, she didn't know she would be responsible for any dog training.
'ÄúI knew that there would be a real dog on stage, but I had never trained a dog before,'ÄĚ she said. 'ÄúIt was definitely a learning experience and a very rewarding dramatic experience because, as an actress, it is very easy to fall into a rhythm and stick with something you think has worked before. A dog or other animal makes the perfect scenic partners because you never know what they'Äôre going to do.'ÄĚ
That spontaneity requires Geisz to think on her feet.
'ÄúYou have to remain alert and in character and in the story rather than just go through the motions,'ÄĚ she said. 'ÄúRemy is a real dog and Annie is interacting with a real dog and rather than taking it all for granted, having a real dog on stage definitely ups the stakes for everyone on stage.'ÄĚ
As the oldest of four children, Geisz describes herself as the 'Äúpractical child.'ÄĚ She did not want a dog even when her siblings did.
'ÄúToo much work, too much money 'ÄĒ I was very anti-dog,'ÄĚ she said. 'ÄúMy siblings were the ones who would draw pictures and put them under my parents'Äô pillows. They wore them down. One morning my siblings jumped on my bed and say, 'ÄėWe have a dog! We have a dog!'Äô I didn'Äôt believe them. I went to the kitchen and saw my father holding a puppy and I knew it was all over.'ÄĚ
Geisz studies musical theater at Millikin University in Decatur, Ill. She spent a semester in London performing and studying at Shakespeare's Globe Theatre. This is her first time working with an animal on stage.
At the end of the production, Geisz predicts that parting will be difficult.
'ÄúRemy is a very open-hearted dog,'ÄĚ she said. 'ÄúWhen we'Äôre on stage, its very clear that I'Äôm a favorite of his. You'Äôll probably notice that Remy is very well-taken care of and well-loved. They have said that if Remy starts getting rowdy, they will Skype me and have me talk to my Sandy and calm him down.'ÄĚ
Source: https://www.kearneyhub.com/news/local/he-s-a-bit-of-a-diva-annie-actress-discusses/article_ce1894dc-9668-11e8-bd1e-bb307d4c2820.html