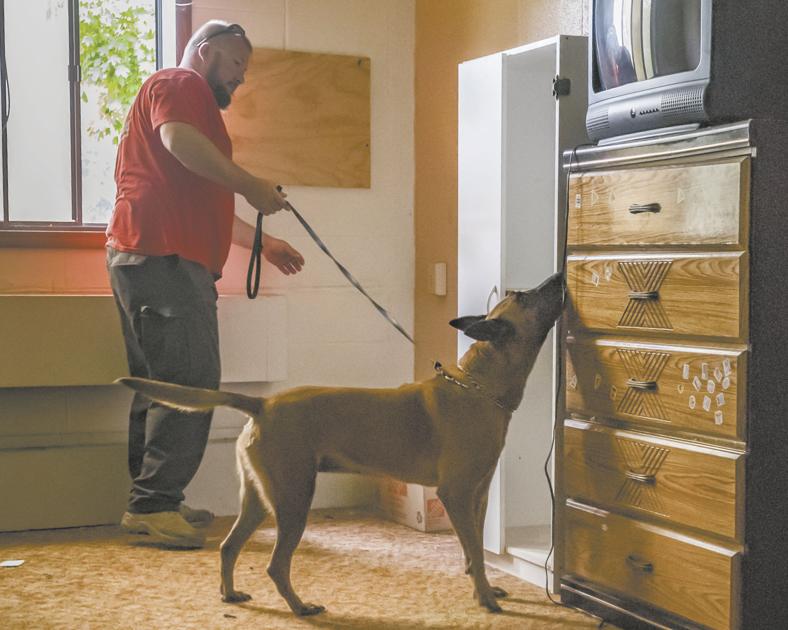 DENVER, Indiana 'ÄĒ Nose to the ground and deep in concentration, Kimba sniffed her way through multiple rooms filled with dressers, sinks and other furniture items on Monday with one specific goal in mind.
Find the drugs. 
It's a scene that Kimba has encountered numerous times in her career as a dual purpose patrol K-9 with the Cass County Sheriff's Department, but this time was different. 
This time, Kimba and her handler, CCSD Deputy John O'Connor, were competing against several other K-9s and their handlers from across the world. 
It's all part of the 19th annual K-9 Olympics, taking place until Aug. 24 at Vohne Liche Kennels near Denver.
The week-long event is headed up by VLK's owner and chief canine trainer, Ken Licklider, who said the idea for the Olympics began when he and a friend got together and wanted to create an organization for the average working dog handler in the Midwest. So the pair began the group American Working Dogs in the Muncie area, and the first K-9 Olympic games took place there in 2000.
Since then, the K-9 Olympics has grown to around 100 K-9s and their handlers, representing four continents, six countries and 40 different states, Licklider said. 
"You're not going to get this much training in a week anywhere else," he said. "You're going to pick up things here that you wouldn't anywhere else, and the judges are the top trainers in the United States and overseas."
The dogs and handlers have the opportunity to compete in 32 different events throughout the week, Licklider said, including bomb detection, obstacle courses, tracking, building and area searches and more.
Cass County usually sends numerous K-9 units over to compete in the Olympics every year, and this year is no exception. 
Along with O'Connor and his Belgian Malinois, Kimba, CCSD Deputy Ryan Preston, Logansport Police Department Sgt. Travis Yike and LPD Patrolman Mark Van Horn are also competing this year with their respective dogs. 
And although mingling with and bouncing ideas off of K-9 units from across the globe is beneficial, perhaps the best part of the K-9 Olympics is the overall training each team receives during the week, O'Connor said. 
"It gives you a whole new confidence to work on the road with your dog," he said. "The biggest thing they tell you is to trust your dog. Doing something here will make you trust your dog because during our training, we may set stuff up and generally know where it's at. But here, we don't know where anything's set up, so you just have to trust the K-9."
For Preston and his Malaherd, Zeno, this Olympics week is a brand new experience. The pair have only worked together for about nine months, but Preston said he's already received praise from judges for how well the two seem to work together. 
Preston credited that chemistry to continuous training, saying that events like the K-9 Olympics only help to strengthen that relationship. 
"Something like this, it makes me feel good because Zeno knows exactly what he's doing," he said. "And this is where your training really pays off, because it is constant training. You really do learn something new about your dog all the time through things like this. Some of these guys have been doing this for 15-20 years, and they'll tell you they're still learning new things."
One of those Preston was referring¬†to is Yike, who has competed in a total of nine K-9 Olympics 'ÄĒ the fifth one with his Belgian Malinois, Bronco.¬†
So what keeps Yike coming back year after year? 
It's the challenge, he said. 
"It's just about the ability to come here and compete," Yike said. "There are 100 plus dog teams here, so it's the chance to come here and challenge ourselves in what we've done throughout the past year. But it's also about team building. Not just with our dogs, but we also get to meet different people and share ideas."
Like O'Connor and Preston, Yike said it's rewarding when he sees Bronco succeed at one of the many events held throughout the week, knowing that all the behind-the-scenes work has paid off. 
"We don't know what's behind a door until we get behind that door," Yike said, "so we don't know what to expect until we get in there and watch our dog work. It all goes back to the training and time we put in. Throughout the month, you have so many hours of training, and a lot of that is done in our own time. So when he does well, yeah, it's great."
And because the handlers and their K-9s are with each other for hours on end, the Olympics also allow for some good bonding time, Van Horn said. 
"I think the best part of all this for me is just spending the whole week with the dog," he said, referring to his Malaherd, Mattis. "When we're on duty, they're in the backs of our cars the whole time, and so to actually be working with them the entire week, that's pretty beneficial to both of us."
Because contrary to public opinion, police dogs are actually pretty social animals, the officers said. They may sniff out narcotics or bombs for a living, but they also love playing with tennis balls, pats on the back, belly rubs and spending time with their humans. 
"That's just such a huge misconception," Preston said. "People think these are vicious dogs because they have 'police' in their names, but they're also family dogs."
O'Connor agreed, using Kimba as an example. 
"People always think these dogs are aggressive, but Kimba is the friendliest dog we have on our department," he said. "Anybody can come up and pet her, and she's just fine."
O'Connor continued. 
"People have this big thought that these dogs don't have a family life, but the dogs go home with us every night," he said. "They think we just take the dogs and stick them in a cage at the department, but that doesn't happen. So because they're family, you get very proud of your dog here. When they do really well, it's just a proud moment because you know not every dog can do that."
Reach Kim Dunlap at kim.dunlap@pharostribune.com or 574-732-5150.
IF YOU GO:
What: K-9 Olympics
When: Daily events beginning at 8 a.m. now through Aug. 24
Where: Vohne Liche Kennels, 7953 N. Old Rte 31, Denver
Source: http://www.pharostribune.com/news/local_news/article_14e60620-a4d2-11e8-93de-ef894d3cc458.html