Mississippi State's offensive coordinator and wide receivers coach is pushing his position crew to throw themselves at defenses with the same vigor as any blocker or runner. "The physicality of our football team will be the definition of our offense," Getsy said.
This means getting physical out on the end(s) of the action, whether laying down a block for somebody else or busting out of a tackle for extra yards. It's a mentality Getsy has brought from the NFL to campus, and fits just fine with Joe Moorhead's philosophy in all aspects.
This doesn't mean finer points of route-running and pass-grabbing are afterthoughts during preseason. Getsy has a lot, a lot of Dogs to work with and only a few weeks to settle assignments and status. Moorhead has gone on record saying he prefers to let the best get the most snaps without unnecessary rotations.
Getsy gets it, as said during the post-Tuesday practice interview.
Can you give a progress report from the first four practices? "I think it's what you said. It's been progress. I think we've done a really good job of getting a little bit better every single day."
"It's good to see the quarterback out there taking a bunch of reps, so that obviously helps. The play style, the tempo all has been really, really good so far."
Have you seen a lot of retention from spring? "Yeah. The execution and the knowledge of the guys, they did a heck of a job this summer. They really did, I'm proud of all those guys. Because we really hit the ground running, we really did."
"Where in spring it was up and down, day to day. But those guys did a really good job and the strength staff did an unbelievable job of getting them in shape. Because they're working their butts off."
Coach Moorhead has said he doesn't like to rotate guys a lot, that there might be three receivers separate themselves. When do you anticipate that process? "Yeah, I think obviously the closer you get to the game it usually plays itself out."
"But I'm going to give these guys as much time as possible. Everyone in the group is taking one reps, everyone is taking two reps, everyone is taking three reps right now for me really. I'm just letting guys have the opportunity to get out there and prove to the rest of the team."
"They're battling, they're battling, they're doing a really good job. I mean the guys are in such much better shape right now than they were in the spring. And I like I said their knowledge of the offense is giving us a chance to execute. And you guys know, our defense is phenomenal. So we get a great opportunity to go against really good players every single day. That's just making us better, too."
What qualities are you looking for in those three to four receivers to separate themselves? "The first thing is consistency. They've got to be consistent. They've got to be able to come out every single day and perform at a high level."
"And accountability. Guys are going to have to be accountable catching the football, aligning properly, doing their assignment properly, catching the football. Like I said, our defense does a great job and force a lot of turnovers and challenge us a lot."
"So we're getting a really good opportunity to see who can withstand that and who can compete. So, consistency and accountability are the two things that are going to put somebody on the field on Saturday."
Do you anticipate some of your slot guys being used in the running game? "Yeah. That's always going to be a part of us. The physicality of our football team will be the definition of our offense."
"Everything starts up front and that mentality is going to spill across the board. We talk about it every single day."
Are you still cross-training wide receivers, or are you trying to settle some roles? "Some guys. Some guys yes, some guys no. Some guys we're just trying to give them the opportunity to find their role and find some success."
"But a few guys we're going to depend on them to be able to play multiple positions. So we're letting them cross-train. But not everybody."
Coach likes the looks of Austin Williams, do you feel the same? "He's done great. He's had a great summer, he's in great shape. A smart kid and as hungry as anybody in that room. He wants to learn ball. And he's done a great job of asking questions and wanting more meeting time, wanting more film things to watch."
"I mean he is a student of the game, you can't have enough guys like that. He's been a great role model and as a young guy, for everybody else in the room how to study. He's been awesome. And on the field he's as tough as nails, too. So we can win a lot of football games with guys like that."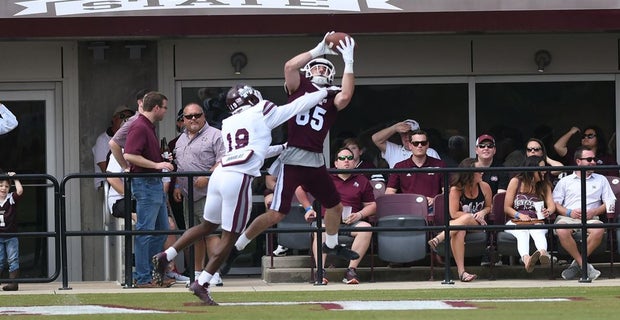 Have you seen Devonta Jason and Stephen Guidry taking strides to get towards the top? "I was really proud of them coming into this thing. For two guys that just entering the program, trying to figure out Mississippi State and Starkville, and then having to learn a new offense? I was really proud of where they were when we got here."
"It was a pleasant surprise I'm sure because they're new guys and they have a lot to learn. And when I got here for the first day of camp those two were ready to rock and roll."
Where are Malik Dear and Keith Mixon right now? "On their way. I really do think both of them, honestly from day-one to right now have gotten a whole lot better. I think they're both starting to get a little bit more comfortable and trust in their body."
"By no means are they ready to rock and roll. Could they play a game today, I'd say no. But man, they are really close now and I'm excited. Their attitudes have been awesome and they're fighting their butts off to get on that field and it's pushing everybody. So its been really fun."
Source: https://247sports.com/college/mississippi-state/Article/Mississippi-State-receivers-Coach-Luke-Getsy-sees-early-preseason-progress-120484333/