Woof. Woof. Arf. I'm sad. It's August already. Where did the summer go? It seems like only yesterday I was watching the mini-humans get off the school bus to begin their pawsome summer.
It's been fun to watch the mini-humans on the corner sell lemonade, for a few pennies, to thirsty walkers and runners. I've loved getting delicious treats from a few mini-human friends, and watching the mini-humans next door playing house in the backyard dirt among the trees and running the fence with their dog. The mini-human, a few doors up, finally mastered the skateboard without serious injury. A few mini-humans learned how to walk their dogs somewhat appropriately this summer. I have enjoyed every minute of it.
But, Woof. Woof. Arf. Things change. So it's soon going to be off to school for the mini-humans. Barkingly, remember if you have mini-humans and a dog in your home, this will be a time of adjustment for everyone- yes, including the dog. Paws, If the dog enjoyed their time with the mini-humans, they will really miss them when they head to school, which could cause some separation anxiety.
Arf, a few signs that indicate your dog might be struggling with missing the mini-humans are: Fido getting into stuff he didn't before, waiting by doors or windows for extended times, chewing objects, disobeying common known commands, having accidents in the home and even trying to follow their mini-humans, which can lead to fence jumping and escapes through the door.
Paws, to make it less stressful on Fido, you need to let him spend a bit of time away from the mini humans so he'll get used to them being away instead of it happening all at once. Buy a few new toys to distract Fido and keep him busy, especially, the first week of school. If your mini-humans did a lot of the walking, playing, and exercising, you will need to pick up where they leave off. Make comings and goings as quiet and as calm as you can. Provide a special treat for the dog when leaving and upon return. Barking, be sure to reward good behavior.
Barkingly, on the first day of school, if you walk your mini-humans to the school bus stop, pawlease leave your dog at home. WOOF, there are enough crazy distractions for the school bus driver without adding a dog to the mix. Some dogs don't comprehend it's alright for their mini-humans to get on the bus and could try to follow them. The dog could get overly excited about the goings-on and pull his leash out of your hand running under or near the bus pawssibly causing injury or even death. WOOF! The same would be on the return trip home.
WOOF! With some planning and with the family working together, back-to-school will be less stressful for everyone, including Fido! Have a pawsome school year my mini-human friends!
Over the next few weeks, I will be introducing you to several of my human friends who like to write about dog and cat adoption. Don't worry; I don't plan to go anywhere! WOOF!
My friends from Homeless Animals Rescue Team brought a few dogs for you to meet.
Missy
Meet Missy, a beautiful 13 years old cat who is neither declawed, nor friendly with dogs or other cats. She is good with older mini-humans. If you love the fluffy things in life, you'll love Missy. She loves cuddling and snuggling, giving lots of head-butts and purrs. She is looking for a family to love in a quiet home.
Sweety
Sweety is around 1 year old, is not declawed and is friendly with dogs, cats, and mini-humans. A sweet, gorgeous cat with stunning green eyes, Sweety is looking to be adopted after raising her kittens.
Arrow
Arrow A is a beautiful Heeler mix about 1 year old. She is friendly with other dogs and has no history with cats or mini-humans. Always ready for an adventure. Exploring the outdoors is a pawsome favorite! She loves cuddling and giving kisses! She wants a family who will take her on long walks and have lots of playtime!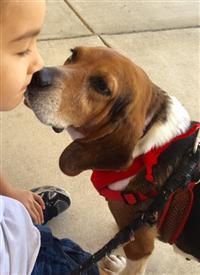 Betsy 
Oh my barks! Betty N is a supermodel beautiful, 5-year-old beagle mix. She's friendly with other dogs, except pawssibly at mealtime. She is friendly with mini-humans and maybe friendly with cats. She is a pawsitively loving dog. She is crate-trained and working on her house training and manners.
Contact Homeless Animals Rescue team for more information at http://www.hart90.org, 703-691-HART, hart90office@hart90.org
About Me:
Noah writes about dog/cat adoption, humor, dog adventures and facts about dogs and cats at www.fromthedogspaw.com. He is Dog to his human, Allen Pearson, Dog Photographer and Writer, www.allenpearsonsphotos.com, www.facebook.com/AllenPearsonsPhotos, www.instagram.com/fromthedogspaw, www.facebook.com/fromthedogspaw.
Source: http://www.fairfaxtimes.com/articles/from-the-dog-s-paw-can-you-take-me-with/article_a850557c-9bf5-11e8-ab10-5b330c318d4e.html