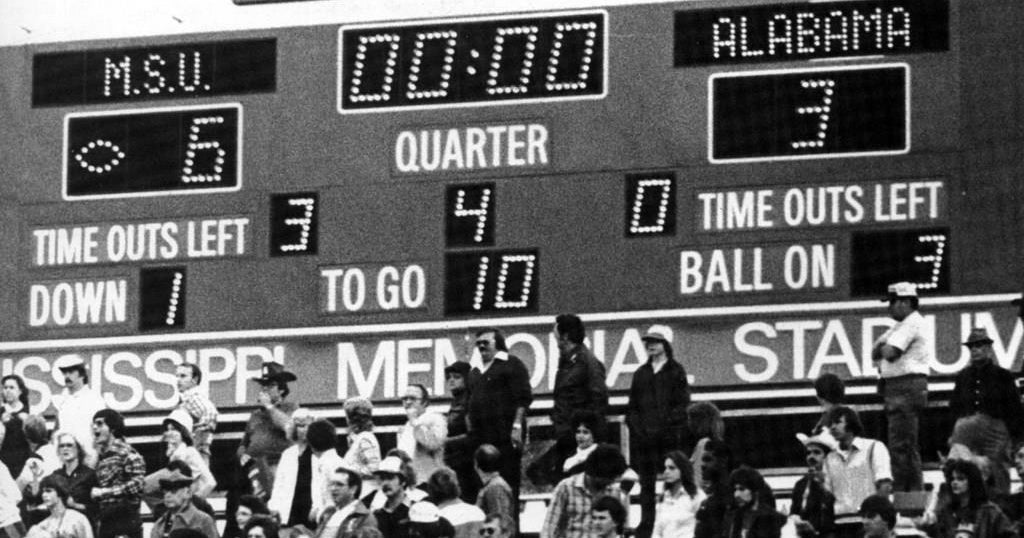 Thanks to a generous invitation your Editor had the unexpected privilege of attending last Friday's pre-season gathering of M-Club members. Let me tell you something. For all my years in this Bulldog business, all the names and games, there was still something special about being allowed into such elite company.
Without a recorder or camera, too. It's entirely likely some generations of Mississippi State players and coaches can only recognize this long-time scribe with a Nikon glued to face, or chattering into a plastic box what just happened on 3rd-and-eight with a full count and 0:32 left in overtime.
No, this was not a working evening. It was for fun and by the good graces of M-Club officers Jan Gwin and Bill Maxey and others Yer Editor was allowed entrance. So was Cathy, whose perspective as new-to-MSU sports offered an even broader perspective of things. My humble thanks to all of you who made her feel right at home. Of course I'd already warned her not to take anything Johnie Cooks said seriously.
Nor was one-time student trainer Mike Skipper, now a SEC football official, allowed to speak about some of those long-ago women's basketball road trips when somehow the traveling cheerleaders would end up in our rooms. It sounds like more fun than it really was, trust me, Dear.
She was also interested at a gentleman who'd come straight to the dinner from watching practice and wearing the same floppy baseball-logo cap I'd bought for her last spring. That, folks, was none other than arguably the truest living legend of our former player lot, D.D. Lewis himself. Wish I'd had time to ask what he thinks of this 2018 Bulldog defense.
Lewis and Cooks…isn't it telling of our program's history that two of the inaugural Scott Field Ring of Honor Dogs are linebackers? Speaking of such, Dr. Daniel Boyd certainly looks the title with those glasses, eh?
Darn. I truly did not want to start listing names on the sound principle that there isn't enough room here and leaving off good friends and great names is risky. I also fully agree with you fans, that these men—and we hope increasingly women, as Chinwe Okorie was present too—are why a Jones County farm boy has been able to make a good living 'working' Mississippi State ball games.
I will say it was more than a bit unnerving that our seats were at the same table with none other than Jackie Sherrill and Jim Ellis. Flattering, for sure, but in such company one quickly feels out-of-place. I'd have fit in better with the serving staff.
Speaking of which, it was a fine touch that the recognized couple of the evening were Jerry Devine and wife Zelma. My media peers don't or never knew it but they enjoyed Jerry's game-day fodder back in those days when we got to join Bulldogs at their training table. The couple have 74 combined years serving Mississippi State and that's worthy of a chromed cowbell by any measure.
So. You ask, what's the point to this piece if not to drop names and tell Johnie Cooks jokes (which is obligatory, as Rob Fesmire, Michael Haddix, and more peers of that reminded)? It's not to broadly solicit support for the M-Club per se since the criteria are clear enough.
It is to tell the larger Bulldog Country public that this group of varsity lettermen and –women is looking for a larger purpose.
Talking this morning at football practice with one of the current leadership, I had to ask: what is the over-arching concept for the M-Club as it is now and in coming years? For one thing the Club would like to be more than a loose game-day gathering. This isn't a critique on how things have operated before, understand.
It's more a recognition that letterwinners' clubs can evolve a bit beyond a buffet line and end zone window on the action. That they can and need to assemble often as practical, and share experiences and ideas beyond just their own team or sport or era.
This needs some 'splaining I guess. My mention of the old training table points out that once upon a time most athletes of all sports abided in the same dorm, ate the same meals, got treatment on neighboring tables and were taped-up by the same staff. Primitive, sure. Today's specialization allowed by mega-budgets, expanded facilities and staffs is a Good Thing for the individual athletes and teams. Nobody wants to go back to old days and ways any more than I want to go back to printing b&w photos and slapping waxed strips of copy on a page.
But. Something has been lost. Athletes don't mingle with their peers in other sports and classes nearly so much for one thing. Much less attend their games/matches as, no exaggeration, there just isn't the time left in a fully-booked Bulldog day. Back in the day not only did the tennis team know who Bailey Howell was, Bailey knew them in-turn as well. Such common connection is rare now.
Also, and this is for a number of cultural and generational reasons, we all realize that for a couple decades now athletes far, far more identify with their coach than the school. This again isn't a critique, just reality. Getting these Dogs to come back to campus for much of anything is rare enough. Having them involved regularly in the M-Club?
This showed in the gap of generations represented Friday. But what Bulldogs of recent decades need to know from current leadership is today's M-Club is not some Old Dogs' club. Former yes, and there are certainly old timers around with tales to tell that would boggle the minds of youngsters who think they know what wild times can be. Enough along THAT line.
Well, other than to suggest I do wish veterans (survivors?) of the legendary Southernaire would get together, go on-tape since most statutes-of-limitations have expired, and give all the gory details for posterity. I doubt even J.B.'s adventures across the county line in the early 80s can compare…
The point then being, any of y'all who earned your M and for whatever reason can't or don't participate, give it a try. Give them your time and input, too. This is no slur at all on former direction, rather a signal of trends to fit the changes in how alumni and fans and yes former athletes inter-act with their alma mater. And, it's to be hoped, each other.
One other item from Friday which relates nicely to this line was the slide (kids, ask elders) show of Bulldogs from generations either historic (nice way to say it) or recent. From Orange Bowl champs to the latest Orange Bowl participants, for example. Or Bailey's years to Morgan William's shot heard 'round the college world in the '17 Final Four. And Paul Gregory's Omaha team to Jake Mangum on the fly.
But…it didn't stop there. Shots were scrounged of Bulldogs in and out of uniform mixing and mingling with children.
Signing autographs, posing for pictures, slapping paws with pups lining the stadium front row. I tell you, much fun as we make about grandpas or –mas begging snaps with a current athlete, there's nothing like watching a wide-eyed kid meeting a Dog demigod face to face and made to feel one of the team.
Or maybe I'm still just an old softy for such stuff. Either way, and allowing that odds any of those tykes ever suit up in a Mississippi State uniform are slim, today's athletes can do as much to recruit tomorrow's student body as marketing plan or manufactured mascot. No, that's not taking any cheap shots at what's happened up the road.
So recruiting varsity letterwinners to stay involved with their peers, of all generations, is part of extending a Bulldog legacy as well. And remember, guys and gals who wore the uniform: in the M-Club everyone was/s a winner.
I sure as heck won't mention any final records.
Source: https://247sports.com/college/mississippi-state/Article/Mississippi-States-varsity-letterwinner-club-watches-the-2018-Joe-Moorhead-Bulldogs-work-120648566/