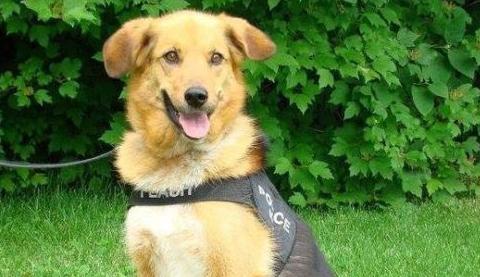 YAKIMA, Wash. — A retired Yakima police dog is American Humane's Law Enforcement Dog of the Year.
Flash, a 14-year-old German shepherd-Australian cattle dog mix, was selected by voters as part of American Humane's Hero Dog award contest.
She now moves on to the finals for Hero Dog of the Year, which will be announced in September. The winner be honored at a Beverly Hills, Calif., gala.
Flash, who was picked up as a stray in Everett, started training as a drug-detection dog in 2005, a day before she was due to be euthanized in a shelter, according to American Humane's news release.
After graduating with a 100 percent score, Flash worked with the Yakima Police Department until she was retired in 2013, racking up more than 2,200 narcotics-related finds and seizures.
When she was retired, she was given to her former handler, Jason Johnson, who is president of Detroit-based K-9 Solutions.
Flash inspired Johnson to create the Project K9 foundation in March 2016 to provide medical care, food and other expenses for retired police and military dogs.
Flash is also the subject of a children's book about her life that Johnson wrote as a fundraiser for the foundation.
Source: http://www.yakimaherald.com/news/local/former-yakima-police-dog-named-law-enforcement-dog-of-the/article_1ffc7434-9052-11e8-805b-27672402bbb9.html