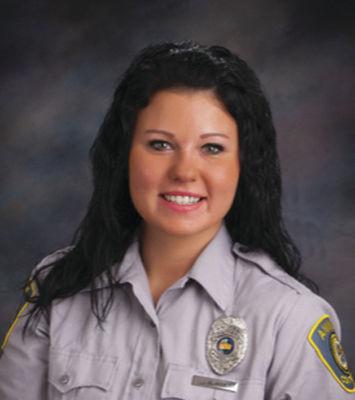 MICHIGAN CITY – In the six months that Julie Holbrook has worked as an Animal Control Officer for the Michigan City Police, she has responded to a lot of calls for a dog left in a hot car. But none like this.
"When I showed up there that day I was expecting to save a dog from the heat and write a citation," Holbrook said. "I never expected what I found. And it broke my heart."
Just over a week later, a homeless woman has her dog back, and what could have been a tragic situation has a happy – but still bittersweet – ending.
About 12:40 p.m. on July 13, Holbrook responded to a report of a dog locked in a minivan outside Healthlink at 710 Franklin St., according to a report from Michigan City Police.
The high temperature in Michigan City that Friday was reported at 88 degrees, but the heat index was in the upper 90s, according to Accuweather.
"The windows were down on both sides, and there was a little bit of water in the back, but the dog looked to be in some distress," Holbrook said. "So I called an officer … I'm not allowed to take a dog out of a vehicle without an officer present."
When the officer arrived, she took the small dog out and put it on a leash. "I was walking it around while the officer went into some businesses to try to find the owner," Holbrook said. "That's when a lady in a wheelchair saw me with the dog and started crying."
The woman, who appeared to be in her 60s, did not look healthy, with swollen ankles and difficulty breathing, Holbrook said. "But I told her it was very hot outside and she couldn't leave the dog in the van very long."
A nurse said the woman, who was homeless, was having respiratory problems and needed to go to the hospital.
"I asked her what she was going to do with the dog, and she started crying again," Holbrook said.
According to Holbrook, "Mary" said she had been living in the van with her dog, and couldn't go to the hospital because she didn't have anywhere to take her pet.
Holbrook said it was clear the woman "obviously loved" the 6- or 7-year-old Shih Tzu named Bella. "This was not a negligent person. You could tell how much she cared about that dog," she said.
So she came up with a better idea, though it wasn't anything in the police training manual.
"I felt bad for her, so I said let me take the dog to the kennel, not as punishment, but so she could be safe while you go to the hospital. She made me promise over and over to give her dog back, so I told her as soon as you get out, just call me and I'll take you to get the dog."
While the woman was taken to the hospital, Holbrook took Bella to the city kennel.
"Bella was in good health and had been well-fed, but she was kind of stinky and nasty," she said. "Long-haired dogs can get that way when it's hot. But she was very sweet and well-behaved. She sat perfectly still while I washed her."
Holbrook was off Sunday, but when Mary called they met at the kennel for a reunion.
"She told me she sometimes stayed at the homeless shelter, but they wouldn't let dogs in, so last winter she slept in the van to keep Bella stay warm. And she said living in the van, she has no way to wash her."
The van was clean and had a bowl and plenty of food in the back, Holbrook said. And now a special spot to rest.
Julie Sosa, one of the kennel volunteers, was there when the pair came to pick up the dog. 
"Julie had bought Bella a little dog bed, and she also arranged an appointment at the New Buffalo Animal Clinic for grooming," Holbrook said.
"She felt like me. Our hearts went out for that dog and that lady. She didn't give us the full story of what had caused her to be homeless, but she kept saying, 'Bella is my world' and 'I can't live without her.'
"She said that was the reason she could not get into low-income housing, because they charge an extra deposit for a pet."
Holbrook, who doesn't even consider herself an animal-lover, though she does own a dog, was overwhelmed. And that made her job tough.
"I get a lot of calls for animals in vehicles, at least 10 to 15 a week, more when it's hot. Some days I'm getting calls all day."
Those calls generally looking for the owner or, in extreme cases, forcing her way into the car. "I have a lock-out kit that I can use in emergency situations, like no air or water, but I have not had to use it yet. Generally it's just find the owner and issue a citation."
That citation includes a $50 fine for the first offense, $100 for the second. She is also required to check the animal's shots.
"I generally try and not be sentimental and just do my job. But I knew this lady had nowhere else to take the dog. And Bella had her shots and was well taken care of. I felt troubled for the woman and the dog."
And amazed at how much someone will do for their pet.
"She's homeless. She has literally nothing, but she still takes care of her dog. There was dog food, and Bella was wearing a pretty pink collar that probably cost $15 to $20.
"She is already dealing with so much, but there is probably nothing she would not do for that dog. They have no home, but both are loved."
Source: http://www.thenewsdispatch.com/news/article_4ba65cb4-6df5-517f-8970-9a0f11ec5f83.html