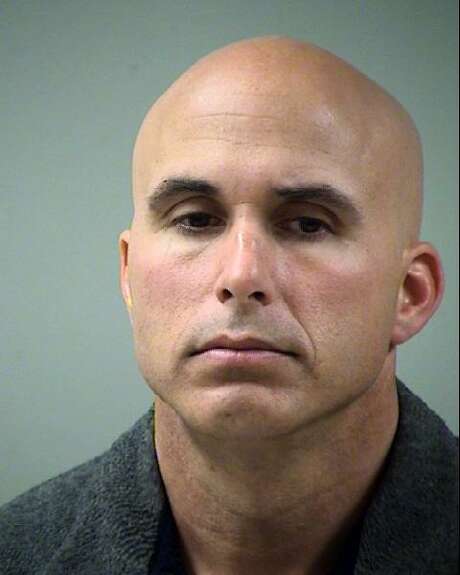 Bradley Croft Name: CROFT, BRADLEY SID #: 496848 DOB: 09/20/1971 Date of Photo: 12/05/2013
A principal operator of a canine training business in San Antonio swindled about $1.26 million from the GI Bill program by fraudulently claiming his trainers were certified and using a dead man's identity to further the scheme, according to an indictment unsealed Thursday.
Print subscribers get a password for your existing account here
The indictment said Bradley Croft, 46, submitted to the Texas Veterans Commission the names of people he claimed to be certified training instructors, but they never gave permission for him to use their names for Universal K-9's application. One instructor who was cited had been dead for two years.
Croft is charged with eight counts of wire fraud, four counts of aggravated identity theft and two counts of money laundering.
Arrested Wednesday, Croft had his initial hearing Thursday in federal court. Over the objections of one of Croft's lawyers, Tom McHugh, U.S. Magistrate Judge Henry Bemporad ordered Croft held for a bail hearing and arraignment Tuesday.
RELATED: Operator of dog training school charged with fraud, money laundering
Assistant U.S. Attorney Greg Surovic told the judge that Croft is a flight risk and danger to the community. Croft has a lengthy criminal history, which includes shooting at people and other violence and a federal conviction in the late 1990s involving insurance fraud, for which he got five years of probation, court records show.
"Over the past 20 years, he lived a life where he basically intimidated everyone around him," Surovic said, requesting Tuesday's hearing to bring in witnesses to show why Croft should not be released on bond.
Agents with the FBI, and the IRS' Criminal Investigation division raided Universal K9 at 15329 Tradesman, near Loop 1604, which is billed as a nonprofit, on Aug. 8. The business was shut down.
Of the 31 dogs found on the site, 26 were taken into custody by the city's Animal Care Services.
According to the indictment, Croft laundered some of the ill-gotten money by paying nearly $320,000 for the property on Tradesman, and $452,789 on a luxury 2017 American Eagle 45T Motorhome.
The indictment also puts him on notice that prosecutors intend to use forfeiture laws to keep a 2018 Ford F-150 King Ranch Lariat, a 2017 Dodge 1500 Laramie, two jet skis and a 2012 Rocket International Trailer that were seized during the raid. Some of the vehicles were registered under his teenage daughter's name, and not his own, public records show.
Croft's business has had a variety of spellings of its operating name, including Universal K9, Universal K-9 or Universal K-NINE, the indictment said. Universal also billed itself as a non-profit, providing dogs it obtained from pet-rescue organzations to police agencies.
Some of the dogs were used in the training program, which targeted military veterans. The indictment said Universal offered two courses: the K-9 handler dual-purpose detection program for $6,500 and a trainer/instructor program that charged $12,500.
According to the indictment, in 2013, Croft began the application process with the Texas Veterans Commission to obtain certification to allow Universal K-9 to receive GI Bill educational benefit payments for providing dog handler training. In October 2015, Croft emailed several documents to the commission containing the names of four people who were purported to be instructors for Universal K-9 classes for which Croft was seeking approval to obtain GI Bill benefits. They are listed as victims 1-4 in the indictment.
The application also included training documents purporting to show the training and certification of each of the instructors.
RELATED: After K9 school raid in San Antonio, other groups step up to help veterans and their dogs
"In fact, none of those individuals had granted Croft permission to use their names and were not working as instructors at Universal K-9 in the classes described in the application," the indictment said. "In the case of Victim 1, he had died two years prior to the submission of the application for approval and therefore could not have been a trainer for Universal K-9."
Based on the documents, the TVC granted Universal approval for participating in the GI Bill program.
Croft and others, who are not charged, then solicited veterans as students for the dog-handler course, indicating that veterans could use their GI Bill benefits to pay for the course. Croft and the others would enroll veterans in the course and submit enrollment records to the VA for payment, knowing the approval of the training had been fraudulently obtained, the indictment said.
Between 2016 through the date of the indictment, Universal filed approximately 185 claims relating to the education of 132 veterans, totaling $1.26 million, the indictment said.
If convicted, he faces up to 20 years on each count of money-laundering and wire fraud and two years on each ID theft count, consecutive to what he may get on the other charges.
Guillermo Contreras covers federal court and immigration news in the San Antonio and Bexar County area. Read him on our free site, mySA.com, and on our subscriber site, ExpressNews.com. | gcontreras@express-news.net | Twitter: @gmaninfedland
Source: https://www.expressnews.com/news/local/article/Feds-Operator-of-dog-training-school-used-dead-13178099.php