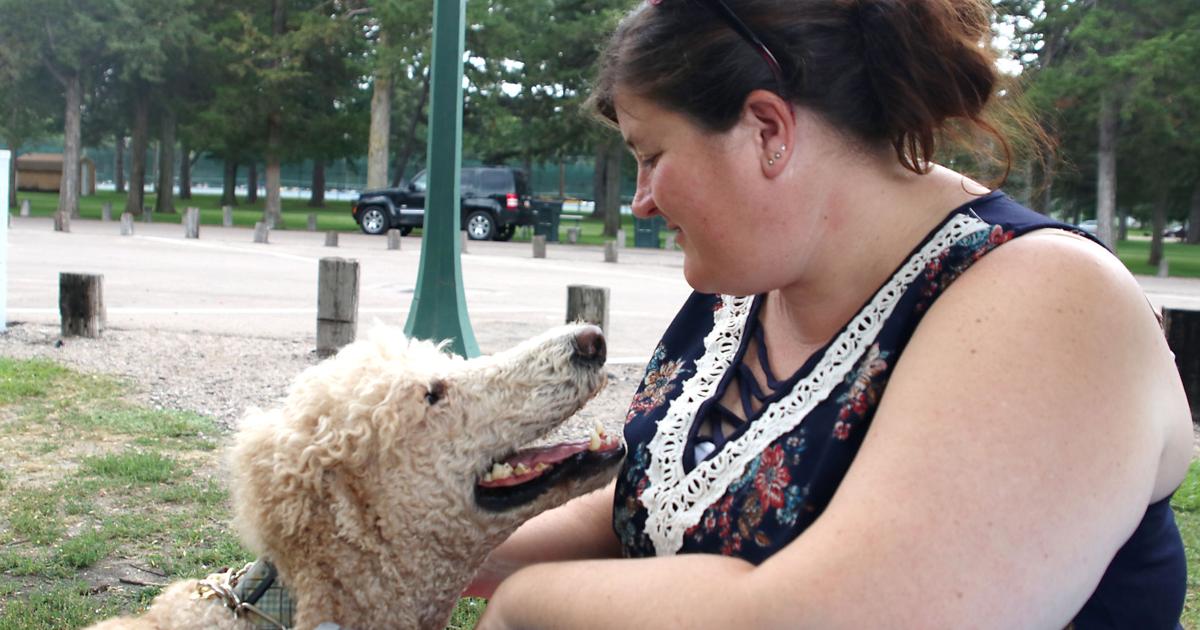 "It's time to go to Woofstock, so be on your best behavior," you tell Rover.
Your dog tilts his head at you and cocks an ear. He's such a good boy.
But if you've rarely taken Rover in public, or he's used to a life cuddled up with you on the couch, he may not know how to be as charming once he's out and about with other good boys and girls.
Or, if you're taking your kids who don't know a stranger but haven't met many other dogs, their good intentions may also mean trouble.
We talked to Marsha Seck, who has owned Platte Valley K9 Training for 5 to 6 years, and Amanda Lott, who also trains dogs and helps 4-H students in their dog training. Here's their obedience tips for socializing dogs, being social with dogs and socializing your kids with your dogs:
» Work with your dogs as soon as possible, and as many places as possible.
Take your puppy in public when they're about 4 months old, after they've completed vaccinations. Before this mark, bring them around people whose dogs you know are healthy, Seck said.
"I want to expose them to everything as much as possible," Seck said.
For her dogs, this includes introducing them to slick floors, grass, benches and even playground tunnels — to show the dog what an enclosed space feels like.
For Lott, this means teaching a dog everything you don't want them to do as early as possible. If you don't want your adult dog jumping up on you, it can't be cute as a puppy trait, she said. This can go as far as not sharing a bed.
When socializing your puppy, take him to non-busy places to begin with, and take him in short doses, Lott said.
Learn what pet-friendly places exist in your community, and use such places for outings.
In North Platte, Orscheln Farm & Home and Tractor Supply are among the pet-friendly businesses.
Commands like, "quiet," or "leave it" are quick and to the point, Seck said.
"You're not going to say, 'leave that other dog alone!'" she said. "They don't process like we do. They don't conjugate their sentences."
» Be aware the surroundings.
Watch for the stroller ahead of you or be aware of the bicyclist coming up behind you. When another dog is nearby, it's on both dogs to be obedient, Seck said.
"It's not cute for little dogs to be barking at big dogs," she said, adding that the behavior still comes off as aggressive. "It's just not."
Never pass off your dog becoming aggressive as, "oh, they're just playing," she said. "You have to be in control of the situation."
Lott said to also keep a safe distance. When she works with therapy dogs, this standard is about 2 feet away. In many situations, what a safe distance amounts to increases, not decreases, she said.
» Know your dog, their boundaries boundaries and their equipment.
Some dogs walk great on harnesses, but some dogs want to pull more on a harness, Lott said.
In public, don't use the leashes that let you push a button to extend the distance, and push it again to shorten it. This actually give you less control of where your dog can go, she said. Avoid these, and just bring a standard leash.
Above all, "know your dog," Lott said. "Know their boundaries."
» Make the kids obey. Make the dogs obey.
When Lott's son Andrew, now 5, was first born, she and her husband had a border collie.
"We had to teach her not to touch," Lott said. With patience and willingness, "even older dogs can learn," she said.
As Andrew grew older, his parents taught him lessons such as not pulling ears. They eventually brought home their poodle, Pete, so the parents now had two young ones who needed to learn obedience.
When dogs do become agitated or nervous, feel free to separate them from the child, and don't be afraid to use a crate — erhm, for the dog.
While crates can look like cages to some people, this is the dog's own space, Lott said.
"To them, that's like their den. It kind of brings out their pack/wolf instinct."
Crates can also keep a dog content during the day while her humans are at work, when Rover may destroy the house otherwise, Lott said.
» Make sure you, as a human, behave, too.
Always ask before petting a dog. Sometimes the answer is no. That's OK.
When you do get to pet the dog, don't get down in her face, even if you're acting gentle and loving, Seck said.
"That can be a dominance action, and some dogs don't like that."
Don't tug on the dog's ears. Pet softly.
And when you're out walking Rover, always, always pick up after him, whether you're at the park or just going around the block.
Source: https://www.nptelegraph.com/focus/everyone-should-be-on-their-best-behavior/article_058b3d24-a321-11e8-8e7f-133ee768b522.html