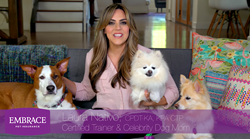 "Embrace knows that a well-trained dog is a safe dog…" said Sara Radak, Manager of Content & Creative at Embrace Pet Insurance. "Each video in our series was created to help pet parents learn positive training methods they can apply to enhance the lives of their dogs."
CLEVELAND (PRWEB) June 14, 2018
Embrace Pet Insurance, one of the highest-rated pet insurance companies in the United States, announced the launch of its new "Safety FURST" video series. The company has teamed up with certified professional dog trainer and TV personality, Laura Nativo, to bring advice to pet parents across the country on training topics ranging from positive training to introducing dogs. One of the new videos in the series is timely, as it features important tips on how to help dogs fearful of fireworks and other loud noises.
"Embrace knows that a well-trained dog is a safe dog, which is why we're excited to partner with Laura," said Sara Radak, Manager of Content & Creative at Embrace Pet Insurance. "Each video in our series was created to help pet parents learn positive training methods they can apply to enhance the lives of their dogs."
With Independence Day coming up, the video on fireworks desensitization will be relevant to all of the pet parents who can relate to the stress leading up to the holiday if you have a pet that is fearful of loud noises like fireworks.
"I'm excited to work with Embrace Pet Insurance to reach millions of pet parents across the country in time for the 4th of July," said Laura Nativo. "My first experience with fireworks desensitization training came when I adopted my dog, Delilah, who was entering her 2nd fear period just in time for the 4th festivities. By taking a pro-active approach to fireworks training, I've managed to help my dogs, and my client dogs, not only endure, but enjoy fireworks and other frightening sounds. With force-free positive reinforcement training, I can help others alleviate a dog's fear by changing their emotional response to loud noises. My training methods are science-based, and have proven very successful."
The seven videos in the series are each around four minutes long. Each topic will also include a blog post that pet parents can use as an additional resource. The video series and blog articles will be hosted by Embrace Pet Insurance on its website and social media accounts. Additional topics featured in the series include:
Intro to positive reinforcement training
Sit
Recall
Leave it
Loose leash walking
Introducing dogs
For more information about Embrace Pet Insurance and the Safety FURST video on fireworks desensitization, visit http://www.embracepetinsurance.com/waterbowl/article/dogs-and-fireworks-tips-for-relieving-anxiety. The full video series can be viewed on Embrace Pet Insurance's YouTube Channel here.
About Embrace Pet Insurance
Embrace Pet Insurance is a top-rated pet health insurance provider for dogs and cats in the United States. Embrace offers one simple yet comprehensive accident and illness insurance plan that is underwritten by American Modern Insurance Group, Inc. In addition to insurance, Embrace offers Wellness Rewards, an optional preventative care product that is unique to the industry. Wellness Rewards reimburses for routine veterinary visits, grooming, vaccinations, training, and much more with no itemized limitations. Embrace is a proud member of the North American Pet Health Insurance Association (NAPHIA) and continues to innovate and improve the pet insurance experience for pet parents across the country. For more information about Embrace Pet Insurance, visit EmbracePetInsurance.com or call (800) 511-9172.
About Laura Nativo, CPDT-KA, KPA CTP
Laura Nativo is a TV host, pet lifestyle expert, Certified Professional Dog Trainer, Karen Pryor Certified Training Partner and her favorite title, proud dog mom. After appearing on the CBS reality series, Greatest American Dog in 2008, Laura embarked (pun intended) on a mission to make the world a better place for pets, in honor of her Pomeranian sidekick, Preston. 10 years later, Laura remains more passionate than ever, about the power of positive reinforcement training to better the human-canine bond. Laura served for four years as the resident pet expert "family member" on the Emmy-nominated lifestyle show, Home & Family, on Hallmark Channel. She hosted two seasons of Dog Park Superstars for the Game Show Network, and has appeared on countless news and talk shows, including The TODAY Show and Inside Edition. Laura is currently in the final stages of development for a new dog TV series that will air on a major cable network. Laura's three dogs, Preston Casanova (15) Penelope Supafly (8) and Delilah Jane Sassafras (4) all #embraced their work as professional actors, models and their mom's demo dogs. Look for them starring in the feature films "A Dog & Pony Show" and "The Puppy Swap." They are the inspiration for Laura's dedication to helping pet parents communicate with their four-legged best friends. Laura train dogs all along the California coast, and is determined to make dog training easy, accessible and fun for both ends of the leash.
Share article on social media or email:
Source: https://www.prweb.com/releases/2018/06/prweb15563592.htm