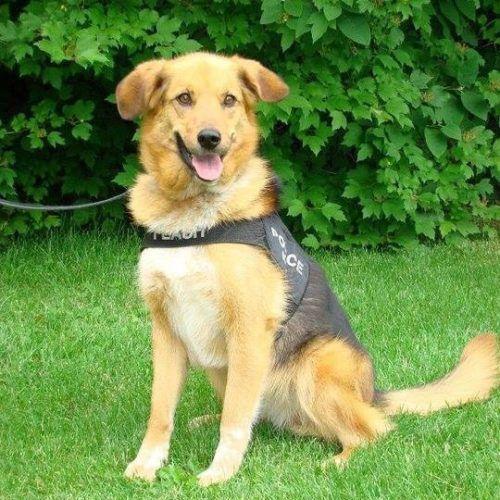 Flash is 14 and doesn't get around too well anymore. Those halcyon days of scaling six-foot fences, chasing down perps and sniffing out contraband are behind her now. Mostly, she sleeps a lot. Lyme's disease and hip problems have made walking difficult. Her coat's more gray than gold.
But this German Shepherd-Australian Cattle Dog mix, the Yakima Police Department's first narcotics canine officer now several years into a well-deserved retirement, is a finalist for the Law Enforcement Dog of the Year, sponsored by the American Humane Hero Dog Awards.
The winner of fan voting will be announced later this week, but regardless of whether Flash gets the nod – and a trip to Beverly Hills in September for a gala ceremony – her extraordinary career merits kudos. As with the Oscars, it's an honor just to be nominated; still, you've got to like Flash's chances.
In her eight years on the Yakima PD, Flash notched more than 2,200 narcotics seizures, assisted with regional SWAT teams and spent years with wet nose pressed to the back window of a cruiser waiting to be called upon. And, in retirement, Flash continued her work with handler Jason Johnson, who in 2016 founded the nonprofit Project K-9 Hero to help with medical bills for retired police and military dogs nationwide.
Riding shotgun with Johnson as he traveled the country to elicit financial support for law-enforcement dogs in their sunset years, Flash appeared at everything from school assemblies to canine conventions. Flash even wrote a children's book-slash-memoir, as told to Johnson, detailing her rise from a stray puppy on the streets of Everett dealing with aggression and anxiety issues to top drug-sniffing dog unafraid to forge ahead executing high-risk drug warrants.
"I like to think, given all that, Flash has a pretty good chance of winning this thing," Johnson said.
Johnson has campaigned hard for Flash, not just because she deserves the recognition but for the exposure it will give to Project K-9 Hero.
Unlike human police officers, who have unions and pensions, retired police dogs garner no state or federal benefits. Johnson's organization helps owners of retired police dogs with medical costs up to $3,000, and it also will help pay for a deceased dog's funeral. Thirty retired military and police dogs currently are receiving benefits, Johnson said, some battling cancer, arthritis and hip dysplasia.
"They protected us," Johnson said, seguing into his pitch to potential donors. "We need to protect them."
Johnson wasn't Flash's handler her entire career in Yakima — he had stints as a dog trainer for the Washington State Police Canine Association and, later, the U.S. Bureau of Alcohol, Tobacco and Firearms — but upon Flash's retirement in 2013, the pair was reunited.
"They (Yakima police) called me and asked if I wanted to adopt Flash," he recalled, "and we've been together ever since."
The Dog-of-the-Year nomination apparently has not gone to Flash's head. In fact, nothing much fazes Flash at this point. She mostly stays at Johnson's parents' house in Northern Michigan while her handler hits the road for fund-raising, and always musters a vigorous tail-wag upon his return.
Johnson assures that, if Flash prevails, she and her sleek, black police dog vest will be ready for their close-up come September.
* Members of the Yakima Herald-Republic editorial board are Bob Crider and Sam McManis.
Source: http://www.yakimaherald.com/opinion/editorial-former-yakima-k-police-officer-is-ready-for-her/article_d9e4e004-8c45-11e8-ae13-73137c2239f5.html